You might say that "Detroit has 2 much techno 4 one weekend," or something like that, thanks to
Movement
and its myriad attendant
after-parties
. But come on, now — why wait for the weekend?
Tonight is the second annual
Welcome to Detroit International Vinyl party
,
hosted by T. Carlita. The lineup features other Detroit and international artists such as Peter Croce, DJ Cent, Alexander Robotnick(!), and Tunis Diaspora 216.
This event not only features a live painting by Al Depree and a book signing for German photographer Marie Staggat's stellar and beautifully produced book of photos of the Detroit electronic scene, but also a live radio show, and numerous other creative individuals on hand, showcasing their talents.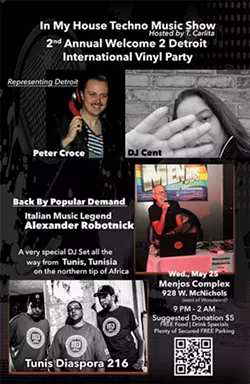 It's rare to see such a multi-disciplinary, expansive creative vision accompanied by actually great curating. Bravo.
For the price of a mere $5 suggested donation, this is truly the best way to warm up for Movement with some of the hottest artists connected to the Detroit techno scene.
Here's all the details:
When?
Wednesday, May 25, 9 p.m.-2 a.m.
Where?
Menjo's, 928 West McNichols, Detroit
Why?
Because it's too good to pass up. If anything, come for the FREE FOOD and stay for the good tunes.