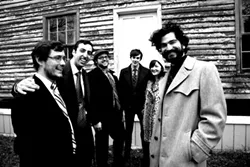 Just the use of the word "jazz" will already have some people switching off. What was once a vibrant and exciting art form (often referred to as the "one true American art form") is now all-too-often viewed as old, tired and basically a sit-down affair. Music to eat spinach dip to. It's perceived to be that way because, to be honest, it often is that way. Pseudo-intellectuals entertaining the dinner crowd with muted old standards. Enough with this cabaret jazz shit.

Because there was a time when jazz was exciting, the punk rock of its time, giving beat writers something to shake their egos at. Jazz was the escape from the wholesome mainstream. It was sexy, dangerous and unpredictable. What the hell happened is tough to unravel, but it likely had something to do with rock 'n' roll. Suddenly, just about anyone could be sexy, dangerous and unpredictable without having to really master an instrument first. That's not dismissive, it's just a fact. Ask the Stooges.
The Detroit Pleasure Society is well aware of all this. The band formed two years ago out of the ranks of the Detroit Party Marching Band, steeled by a desire to revisit those effervescent days of hard-hitting, dance-friendly, manic Dixieland jazz.

"Traditionally, jazz was popular dance hall music," says trombonist Stephen Bublitz, also of the DPMB. "Then the music of somebody like Louis Armstrong focused on the soloist. It became a solitary thing, about the individual. Jazz became artistic, about the avant-garde but it started as a popular form of entertainment, party music. It's extremely complicated to play, but it's about engagement with a crowd, it's fun and improvisational. It's a thread that you can dangle a crowd on, and build a spirit."
The Detroit Pleasure Society sound features elements of trad jazz. It's high-energy, while remaining true to the spirit of New Orleans jazz. Any cheesiness that has become associated with Dixieland over the years is wiped out, thanks to the seamless-yet-explosive clash of Louisiana and Michigan cultures. The results are aggressive, loud and bombastic. The fact that the band members all originate from different places probably helps.

"Our sax player [Nichole McUmber] has played in various punk bands, while our drummer [Ben Luckett] has played in rock bands [including the Hounds Below and the Readies]," Bublitz says. "Our banjo player [Nick Schillace] is a folk musician. There's really no reason that this music shouldn't be here though. Detroit is a music town, not just a rock town. There's a great jazz history in Detroit. The guitar is just easier to pick up and fake. The trombone, for example, is scarier to play. I've seen a lot of shitty rock bands. Only some rock musicians can take the simple chord progressions and turn them into something great. I'm just a nerd at heart — I like listening to and studying old records."


It's that intrinsic desire to create something new and relevant out of something old that makes this band such a trip. This week, the group plays at Cliff Bell's for a "Break Out the Hooch" night, celebrating the 80th anniversary of the repeal of Prohibition. It should be one hell of a night; a description on the Cliff Bell's website reads, "Period cocktails, drink and dinner specials will be served all night. Come dressed in flapper outfits, zoot suits or just get gussied up to the nines for a night of total debauchery. At midnight, a special toast will be announced marking the official end to the Volstead Act." In addition, the evening marks the two-year anniversary of the very first Detroit Pleasure Society show, also a Repeal Day gig.

Since then, the band has played numerous house parties, local shows, and even a soccer league party. Like the Detroit Party Marching Band, the Detroit Pleasure Society doesn't always perform at conventional venues. The guys prefer to get out and take Dixieland jazz to the people — a jazz bomb, if you will. According to Bublitz, the band's best show thus far was at a market.

"It was at the Night Market — an underground, pop-up market that appears for one night," he says. "I actually made a box truck for it, for us to perform on. It had a jukebox facade, and coins that could be put into a slot by the audience, used to request songs. We were on the back of a 25- or 30-foot U-Haul box truck, but there's something about being that close to other people and playing music. When you bump into them, it creates improvisational moments. The energy builds fast."

The band has also packed PJ's Lager House with about 200 people on the night of its CD release party, and Bublitz is content that there is still an exciting jazz scene in Detroit, even if he doesn't necessarily think that the Detroit Pleasure Society is right in the thick of it. "There's a lot of stuff happening at Bert's Warehouse [in Detroit], and the Dirty Dog Café [in Grosse Pointe Farms]," he says.

"I've also met a number of Detroit jazz people like RJ Spangler. I guess I'm just not really tuned into the local scene. I know that Detroit has a great jazz history, it just isn't popular music anymore. It's a specialty thing."

Speaking of Spangler, the local and notable jazz bandleader has been nothing if not supportive of the Detroit Pleasure Society. "We also played a gig for the Greater Detroit Jazz Society," says Bublitz. "They were just happy to see young people — and by 'young' I mean under 40 — playing jazz."

The Detroit Pleasure Society currently has a self-titled album available at shows and at CDBaby, and the guys are expanding their repertoire with a view to eventually putting out a new one. Don't expect any originals though. "We don't write our own music," Bublitz says. "We're not one of those bands that tries to write new songs in this style. There won't be any new songs, but there'll be new versions of old songs. That's what we do — put our own stamp on the old songs."

So what can we expect on Repeal Day at Cliff Bell's? "We're playing three sets," Bublitz says. "I'm certain there'll be some sort of Repeal Day drinks specials. Cliff Bell's is a beautiful place, and I hear rumors of a burlesque striptease show. I can't confirm that, but there will definitely be some cool things going on for this night. We'll be playing for three hours, so it'll be a long, late, exciting celebration of drinking alcohol legally in this country."

If anything's worth celebrating, it's that.
The Detroit Pleasure Society plays on Wednesday, Dec. 4, at Cliff Bell's, 2030 Park Ave., Detroit; 313-961-2543.