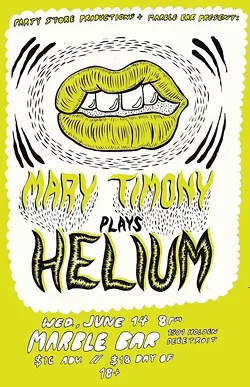 Mary Timony will play the music
of her 1990s band Helium, backed by members of the able band Hospitality,
at Marble Bar this Wednesday, June 14
. The show is really actually totally a show absolutely worth going to. What else could you possibly have going on in the middle of the week, anyway?
Heck, shimmering solo guitar great
Noveller
will even be there to open up — you know how great Noveller is if you saw that Iggy Pop show last year. Holy moley.
The gig is not a de facto reunion of the band Helium, which makes simple sense when one considers that Helium was formed with Timony's ex, Ash Bowie of Polvo. How many minutes would you want to spend with your ex? Would you like to get on a stage and re-enact your third, groundbreaking date together — word for word and bite for bite — in front of a critical crowd, every night for weeks on end? Probably not — and that's what most reunion tours are like. Kudos to Timony for finding a better way to resuscitate this music.
Timony weighed in on the best acts
in her hometown of Washington, D.C. in a piece posted just last week. It's always satisfying when artists who have been playing music for several decades now shine a light on others. It always looks classy, at the least, and is a great way to discover new-to-you stuff.
Pitchfork rightfully called Mary Timony a guitar god
recently, citing others who you should trust to back the claim. I am lucky (aka old) in that I have seen see Timony in Ex Hex, playing solo, with Helium, and also with her first major band Autoclave — a woozy, messy, amazing show opening up for Nation of Ulysses. Autoclave was
so
much better — and with any luck,
their
music will be reissued sometime soon.
All of Helium's music is being reissued on popular formats, and LPs will be for sale at the Marble Bar show, so bring extra funds with you.
Doors at 8 p.m.; 1501 Holden St., Detroit; $18.