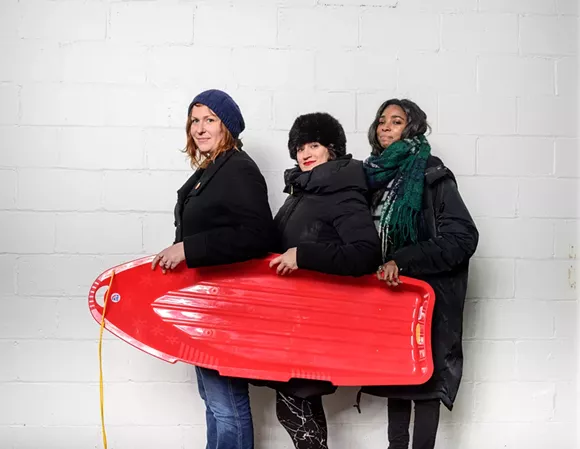 Dissatisfaction with the options is one way to think about how and why a band like Casual Sweetheart exists. They may not necessarily be a political band, but not to acknowledge their reality as women in a male-dominated industry would be to miss the point a little bit. After all, their origin story kind of exemplifies modern day feminism — guitarist Erin Norris made a post to an online feminist group about starting a band, and the rest is history.
Formed in 2013, with only one change in personnel since (original drummer MaryAnn moved out of state in 2014), the group also includes Lauren Rossi on bass and Dina Bankole on drums. And they're heavily involved in the Seraphine Collective — a community of feminists that advocate for underrepresented musicians and artists in the area — that was founded by Rossi who now serves as President, with Bankole as Vice President.


All of which is to say, Casual Sweetheart is real. This is what they do, this is who they are, they can't help it. Their music is kind of the Platonic ideal of post-punk in the Raincoats/Grass Widow vein; lo-fi vocals to complement angular yet catchy guitar, slipping into the comfortably uncomfortable softness of self-doubt confronted. Their first official EP, Always / Never, came out in 2015, but they are now in the process of finishing writing songs for their first full-length. If you love post-punk as much as we do, you already know that the group is also gearing up for their next big show, opening for ESG at Barely Human Festival in February. Another big show with R.Ring is also coming up in April.
When asked what drives them to make music, it is perhaps Norris who has the most telling answer. "Making music is a creative, methodical, and sometimes frustrating process," she says. "It's not something I feel totally natural about. I have to work at it and I've learned more about myself because it doesn't always come easily."
This is Casual Sweetheart and maybe even Detroit in a nutshell: pushing forward may not always come easily, but the point is the shape and consistency taken by the work. Constantly learning means you're doing something right. With music this good to boot, we can't wait to hear what they give us next.
— Ana Gavrilovska
Back to 2017 Detroit bands to watch