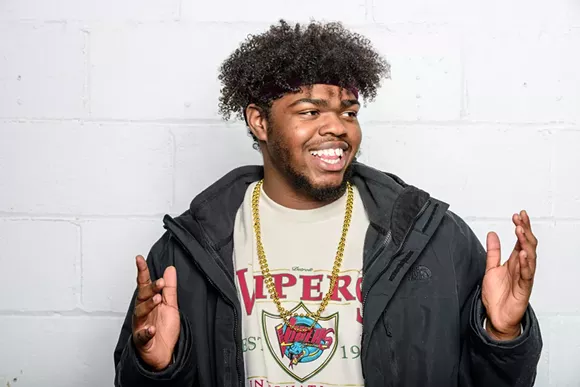 A fresh face with an even fresher sound, Caz Aglets very quietly released his debut album VOID back in November. Written and released before even turning 18, the album boasts a maturity and mood many artists spend entire careers striving for. His songs are soulful, his raps sharp, his flow seamless; "High Tide" is the one track that finds the Detroit artist balancing his strengths most evenly, equal parts relatable and accessible.
Aglets has wanted to rap since the 4th grade, something he wasn't always open about. While his classmates all aspired to become firefighters and doctors, Aglets instead said that he wanted to become a producer. Watching Jay-Z and Pharrell in the studio in the Fade to Black documentary was a big turning point for him, a true moment of clarity. He ended up studying audio production, but managed to keep his rap dream alive by constantly writing poetry throughout the years.


Reflecting fondly on legends past, Aglets considers his own purpose. Revolutionary artists such as Wu-Tang Clan and George Clinton's Parliament-Funkadelic serve as the Detroit rapper's greatest source of inspiration, and he wishes to emulate their excitement and leave people in awe. It may sound old school, but Aglets wants to get back to the music, creating something that resonates with people at their core as human beings. "I wanna make something that's universal," he says. "We're all cosmically aligned, just trying to create unity and bring people together."
In 2017, Aglets aims to build the Black Beetel Entertainment brand with his manager Cruise, something they describe as "less of a label than it is a lifestyle and philosophy." They use the dung beetle as a metaphor for their vision — just as the lowly beetle rolls the dung into a perfect sphere, Aglets and Cruise take the things that are unwanted and make the most of them. The burgeoning Detroit artist could go in many different directions as he moves forward with his career. Whether he'll usher in a new era of hip-hop in the city or work as an outlier to produce a sound that is truly his own, Caz Aglets has a bright future in store for him.
— John Struman
Back to 2017 Detroit bands to watch