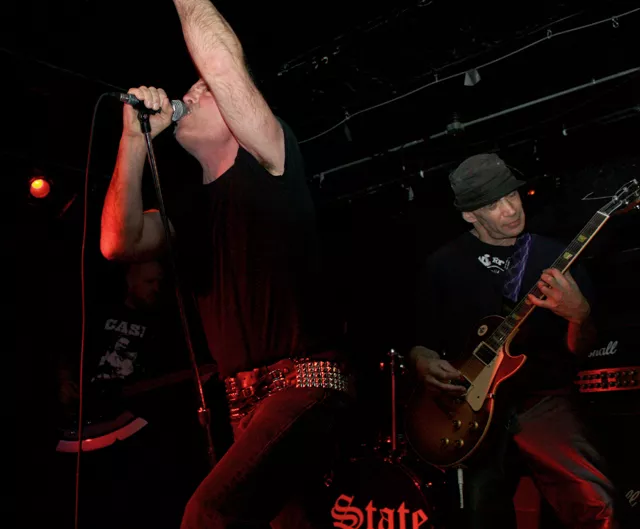 It's nighttime, a couple hours north of Richmond, Va., and singer Preston Woodward and guitarist Art Tendler for the punk band State talk in the front seats of a full-size van, jumping topics with the kind of quick-synapse subject-leaping that can make road trips epic (think Dean and Sal losing their minds between New York and Denver), from digestion science to Civil War battles to vaudevillian concertina players.
The band's fill-in bassist, Jef Porkins, naps in the back, and drummer Keir Murray is already in Richmond — he typically jets to long-distance shows thanks to his parents' frequent flier miles — and regular bassist Jeff Navarre is off on Hawaiian vacation.
Hawaiian vacations? Flying in to shows? It doesn't sound very punk rock. But wait. The story gets even less punk rock:
Woodward, a husband and father to five, cleaned out the full-size Econoline van before making the rounds to pick the rest of us up in the morning, but there are still a few stray children's books and a shiny, plastic tiara resting on the console between the cup holders in front.
Since re-forming in 2003 after a 15-year hiatus, the Ann Arbor-based band has made up for lost time, gigging steadily and pumping out a slew of records in the last seven years. To accommodate family life, they don't actually tour; out-of-state trips, such as the headlining spot on the second and final night of the "Winter Apocalypse" fest that has this van Richmond-bound, are done in one-off, sleepless marathons.
Underground punk labels as far-flung as Minneapolis, California, Grand Rapids and the band's own Statement imprint have put out more of their music in the '00s than the band ever produced in the '80s. Still, none of them has outlived the legend of a small-run, 7-inch produced with some mixing help by Stooges guitarist Ron Asheton and released on Statement back in 1983. To this day the band still measures its successes, and failures, by its ability to match the energy of No Illusions, a seven-songs-in-eight-minutes-and-change hardcore punk scorcher that rips as hard as any of the early Touch & Go releases of the same era.
While Negative Approach, the Meatmen and other heroes of that day have been getting their deserved due with recent waves of Midwest hardcore nostalgia via oral history, zine anthologies, record represses and reunion shows, the State guys continue to do their own thing — write songs, release records and play shows with renewed purpose and enduring fury — and that seems just fine with them.

A highway road sign for Dismal Hollow Road catches Tendler's eye out of the dark. He digs its creepiness and reads it aloud. (Hours later, on the post-show return trip to Michigan, Tendler will spot the northbound version of said sign shortly before we pull over for some 3 a.m. Steak 'N' Shake. This time, he and his bandmates joke it could be a slogan for their grueling travels.)
There's an Odd Couple chemistry between these longtime collaborators: Tendler is more about chaos; he maintains eye contact in the rearview as he rambles, starts threads and lets them unravel, and he's keen to drop poetic metaphors. Woodward stays on point, focusing on the road ahead and delivering concise responses that can only be taken one way.
The two hooked up in 1980, after Woodward's younger sister told him of a band whose singer-guitarist was "in this hypnotic state when he was playing."
This was Tendler's original incarnation of State, a fast and loose power-rock trio with bassist Jim Campbell and drummer Aaron Jones. They played originals and amped-up MC5 and Chuck Berry covers. "We didn't have preplanned set lists," Tendler says. "We were into the anarchy thing, ... a band trying to get their shit together."
One of the first State gigs was New Year's Eve 1979, supporting the heavily storied Wayne Kramer and Johnny Thunders' Gang War. In those days, Tendler was coming off the glitter and '77 punk scene, sporting mirrored shades, New York Dolls glam boots and a power coif. He remembers gyrating profusely. "I was always trying to be moving for the entire set," Tendler says. "I would do Spinal Tap things, like hump my non-stacked amp. My Fender Twin, I'd hump it. I didn't even realize it was ridiculous. I just thought, 'Well, if Jimi Hendrix is going to hump his amp, I'm going to hump my amp too.'"
Woodward first flipped on music seeing the MC5 play outdoors in Ann Arbor's West Park as a teen. He worked in the kitchen at the Second Chance rock club (today the Necto Lounge), where he caught life-forming sets by the Dolls and Johnny Thunders & the Heartbreakers.
While attending the University of Michigan, he caught State, who often shared local bills with local faves the Cult Heroes and Destroy All Monsters. (Tendler had cozied up to the Monsters while working at Apollo Music in downtown Ann Arbor, slipping free strings to the first "cool" musicians he'd met, and eventually letting them jam in his basement. Story goes, if former MC5 bassist Mike Davis hadn't arrived, Tendler might've have had the Monsters gig.)
When State needed a bassist, Woodward auditioned to no avail. A year later they met up and decided he should sing with a young new drummer Tendler teamed with, Keir Murray. "Keir was like the second kid at Community High to get into Minor Threat," Tendler says.
With the addition of high school-age bassist Chris Day, the group embraced hardcore punk but maintained Woodward and Tendler's roots in the southeast Michigan rock 'n' roll scene.
Understanding State's musical lineage, or at least traveling for 20 hours in a van with Woodward and Tendler, means being versed in a handful of inescapable band loves, including the Stones, the MC5 and the Stooges.
Yeah, they're into punk and hardcore staples, such as Minor Threat and the Misfits and G.B.H. and Discharge, but it's clear they think of State as a band branched off Ann Arbor's musical tree.
"The main model for me was the MC5. ... They were so intense and loud and explosive," Woodward says.
Hours of conversation are filled with personal anecdotes about the Stooges, as a band, as individuals, as acquaintances, as gods deserving of immortal status.

With the new personnel, the band began "bottling" Tendler's raw power — the proof of which is in the No Illusions EP, where, backed by explosive, lock-step riffing, Woodward concisely rants against any form of tyranny, be it a U.S.-backed Middle Eastern dictator in "Subvert," American neo-cons in "New Right" and, even more cerebrally, false reality in "No Illusions." The record came out in '83, and the band supported it with trips around the Midwest and East Coast, including shows with Reagan Youth at CBGB and with Dischord's Iron Cross in Virginia. Before that, they'd stuck mostly to Detroit- and Ann Arbor-area shows, including a successful string of punk outings they helped organize at Michigan's Union Ballroom, featuring such acts as SS Decontrol and the Misfits. They also did shows at the State house, which was wherever they were living and rehearsing at the time (for a while on State Street).
But when most of the bands who made hardcore famous were crisscrossing the country in vans, Woodward, who speaks fluent French and German (he teaches the latter at the collegiate level at Eastern Michigan University and Washtenaw Community College), took a semester abroad in France, where he met his first wife, and started bouncing between there and Michigan. He admits it had a negative effect on the band.
"It's a little hard to imagine if you weren't there," he says. "Fads were coming and going day by day. Hardcore punk was like a real intense thing for a couple years, and then there was all sorts of other stuff. The scene we were part of got pulled in different directions."
State fizzled in the late '80s, but the members kept in touch and even played together in various projects (Destruction Ride, the Bitter Pills) throughout the '90s. Then, one night in '03, Woodward and Tendler needed a fill-in drummer for a new project they'd started with Navarre, the Black Letter Saints, for a show at Ypsilanti's Elbow Room, so they asked Murray. They found themselves playing State material. Soon after, someone at the show asked if they'd re-form and play a benefit show to help pay off debt for State Control Records, a collectively run, now-defunct shop in Ann Arbor. The guys obliged, with Navarre now on bass, and, much to their surprise, found themselves bowled over by a packed house and charged atmosphere. Some fans had come from as far as Canada and New York. "It was like, 'I guess we had more going for us than we realized,'" Woodward says. "No Illusions had become this kind of minor classic. It had been bootlegged by half a dozen labels."
Hence, the guys iced their other music project and jumped back into State. They set to writing and releasing new tunes, reaching out to a new audience of underground punks and railing against topical injustices, playing in bars, basements and living rooms. They'll play just about anywhere, including a "punk rock haunted house" in the middle-of-nowhere (see "Jonesville," Mich.), but find their most success in Detroit, Grand Rapids and Chicago. Tendler says wherever kids are wearing spikes and leather they tend to go over pretty well.

Stepping into Strange Matter, the downtown Richmond bar hosting tonight's final "Winter Apocalypse" fest show, it looks like the band will do fine; there are plenty of punk-army accoutrements, including studded jean jackets and belts and impossible-to-read patches. At the peak of the night, just before a noisy, adrenaline-fueled, female-fronted group from Georgia called Nu-klear-blast Suntan hits the stage around 11:30 p.m., there are probably 200 in the bar.
When State hits it at 12:45 a.m., the crowd has thinned some — it's been a long weekend of thrashing, screaming, bellowing and breaking it down — but a contingent of die-hard fans and curious first-timers stick around.
The drive was exhausting — these guys aren't 20 anymore — but they sure as hell don't show it. Woodward warms up the crowd with small talk about his family's Virginia roots (on the drive down, he shared that a distant relative had walked the state, county-by-county, collecting folk songs for a book).
During songs, Woodward stalks the stage in dark jeans and a black T-shirt, tracing imaginary needle tracks on his arms during the song "Drug War" and making crosses of middle fingers during "Christian." At one point he runs down the stairs into the crowd to incite some reaction, shoving a smaller guy en route (he feels bad about it later). Back on stage, he extends over the crowd to howl gang choruses ("You're a Fascist!") and heady verses ("There is no justice, just law!") alike. Unlike Woodward's peers, you can make out most of his words, which makes them all the more powerful.
Likewise, Tendler's Les Paul cuts through the stuffy club air still heavy with the muddy chug of earlier bands. His first ear-jerking bend shaves 30 years off his face.
Earlier in the day I'd asked the guys if they are still moved by playing live. What else would the logic be behind driving 20 hours to play a show?
"I think we're not as bummed-out as we'd be if we weren't doing it," Tendler had said, laughing.
But Woodward chimed in with a more telling: "It's kind of an addiction."
It's this drive to create that impressed the hell out of Ryan Cappelletti, head of the Punks Before Profits label out of Grand Rapids, and a fixture in local punk scenes. After seeing them "lay waste" at a show in Chicago, he invited State to play a Grand Rapids gig in the mid-'00s. "Preston [Woodward] said they'd come, and they asked for nothing," Capelletti says. "I just moved to town, and the scene was very small. About 15 people came out, and I was really worried that these guys would never come back. Well, they took the floor and played like we had 500 people screaming their names. To me State are what punk is and should be all about."
After the show, it's simple: The band loads the van and heads back to Michigan. Porkins, who slept most of the trip down, takes the wheel, and Woodward (who still hasn't slept) navigates the winding path back to the expressway. Around 7 a.m. the van stops at a gas station and Porkins and Tendler jump out. I head in. A few minutes later I walk back out and see the van pulling out into the road. It takes me what seems like a full five seconds to believe this is happening before I take off sprinting after the van, my coat and cell phone inside it, waving my arms and yelling. It's no use. They're half-asleep and merging onto the expressway, and they think I'm still in back. I don't even know what city or state I am in.
Forty minutes and a few frantic phone calls from a borrowed cell later, the van returns. "Head count" and "buddy system" jokes ensue.
Woodward, who still hasn't slept, looks shot. He talks about how fucked his body is from years of performance abuse and how exhausted he is from driving and playing; how he hopes it didn't show the night before, but he was wiped out during the performance; how he wanted to sleep afterward, but he had to navigate.
The rest of the ride home, everyone is sort of loopy, talking over one another and stringing together sentences with expletives.
As we roll into Michigan, a terrible snowstorm slows our progress, and, as we crawl along US-23, Woodward hopes the snow means no school on Monday. He needs to sleep.
When we finally reach my Ypsilanti driveway, I'm loaded down with State records and swag. Outside the van, Woodward shakes my hand, and it feels like we've been through something together. I go inside, and he gets in the van and drives off. He still has to drop off his bandmates before heading back to his home just outside Chelsea, where his wife, Aviva, and kids are waiting for him.
State plays at the Psychedelic Ball & Punk Dance Party on Friday, May 13, at the Blind Pig, 208 S. First St., Ann Arbor; 734-996-8555; $10 18-21, $7 21 and older; with Shitfucker, Mr. Clit & the Pink Cigarettes and the Jobys; doors at 9:30 p.m. See statelive.blogspot.com for more State info.