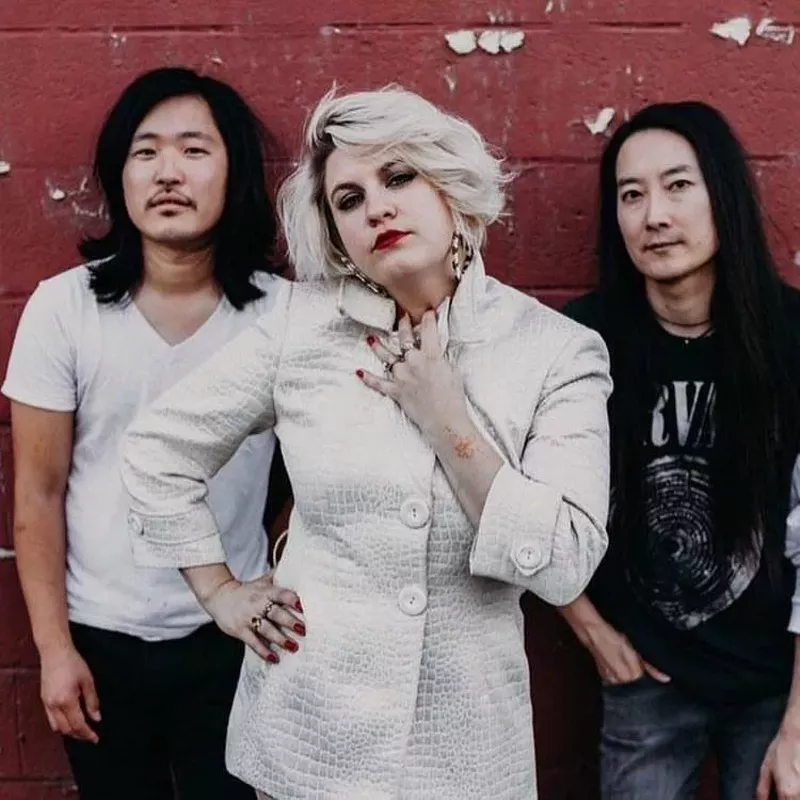 The last time Metro Times checked in with on-the-rise duo Tart, they were just that — a duo. But as they gear up for a midwest tour and the release of their third EP Toothache, Tart has reached a turning point. Known for their theatrical live performances and penchant for dynamic genre-defying glitz, best friends-turned-roommates-turned-lovers-turned-bandmates Zee Bricker and Adam Michael Lee Padden are ready to add a third.
"Donny Blum is our secret sauce." Bricker says. Blum, of course, is best known as the expressive drummer for now-defunct garage rock icons the Von Bondies. "We are really lucky because he is dedicated to the project. He helped us flush out our sound," Bricker continues. "Adam and I had a talk with him like, 'Donny will you marry us?'"
Since the band's inception in 2014, Tart has released three colorful EPs and have tirelessly hustled, solidifying their chemistry and position as an exciting staple in Detroit's rock scene. Although they may seem to exhibit a feral ferocity, Tart exists almost entirely due to the band's disciplinary and masterful balancing act of day (and night) jobs, business, pleasure, and whenever possible, going to bed together at the same time.
"Honestly, we always joke that as bandmates we don't get along very well, but as romantic partners we rarely fight," Bricker laughs. "Everything we do is, ultimately, for the band. If it doesn't support Tart, then it doesn't work. ... The key is learning to let things go and compartmentalizing because at the end of the day we still have to eat dinner together."
Tart's latest sonic eruption finds momentum in its four songs. Toothache, the band's first collection in two years, embodies what Tart has come to do best: sincere and sinister shred-pop, but with a well-roundedness that feels radio-ready. "Metal Eyes" (which Bricker jokes is their one true "pop song") feels more Dandy Warhols than glittering excess, whereas the title track is a riotous, Tank Girl-worthy banger.
Bricker says they whittled the collection down from six tracks to four. "Which writer said you have to kill your darlings? That's how we approached this EP," Bricker says. "It's not that we don't love those songs, [but] now just wasn't the time."
Though still wrought with deeply personal lyrics and tonality, the lyrics have taken on a more broad scope. "I wouldn't say we are getting overtly political, but we are writing material that is leaning more that way. The music is still personal, but there's even more to it now."
When asked about how to categorize Tart's sound, Bricker struggles with a definitive answer. They've been quoted several times about their love of the Smiths, and almost everyone brings up the '80s in an attempt to label them.
Bricker is just happy that people are connecting to the music at all. "Being asked what genre we fall into is always the most difficult to answer," she says. That's understandable for a band whose roots are influenced by Bricker's formal theater background and Padden's looser, more exploratory instrumental contribution to local rock acts for years leading up to Tart. But now with Blum on drums, their genre dilemma may best be resolved by categorizing themselves as explosive. "Honestly, with the addition of Donny it's like the rebirth of the band. We're viewing a lot of this as starting from scratch," Bricker says. "It's not that the drum machine wasn't cool, but it was the weak point in our sound. Having a live drummer has elevated us."
When asked about whether or not a full-length record is in Tart's future, Bricker is unsure but hopeful, saying their goal is to keep writing and spreading their seductive and savory sound. Their midwest tour kicks off in September, toggling as headliners and the supporting act for fellow badasses Lung. Though Bricker fantasizes about opening for a pop star ("How dope would it be opening for someone like Sia?"), she ultimately wants to get the band to the West Coast.
"Booking shows is not an easy thing to do so we're lucky people want to support us," she says. "The biggest thing is connecting with one person on tour, or meeting another band or bartender. It makes going back so much easier and thankfully it's getting to that point for us in the Midwest."
While they are still learning to manage their many roles both separately and together, the future of Tart, without question, is fearless. "I had to ask Adam, 'What are we waiting for?'" Bricker says. "This is all I want to do, so let's just do it. I know it's going to be hard work and will require pushing through difficult times. I'm just really ready to take it on."
Tart plays with special guests Double Winter and DJ Marcie Bolen on Saturday, Aug. 25 at Ghost Light, 2314 Caniff St., Hamtramck; 313-402-4418; starts at 8 p.m.; $5.