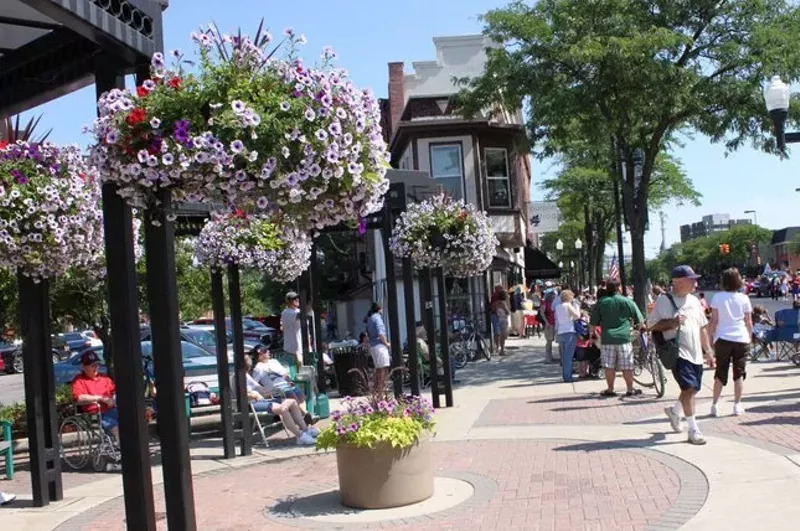 OK, we've covered this ground before. Wyandotte is totally adorable and never really gets the accolades it deserves. Despite our constant chirping about the downriver city — oh, and this story the
Detroit News
did last year — the city is woefully under-covered while its counterparts north of Detroit seem to get all the glory.
That's likely due to downriver's reputation as being a working class area where most people would categorize a dinner at Red Lobster as "fancy." This writer is a lifelong Wyandotte resident, so this can be said with some authority.
But, times, they are a-changin'
To return to our thesis, Wyandotte is a great little town. A stretch of West Jefferson runs through downtown, but within city limits it is referred to as "Biddle Avenue." It's here you'll find bars and restaurants like Whiskeys on the Water, R.P. McMurphy's, Angelina's Mexican Restaurant, Joe's Hamburgers, The Silverball Room, Alvi's Barbecue, Portofino, Nanna's Kitchen, Sander's, Stroh's Ice Cream, and Gizzmos martini bar. Along perpendicular side streets you'll find Mitten Pub, Coastal Thai, Magdaleno Ristorante, Sushi Bar, and Bobcat Bonnies, among others.
If any of those names piqued your interest, Wyandotte Restaurant Week might be up your alley. The annual event kicks off Saturday, April 7 and runs through Saturday, April 14. While the city has not yet released a full list of participating venues, it does promise A Serendipity Cakery, Angelina's, Wine Dotte Bistro, Total Health Foods, Smokies, Gregorio's, and Sweet Arrangements will all be participating. Bobcat Bonnies' owner Matthew Buskard has also confirmed his Wyandotte location will be participating in the promotional week.
Participating restaurants, bars, and dessert places will offer specials like a free dessert when you buy two entrees' three small plates, an appetizer, an entrée and dessert for $20; a $10 special, and a $5 special, according to a press release from the city.
They're also planning to surprise a few diners by randomly picking up the tab.
"We have so many great places to eat in Wyandotte," Mayor Joe Peterson said in the release. "There is something for everyone."
To learn more,
go here
.