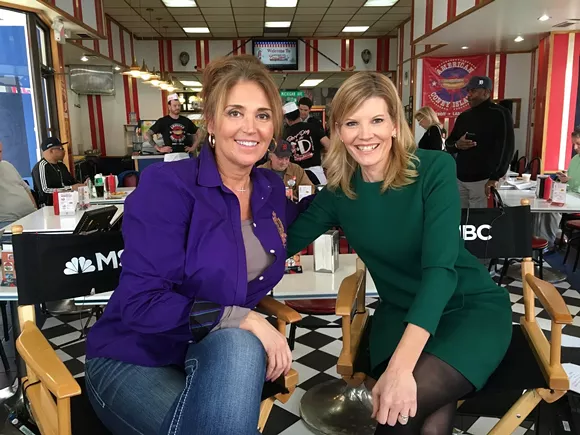 The polls have just closed in Michigan in what many are saying is among the most significant primaries in recent history. And so when global news organizations and front-runner candidates make their way to the Mitten, most, if not all, show up in Detroit and more specifically, Detroit restaurants.
It's got a lot to do with the social nature of a restaurant. It's a place where you get together, break bread both literally and figuratively. It's a chance to sound off on issues in a more relaxed setting than, say, a podium.
That's why we saw the Clintons make a culinary tour over the weekend (with stops in West Village, Dearborn, and Corktown); and President Barack Obama making headlines when he lunched at Jolly Pumpkin in Midtown when he was in town for the auto show in January.
So on this momentous Michigan primary, it comes as little surprise to us to learn that MSNBC would hold live broadcasts of the days leading to mini Super Tuesday inside American Coney Island. And really, with the red, white, and blue décor, is there a restaurant any more appropriate for such a news cast?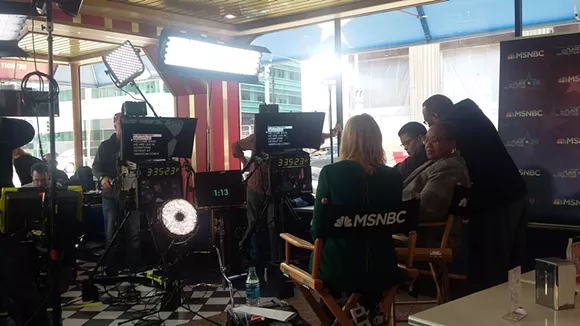 MSNBC's Kate Snow hosted on Tuesday afternoon, where she interviewed a number of the state's political elite. When we stopped in, we grabbed an order of chili cheese fries, and listened in as Snow had Wayne County Prosecutor Kym Worthy and Freep columnist Rochelle Riley on the hot seats. Riley, a veteran commentator on national news programs, tells us having large networks come to town just reinforces how significant Detroit is in American politics.
"This is fabulous, I love that my friends in town can see that here are these MSNBC anchors, and that when they're looking and they're seeing, oh there's Citizen's Bank and there's Campus Martius and there's Joy Reid (who followed Snow in the anchor rotation) sitting in a chair. This is such an important city. I think people should treat it as such," Riley tells us.
Before rushing off to the newsroom, a Coney in hand, Riley tells us she thinks Michigan is going to have a record turnout this election, mostly because of the polarizing GOP race.
"This could be one of the most important (elections) ever because if there's any slowing of Donald Trump's meteoric train barreling down the road, it's not going to be done by the GOP," Riley tells us.
Snow, too, chimed in about her stay in Michigan. She tells us much of her time here as of late has been focused on the lead contamination in Flint's water supply - an obvious crisis most deserved of nationwide attention.
The bright spot, she says, has been seeing the huge growth in Detroit, in particular with its local restaurant scene.
"If any place deserves to have some attention, I think it's Michigan," Snow tells us. "In particular, in Flint, we've spent a lot of time, I think it really deserves the attention of the nation right now. But Detroit as well, we love coming here. We specifically chose to come to downtown Detroit. We felt there was a story to tell here."