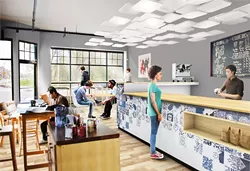 Less than a year ago we told you about how
Southwest coffee shop Cafe Con Leche was hoping to expand their original location
on Vernor near Clark Park. They launched a $15,000 Patronicity crowdfunding campaign that they hoped would allow them to add 800 square feet, more seating, a new bar, and new fixtures to the space.
The shop's director of coffee Chris Hooten says they burned through the approximately $10,000 raised through their crowdfunding campaign and were about halfway through the planned upgrades when the building's manager decided to terminate the relationship with Cafe Con Leche.
An announcement went out earlier today via Facebook that the Southwest coffee shop will close, but the company will continue to operate out of its New Center location on West Grand Boulevard.
Hooten says they'd like to continue to have a presence in Southwest, mostly through pop-ups, and have contemplated moving their roasting operations to the neighborhood, but no formal plans have been made and there are no plans to open another location.
"We're just re-grouping right now," says Hooten.
The New Center location can be found at 2990 W. Grand Blvd.