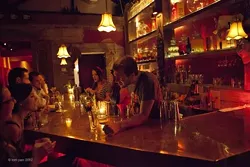 Some of the most outstanding destinations for drinking in metro Detroit.
Alley Bar 112 W. Liberty St., Ann Arbor; 734-662-8757; alleybarannarbor.com: This pleasant hole-in-the-wall bar has something to slake all thirsts. They can pull you a cheap brew, yes, but they also have a good selection of bourbons, scotches and rye whiskeys. They can even accommodate the cocktail drinker, and even offer a "Noble Experiment," which the bartender concocts on the fly.
Ashley's 338 S. State St., Ann Arbor; 734-996-9191; 5150 Carpenter Rd., Ypsilanti; 734-528-9898; 7525 Wayne Rd., Westland at Westland Mall; 734-525-1667; ashleys.com: With an award-winning beer selection from the four corners of the earth, made-to-order food using fresh ingredients, and a genuinely hospitable attitude, Ashley's is an excellent bar for beer-lovers. Think you've run out of new beers to explore? Better stop in soon.
Bastone Brewery 419 S. Main St., Royal Oak; 248-544-6250; bastone.net: Bastone Brewery usually offers a couple seasonal beers; this year it's Rocktoberfest Lager, named after their Master Brewer Rockne, and a milk stout, appropriately dubbed, um, "Milk Stout." A limited-edition Bastone Brewery pint glass is available for $8 ($2 off regular price), filled with any number of craft beers.
The Berkley Front 3087 12 Mile Rd., Berkley: The magic number, it turns out, is 42. That's how many beers you'll find on tap at this neighborhood biergarten. And, unlike most bars, the Berkley Front features an uncarbonated pull, which draws cellar-temperature beer into a glass without all the CO2. There are always several local creations to choose from, matched up against a genuine selection of German and Belgian ones. The beer pulls you in, but the juke, live music ($5 upstairs Thursday-Saturday) and conversation keep you there.
The Biergarten 22184 Michigan Ave., Dearborn; 313-561-7711: Part of a changing strip of Michigan Avenue on the west side of Dearborn, this family-style corner bar has a great beer selection for those brew mavens who investigate beyond what's on tap, including a good selection of bottles from Michigan. Expect beer specials and a chance to shoot some pool.
BlackFinn Restaurant & Saloon 530 S. Main St., Royal Oak; 248-582-9460; blackfinnroyaloak.com: Though we voted this Royal Oak hot spot "Best Pick-Up Bar" back in 2009, we weren't sure what to make of BlackFinn when its doors first opened; was it a sports bar or a family restaurant with a dance floor? Was it a swingers club? Though you may pick up something other than a drink, they have happy hour specials from 4 to 7 p.m. Monday-Friday. The newly remodeled dining room is also worth a look.
The Bronx Bar 4476 Second Ave., Detroit; 313-832-8464: This hip, student-packed venue, which was once an underappreciated dive bar, is a good place to hit to catch up with old friends and meet new ones. Expect to hear some early '80s post-punk, classic hip hop, deep soul, indie-rock favorites, and a slew of Detroit bands that make up a dumbfounding roster of lovable non-hits. You might spend more on their two jukeboxes (yeah, there are two) than on drinks. In warmer months, the new patio is the perfect spot to recharge with a beer and a burger.
Cadieux Café 4300 Cadieux Rd., Detroit; 313-882-8560; cadieuxcafe.com: Feather bowling is not the only draw at this Belgian cultural hub. Cadieux Café combines European flair with a unique menu, and the current owners have furthered the popularity by bringing in live musical acts and staying open until 2 a.m. daily. So whether you are in the mood for steamed mussels, Belgian beer or Elvis impersonators (sometimes), this is the place for you.
Cass Cafe 4620 Cass Ave., Detroit; 313-831-1400; casscafe.com: As if the vintage bicycles chained up outside weren't a clue. Then the walls tell the story. The music backs it up. Look over the shoulder of any messenger-bag-wielding patron and you're likely to find them — assuming they're not chomping into a turkey burger or sipping a pint— sketching, reading, knitting, writing, perhaps focused on a MacBook. Pretentious? Nah. Cass Cafe is the unofficial meeting place for Detroit painters, poets, musicians, etc.
Circa 1890 Saloon 5474 Cass Ave., Detroit; 313-831-1122: True to its name with a fin de siècle interior, this is a mainstay for Wayne State faculty and students, with homemade soups, burgers and, notably, Greek pizza. This is also the place where, since the 1980s, they've staged a mock funeral for Old Man Winter.
CK Diggs 2010 Auburn Rd., Rochester Hills; 248-853-6600; ckdiggs.com: A family-style restaurant with a full, eclectic family-style menu with pizza, pasta, salads, sandwiches, steaks, ribs and fish. But don't miss the 41 beers on tap, including brews from Arcadia, Bell's and New Holland, and many more in the bottle, from North America and elsewhere.
Cliff Bell's 2030 Park Ave., Detroit; 313-961-2543; cliffbells.com: Cliff Bell's honcho Paul Howard will tell you jazz is "the best music to see live — especially in a small setting." And although there's more than jazz to be seen and heard in this art deco temple — other musical genres, poetry and the Moth story-telling sessions, for instance. Cliff Bell's has built a stable of top-notch local swinging regulars, semi-regulars and occasionals — including the Hot Club of Detroit, Gerard Gibbs and Wendell Harrison's Swing Ensemble — and such out-of-towners as Dr. Lonnie Smith and France's Moutin Reunion. It can get rather noisy for listening, but it's also got class galore and great small-plates dining.
The Dakota Inn Rathskeller 17324 John R St., Detroit; 313-867-9722; dakota-inn.com: Owned and operated by the same family for more than 70 years, the Dakota Inn Rathskeller can get boisterous at 7 on a Saturday night. Inside and through the heavy wooden doors is the din of mirth as friends and families assemble to celebrate birthdays and other life events, or just grab a beer and sausage.
Derby's 22031 Dequindre Rd., Hazel Park; 248-544-8040: Cinderblock shot-and-a-beer bar where the waitresses wear bikinis. George, the handyman, says, "It's pretty nice inside, for a neighborhood bar. We've got a jukebox, a pool table, dart machines, golf machines. We have a karaoke DJ on the weekends — and cheap beer: $1.75 until 8 p.m. any bottle. Or $1 bottled beer for the Lions game, and $1 bottles for many college football and NFL games." Wednesday is bikini night. The ladies wear bikinis and drinks are $1 a bottle and $2 a shot.
Detroit Beer Co. 1529 Broadway St., Detroit; 313-962-1529; detroitbeerco.com: DBC seems like a little bit of upscale Royal Oak dropped in the thick of downtown Detroit. Their renovation of the century-old Hartz Building, with its tin ceilings and brick walls, looks especially attractive. Added attractions are the sweet smells of brew emanating from the basement, and, oh yeah, beers such as Detroit Dwarf, Detroit Red and usually several appealing seasonal brews.
Foran's Grand Trunk Pub 612 Woodward Ave., Detroit; 313-961-3043; grandtrunkpub.com: It's Saturday morning — you're looking for good grub and drink that's not OJ. What to do? It's easy: Head to downtown Detroit to the Grand Trunk (formerly just "Foran's"), where brunch and booze ain't no joke. The funky, compact bar sits inside the old Detroit Grand Trunk ticketing station. The House pop is Faygo and the bread's from Avalon Bakery, the produce is from Eastern Market, and the taps boast 14 various Michigan brews.
Fort Street Brewery 1660 Fort St., Lincoln Park; 313-389-9620; fortstreetbeer.com: Brewpub and restaurant with a friendly atmosphere, games, and a large beer list, including house-brewed suds like "Doug's Turbo Sarsaparilla," a root beer-flavored beer. Look out for daily specials like $5 pepperoni pizzas during Monday Night Football.
Great Lakes Coffee Roasting Company 3965 Woodward Ave., Detroit; 313-831-9627; greatlakescoffee.com: More than a coffeehouse, Great Lakes offers Michigan craft beer, organic-type wines and a list of 10 cocktails you won't find anywhere else, as well as coffee-infused beer. Come for the wireless, stay to get wired. Open 7 a.m.-11 p.m. Monday-Thursday, 7 a.m.-midnight Friday-Saturday, 10 a.m.-6 p.m. Sundays.
Green Dot Stables 2200 W. Lafayette Blvd., Detroit; 313-962-5588; greendotstables.com: This year, Metro Times readers voted Green Dot the Best Restaurant to Spend Less Than $15 in Wayne County. A former bar for the horse racing set, it now caters to a hip crowd with televised soccer matches, small but tasty "sliders" whose flavors dance all over the map, and a full bar serving such fanciful creations as the Green Dot Wallbanger and Zug Island Ice Tea.
Griffin Claw Brewing Co. 575 S. Eton St., Birmingham; 248-712-4050; griffinclawbrewingcompany.com: Along with its seasonal Screamin' Pumpkin Ale, half-pound Claw Burgers, and funnel cakes, one of Griffin Claw's biggest attractions is the traditional outdoor biergarten. Enjoy a game of cornhole outside and then warm up near the blazing fire pit while sipping on Norm's Raggedy-Ass IPA.
Goodnite Gracie Jazz & Martini Bar 301 Huron St., Ann Arbor; 734-623-2070; 224 S. Sherman Dr., Royal Oak, 248-584-7400: Though the musical flavorings change throughout the week at both of the Goodnite Gracie lounge locations, they consistently serve up myriad martinis metro Detroiters crave. The original location in Royal Oak serves up their magnificent martinis and all other fantastically fermented beverages at a half-off happy hour from 4 to 7 p.m. Monday through Friday.
Gusoline Alley 309 S. Center St., Royal Oak; 248-545-2235: A classic dive bar, its regulars are as colorful as witty scribble on bathroom walls; and like any authentic dive, there's real storytelling floating in its narrow room, amid so much bumper-sticker artistry. Even old Buk might've been a regular — or maybe we're just romanticizing the hell out of this place.
Hamlin Corner 386 N. Main St., Royal Oak; 248-556-5428; hamlincorner.com: Self-described as Royal Oak's biggest upscale sports bar, with 250 seats and a large dance floor, Hamlin Corner is a new nightlife hot spot. The menu offers traditional bar favorites, like fish and chips and mac and cheese, as well as gluten-free and vegetarian options. The bar also supports many Michigan-based companies, featuring pizza from Primo's Pizza of Birmingham daily and many others.
Imperial 22828 Woodward Ave., Ferndale; 248-850-8060; imperialferndale.com: Probably known more for its tacos than its bar, Imperial has an ample selection of Mexican beer (at least a dozen different cervezas) as well as a large variety of "regular" beers, including domestic and foreign. Their signature beer is the aptly named "Hillbilly Cooler" which consists of your choice of 32-ounce Corona Familiar or 24-ounce PBR can nestled inside a sturdy brown paper bag filled with ice. (See our story on P. 36.)
Jolly Pumpkin 311 S. Main St., Ann Arbor; 734-913-2730; jollypumpkin.com: While pub-like in atmosphere, the food is a bit more up-to-date. Diners not yet familiar with Jolly Pumpkin beers might want to ease into the experience with something slightly tamer, like a North Peak Amber Ale.
Kuhnhenn 5919 Chicago Rd., Warren; 586-979-8361; kbrewery.com: When it comes to really intense flavor, no place has zoned in on extreme beer geeks like Kuhnhenn, having created such flavorful brews as Wild Blueberry Pancake Ale and Raspberry Eisbock. If that weren't geeky enough, there's a home brew shop right across the parking lot! So, head inside, enjoy the kick-in-the-face flavors of such brews as Solar Eclipse, then, inspired, head over and buy your own homebrew rig.
Lena 226 S. Main St., Ann Arbor; 734-994-2773; lena-annarbor.com: Lena serves Latin-American-inspired fare, but there's much to wash it down with. In addition to custom-brewing its own chopp, a style of draft beer native to Brazil, the restaurant also has a lengthy drinks menu that focuses on cocktails, and the choices display some promising creativity. Sunday morning patrons, for instance, can choose from several fruit and spice infusions for custom Bloody Marys. And in addition to classic approaches to a margarita and a mojito, they offer some unique variations, including a delicious version of the latter made with Serrano chilies and a honey-orange syrup ($9).
The Loving Touch 22634 Woodward Ave., Ferndale; 248-546-3644: Opened in late-'08, Ferndale's new pool hall-lounge was once a massage parlor of the same name. Neat! Whatever the former's business practices, the new version is one of the best bars for last call in metro Detroit. The Loving Touch is cozy with beautiful woodwork, welcoming atrium and it sports a badass juke, with many local rock stars in rotation. It's lounge-casual, to be sure. What better way to cap a night than with sloppy billiards or in a booth with your pals, glowing from locally brewed beer?
Monk: Beer Abbey 419 S. Main St., Royal Oak; 248-544-6255; monkbeerbar.com: This warm and simply decorated restaurant pays tribute to the brewing history of Belgium's monasteries, and the Monks who invented the historic styles of beer. The high-ceilinged monastery-like interior is a fit setting for the Belgian-style craft beer, extensive bottled Belgian beer list and French wine selections. Monk's from-scratch kitchen turns out inventive reinterpretations of European cuisine. Opens every day at 4 p.m. for dinner.
Motor City Brewing Works 470 W. Canfield St., Detroit; 313-832-2700; motorcitybeer.com: Walking into the Motor City Brewing Works you'll find a raw and industrial vibe that practically screams "Detroit." Almost 20 years ago, 1994, the brewery was constructed by Detroit artists, fabricators and craftsmen using salvaged equipment and scrap. It shows in the quirky tiled interior and the concrete bar molded in PVC. The joint has expanded apace, adding outdoor tanks and a cozy tap room, a second-floor patio and a menu of food. With seven beers usually on tap, their signature is the Ghettoblaster, an English-style mild ale. Seasonal drinks include a German-style Marzen beer and the sneaky 9.2 percent ABV pumpkin ale, made from oven-roasted Detroit-grown pumpkins and spices "The place is very laid-back and casual," says Motor City's Scott Wright. "We have one TV, and it's usually not on unless a game is on. Ordinarily, local people, hospital workers and students all come out to relax."
New Dodge Lounge 8850 Joseph Campau, Hamtramck; 313-874-5963; newdodgelounge.com: Open from 7 a.m. to 2 a.m., the New Dodge is one of those classic Hamtramck bars that's open all day. In the daytime, you have old-timers and characters gabbing at the bar. At night, an interesting mix that can include punks, metal kids or people with just enough money to buy one drink.
Northern Lights Lounge 660 W. Baltimore St., Detroit; 313-873-1739: Northern Lights sprawls throughout a large building that can seat more than 100 diners, offering a variety of environments, including informal chairs up front by the free shuffleboard table, wraparound booths in the moodier main room, simple tables for a tête-à-tête, and even seating along the bar. Northern Lights has a full bar, and the know-how to mix up classics and offbeat, eye-catching concoctions. Kitchen open weekdays.
The Oakland Art Novelty Company 201 W. Nine Mile Rd., Ferndale; 248-291-5295; theoaklandferndale.com: Sandy and Heather Levine's cocktail lounge was inspired by "speakeasies" on the coasts, which specialized in pre-Prohibition cocktails with quality ingredients. All you have to do is get a seat, put away your phone, talk to your friends, and the bar's incomparable creations will complete the illusion of being miles away from Ferndale.
Old Miami 3930 Cass Ave., Detroit; 313-831-3830: Like a trusted old friend, the Old Miami comes through in the pinch. It has become home to Detroit's day-rave scene, hosting all-day parties featuring local and international insomniac DJs and dancers. And then there's the urban oasis they've created out back, with an outdoor stage, rustic seating and, in good weather, a little patch of lawn.
One Eyed Betty's 175 W. Troy Ave., Ferndale; 248-808-6633; oneeyedbettys.com: One Eyed Betty's hasn't even been open a year, but Ferndale residents have not been shy about showing the town's signature craft beer bar some love. With more than 44 different craft beers on draft and 100-plus different beers in a bottle, the hipster crowds that descend upon Betty's with regularity and gusto each weekend can sip their drinks contentedly.
Painted Lady Lounge 2930 Jacob St., Hamtramck; 313-874-2991: If you really love those shiny, squeaky-clean bars in Oakland County where you bring your 4-week-old while you enjoy beers on a sun-splashed terrace, stay away. Stay far away. But if you like what dive bars used to be like, this might be for you.
Palate 449 N. Main St.; 248-714-5707: This brand-new restaurant offers a seasonally changing menu, craft beer flights and an international wine list. As you'd expect from any eatery with a seasonal focus, an emphasis on local ingredients will prevail; in fact, it has spilled over into the rustic interior, which has reclaimed ornaments derived from Michigan's deconstructed barns.
Park Bar 2040 Park Ave., Detroit; 313-962-2933; parkbardetroit.com: OK, you know and we know this one was a keeper from day one. Firstly for its location on the increasingly dense Park Avenue bar and club scene, secondly for its round bar and enormous picture windows, thirdly for having the only late-night, cool-as-shit Romanian food source (the Bucharest Grill) in town. But perhaps best of all is the house mix of music. How do they do it? Any employee may nix a song off the playlist. So you only get what people don't object to. What's more, there is usually a nice selection of pours on tap.
P.J.'s Lager House 1254 Michigan Ave., Detroit; 313-961-4668; pjslagerhouse.com: This rock 'n' roll watering hole has some of the best talent coming to town, but it's also a historic dive. P.J. tells us the place has been a bar since before Prohibition, and was once one of the down-and-out bars when Michigan Avenue was down at the heels. How times change! Now, in addition to the entertainment, you'll find a menu of excellent bar food (you get food every day, from when they open at 11 a.m. until midnight, and the Saturday brunch is especially interesting) and some of the friendliest bartenders in town.
Public House 241 W. Nine Mile Rd., Ferndale; 248-850-7420: From the folks who brought you Ferndale's smash hit Imperial, Public House has a similar emphasis on small plates and craft beverages. The cocktail, beer and wine choices abound, but many will be drawn by the decadent nature of the kitchen's appetizer-sized creations.
Raven's Club 207 S. Main St., Ann Arbor; 734-214-0400; theravensclub.com: The early 20th century was a good time to be a cocktail lover. Creativity was the norm, fresh juices and mixers were standard, and regional distilleries produced countless spirits. The Ravens Club unmistakably aims to bring this approach to food and drink to Ann Arbor, offering visitors not just beer and wine but a selection of classic mixed drinks, with syrups and bitters made in-house and all juice freshly squeezed. What's more, the food is excellent, with a menu celebrating America's gustatory heritage.
Renshaw Lounge 210 E. 14 Mile Rd., Clawson; 248-616-3016; renshawlounge.com: For years, the Renshaw was a little dive whose slogan was "Warm beer, lousy food." Now it has been expanded, going from little dive to up-to-date sports bar.
Roast 1128 Washington Blvd., Detroit; 313-961-2500; roastdetroit.com: Roast's happy hour regularly offers exceptional networking opportunities, professionally and socially. Detroiters from a bevy of mostly interesting working backgrounds meet there in small groups Monday through Friday. Roast's wine list is calculated, but its beer list is tastefully ambitious, featuring the Midwest's best breweries.
The Rockery 1175 Eureka Rd., Wyandotte; 734-281-4629: Specializing in Michigan brews, beer nuts can expect suds from everyplace from Arbor Brewing to Short's, as well as cider from J.K.'s Scrumpy and meads from B. Nektar Meadery. The four taps all pour Michigan beer, and there are more than 90 Michigan bottles to choose from. Burgers, chicken strips and other finger foods will help bring you back from the brink.
Rodin 15 E. Kirby St., Detroit; 313-285-9218; rodindetroit.com: Diners are drawn in by the fanciful menu of chef Kate Williams, whose loose — very loose — English translations of some classic French dishes are fun and quirky. But there's much in store for tipplers: An all-French wine list chosen by local oenophile Putnam Weekly that's mostly from small vineyards, and cocktails that seem keyed to the movie posters adorning the walls, with such playful names as the Deneuve, the Belle Epoque and Godard versus Truffaut.
Rosie O'Grady's Irish Pub 279 W. Nine Mile Rd., Ferndale; 248-591-9163; see rosieogradysirishpub.com for more locations: When you go to the bar to catch the big game with your best bros, there's a good chance there are a few other games, matches, meets, etc., you'd also like to follow, however casually or seriously. With more than 100 TVs throughout the joint, including a small flat-screen in each booth, all broadcasting the game, it's a sensory overload of sports. Game on!
Sava's 216 S. State St., Ann Arbor; 734-623-2233; savasrestaurant.com: Known for its trendy atmosphere and a menu that has something for everyone, Sava's also offers fun cocktails with fresh ingredients, such as their fruity jalapeño drink, April in Paris. This restaurant is stocked with great local brews, wines, spirits and cocktails that tickle the taste buds.
Seven Brothers 11831 Joseph Campau, Hamtramck; 313-365-6576: "The Brothers" caters to Detroit's smallish but incredibly vibrant theater community, with every square inch of space coated in head shots, cast posters and press clippings. On a busy night, these off-off-off-off-off-Broadway stars-in-the-making can lend the place a uniquely spirited and entertaining atmosphere.
Slingers Bar & Grill 11791 Farmington Rd., Livonia; 734-421-6070: Though Madonna University and Schoolcraft College are both in city limits, Livonia isn't really some wild college town. It'll never be one of those. But that's not stopping Slingers Bar & Grill (formerly PY Stix) from attempting to tap into campus-approved, liquor-fueled folly, such as beer pong. We're talking cheap drinks, like on their Thirsty Thursdays, which feature $2 beers from 10 p.m. to 2 a.m.
The Sugar House 2130 Michigan Ave., Detroit; 313-962-0123; sugarhousedetroit.com: On a night out at the Sugar House — a Prohibition-style "speakeasy" tucked somewhat inconspicuously next to that one barbecue joint in Corktown — you might enjoy a few well-crafted sazeracs or something else that's lit on fire before being poured. Blending an East Coast trend for pre-Prohibition cocktails and a West Coast tendency toward fresh ingredients, guests get all the best. The prices, however, reflect the quality.
Tap inside MGM Grand Detroit, 1777 Third St., Detroit; 877-888-2121: What's the story with Detroit's newest sports bar? It's done up in grand style, with original memorabilia from Lindell A.C., hearty pub fare and an emphasis on Michigan craft beers.
The Tap Room 201 W. Michigan Ave., Ypsilanti; 734-482-5320; taproomypsi.com: We know the cliché, but many regulars here say this bar really is like downtown Ypsi's own version of Cheers. Maybe it's because co-owners Lisa and Brian Brickley and their staff are down-to-earth folks who'll chat with you even after you've tossed down your seventh shot of Jack. Or maybe it's because most of the staff were regulars before they started getting paid to serve. (Hiring from within! Cool.) Either way, it makes for one drunk, happy family down in old Ypsi-town.
Third Street Saloon 701 W. Forest Ave., Detroit; 313-831-3434: How times change! Formerly a divey saloon of old-timers right out of a William Saroyan play, Third Street has been blown out and dramatically updated, now serving Midtown's surging student population. Drinkers can also enjoy Dangerously Delicious Pies served by Don "Doop" Duprie (yes, the guitarist and singer of Doop & the Inside Outlaws fame). On any given day, he serves slices of savory and sweet pies with a side salad for $6 gets. Don't miss his "coney pie," — dubbed "The Strangler," featuring made-from-scratch chili, Dearborn skinless beef franks, mustard, onions and aged white cheddar.
Three Nicks Tap Room 14594 Eureka Rd., Southgate; 734-282-7722; 3nicksbars.com; $: Ever wonder what a solar-powered bar would be like? Or how it would feel to knock them back in an establishment that cares about stuff like LEED certification? Check out the tap room, with its solar reflective roof system and solar panel electrical system. And enjoy the bar's large plasma televisions and daily drink and food specials with a slightly cleaner conscience.
Tom's Tavern 10093 W. Seven Mile Rd., Detroit; 313-862-9768: Meant, as always, in the most loving sense of the word, Tom's is a true dive. Open mostly on weekends, the old "house bar" opened when founder Tom Lucas bought the building in 1928, back when Prohibition was the law of the land, and when Seven Mile was still a dirt road. An astonishing 81 years later, Tom's survives, despite a lot of problems. Over the years, the bar has been built and rebuilt so many times that it's uneven enough to make you feel you're drunker than you are.
Torino Espresso + Bar 201 E. Nine Mile Rd.; 248-247-1370; torinoespressobar.com: Friendly, casual restaurant is a trendy lunch stop and a vibrant nightspot. They make their own pineapple- and jalapeño-infused tequila, delicious on its own and dangerous in their oversized margarita.
Town Pump Tavern 100 W. Montcalm, Detroit; 313-961-1929; thetownpumptavern.com: Located behind Hockeytown Café and Fox Theatre, this is a nice pub stop if you're planning on hitting up downtown. The bar almost makes you feel like you're in London with its ivy-covered windows, wooden interior and small (fake) library with couches in the corner.
Traffic Jam & Snug 511 W. Canfield St.; 313-831-9470; trafficjamdetroit.com: Get a twofer of English-style ales by visiting the little snug bar, with its backlit nature scenes and dormant fireplace. Or enjoy them with a meal in the restaurant: Traffic Jam makes almost everything in-house, including beer, bread and ice cream.
Two Way Inn 17897 Mt. Elliot St., Detroit; 313-891-4925; 2wayinn.com: This bar, nestled in a depopulated neighborhood north of Hamtramck, resides in a building that dates back to the 1870s, and beer has been poured there at least that long, making it arguably the oldest bar in Detroit. In recent years, the longtime tavern had been losing business, and owner-operator Mary Aganowski had considered selling the bar. But the nightspot has been winning converts, getting a boost from a younger crowd on the first Friday of each month. Fridays are the best time to get a drink. Park in back, if you can find a spot, get buzzed in, and then get buzzed.
Union Street 4145 Woodward Ave., Detroit; 313-831-3965; unionstreetdetroit.com: Besides a very tasty menu, Union Street's bar has a nice selection for all drinkers: 100 different bottled beers, 15 beers on tap, 32 premium bottles of wine available by the glass as well as a variety to choose from. Their 1920s bar is damn impressive.
Valentine Vodka Tasting Room 161 Vester St., Ferndale; 248-629-9951; valentinevodka.com: More a cocktail lounge than a tasting room, an atmospheric front room is filled with couches, high tops and a gorgeous copper bar, with views into the distillery. Specializes in quality cocktails with fresh ingredients. Open 4:30-11 p.m. Wednesday-Thursday, 4:30 p.m.-1 a.m. Friday-Saturday, and noon-6 p.m. Sunday.
Vivio's Food & Spirits 2460 Market St., Detroit; 313-393-1711; 3601 E. 12 Mile Rd., Warren; 586-576-0495; viviosbloodymary.com: Metro Times readers consistently vote Vivio's the Best Bar for a Bloody Mary, with good reason. More than two-dozen local retailers carry Vivio's Bloody Mary mix in their stores. Mixed with premium vodka and stirred with a dill pickle spear, it's perfect aperitif before tucking into Vivio's fortifying menu of sandwiches, mussel dishes and other bar food. Best of all, the Eastern Market location is a trip, richly decked out with Detroit history.
Whiskey in the Jar 2741 Yemans St., Hamtramck; 313-873-4154: Tiny bar packs it all in somehow — pool table, seating area, bar, TVs, jukebox — with a patio that spills outside for smokers and jokers. A longtime Hamtramck classic endures due to an assortment of regulars and some friendly bartenders who've seen it all.
Woodbridge Pub 5169 Trumbull St., Detroit; 313-833-2701; woodbridgepub.com: The Pub is open from 11 a.m. to 2 a.m. every day, and the most popular items on the menu (as on all menus) are the burgers. They're a succulent half-pound of certified Angus, dressed up with white cheddar or goat cheese or caramelized bacon or portobellos, delivered rare if you ask for rare. Other sandwiches are equally wonderful, as well as ultra-thin white pizzas and four pastas, cavatappi and fettuccine, also with tons of cheese. The brunch menu features bottomless mimosas on Sundays from 11 a.m. to 4 p.m. for $11.
Woodward Avenue Brewers 22646 Woodward Ave., Ferndale; 248-546-3696; thewabsite.com: If beer were a delicious tasting pop, it would be Raspberry Blonde. The WAB is a laid-back brewery that features their popular light-bodied blonde ale to the dark and hoppy vanilla porter. Specials include $2 pints on Sundays and half off food on Mondays.
Ye Olde Saloon 1023 S. Main St.,. Royal Oak; 248-542-5900; yeoldesaloon.com: Manager Donna says the bar has been Ye Olde since 1975. It's so old, she says, that it's just a dirt floor under the tiles. In the back room, the walls are decorated to resemble horse stables, with various amusingly drawn horses in their stalls. The front wall is plastered with sketches that were drawn by some guy who just sketched the customers between 1976 and 1978.
Ye Olde Tap Room 14915 Charlevoix, Detroit; 313-824-1030; yeoldetaproom.com: Hands down, this is one of the best beer bars in metro Detroit. More than 280 fine lagers from the world over, a stellar selection of fine scotch — single-grain, single-malt, vatted (pure) malt or blended, well-aged at 10, 12, 16 or 18 years, on the rocks or straight up — all get served minus the pretension. Adding to the ambience is the bar's notorious history of serving booze before, during and after Prohibition; its surreptitious speakeasy roots suggest the naughty and clandestine revelry of the jazz-baby '20s, a decade for which we were, unfortunately, born too late.
Special thanks to editorial interns Ashley Fagan and Tyler Martin for their assistance researching, writing and compiling this column.
See any inaccuracies or omissions? Let us know! Email [email protected].