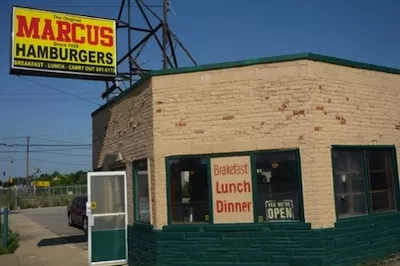 One of our favorite burger joints has a serious problem: A van ran into it, knocking in one of its walls.
The joint is our beloved Marcus Burger, which was
among the first burger joints we covered in our Burger Quest column last year
. WXYZ-TV reported that a van crashed into the restaurant around 9:30 p.m. Thursday, Nov. 19. The damage is so severe, the owners are wondering when they will be able to reopen. So far, it's "when," and not "if."
We're not sure if other cities have it worse, but it seems that cars careen out of control all the time in our area. The news is full of reports confirming this. For instance,
in March
, a car slammed into a home on the west side of Detroit, knocking the homeowner out of bed and causing a gas leak.
In May
, a car zoomed up onto the porch of a home on the east side of Detroit, causing damage.
In July
, a car fleeing from a traffic stop crashed into a vacant home, killing one of the car's occupants and sending the two other passengers to the hospital.
Earlier that month
, a car crashed into a hydroponics shop, although that may have been a botched robbery.
But this doesn't just happen in the city. Some of the more spectacular examples occur in the suburbs.
In April
, a car crashed through the wall of a Rochester Hills house and landed in the basement.
In September
, a car went airborne in Southgate and heavily damaged an auto shop.
That same month
,
two
cars barreled through the wall at a Southfield business, coming to a stop a few feet from the owner, who was sitting at his desk.
In October
, a car bashed into a Thai restaurant in Royal Oak.
Why do we bring all this up? We don't know how we stack up against other places, but it seems that, in our rapid-transit-poor region, people are on the road who shouldn't be. Buses, trains, trams, and streetcars may not give you the freedom to go exactly everywhere, but they have a really good track record of not ending up bursting into places of business.
In Detroit, it seems almost a given that any business, once it's been there long enough, will be hit by a car. Take a look at a bit of unscientific evidence: About 10 years ago, a car crash caved in the front of Tom's Tavern and killed a woman on the sidewalk. Six years ago, a car trying to elude police went out of control and
became a fireball
, narrowly missing Telway Hamburgers on Michigan Avenue. And now Marcus Burger. (Note that Tom's has been in operation since 1928, Marcus since 1929, and Telway's Michigan Avenue location in 1944.)
Not to make light of things, but when you consider how long a place stays in business, and lay it out statistically across a metropolitan area where cars often careen out of control, it follows that a venerable business will eventually be hit by a car, much like the planet Earth will suffer a catastrophic meteoroid event every few hundred million years. (Telway, being the youngest of the bunch, still has probably another 10 years or so to go before a truck plows into it.)
While we wish the very best of luck to the good people at Marcus Burger, we are somewhat resigned that, at some point, every wonderful thing we've ever loved will be destroyed by wild accidents. Can we get that regional mass transit system already?