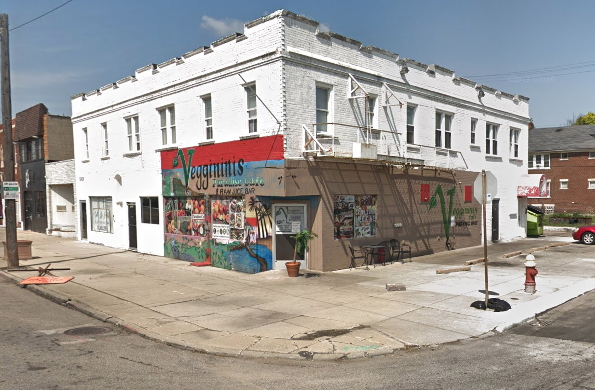 An employee at Detroit's Vegginini's Cafe was fired after he posted to Instagram a video that showed him mocking two customers and making racial and homophobic slurs.
WDIV
reports that the employee is the owner's son, and he on Friday posted the video to his personal Instagram page.
"Look at this fa—-
ass ni
—- right here," the employee said in the video, laughing. "Look at this ugly ass ni—- right here."
Vegginini's posted several apologies to its
Facebook page
and asked for the victim of the abuse to contact the restaurant so the owners could make a personal apology.
The employee who made those horrible comments about our guest is no longer employed at Vegginini's Cafe.

Yes, he is the son of the owners but that does not excuse him of responsibility nor accountability; and simply being a decent human being. Again we apologize to everyone who was offended by such foul and unprofessional behavior.
The victim, who is white, said in a Facebook post about the incident they will not be returning to the restaurant. The victim said in the post that they are "openly queer" and were wearing makeup. They recounted what happened:
Immediately upon entry I felt uncomfortable. I dismissed them because I had no "real" reason why. We sat down, and the entire time we were there, I could see the employees "inconspicuously" talking amongst eachother and staring but I ignored them as i talked to the lady I believe to be the owner, who was waiting on us. When the owner was done and rejoined the other employees, she had her back turned to me, on her phone, shaking her head and the others kept turning and looking at me. I assumed they were being rude and talking about me but I tried to ignore it. As someone who has been openly queer their entire life, I'm no stranger to this kind of treatment from people.

Eventually one of the employees came out with my smoothie and said "Here you go, one smoothie for you....... uh gentlemen....." He reached his arm out as far as possible and placed the smoothie on the table so he could be as physically far from our table as possible. He also had his head turned, looking away the entire time. Eventually later the owner came out and said "how is everything" without getting close or looking in our direction (as the guy with the smoothie did) and I swear she turned around and walked away before we even got halfway thru saying "good, thank you". She was polite other than that, and its possible that her shortness wasnt directed at me even though I had the feeling she felt uncomfortable by my presence ....

Though its needless to say I will not be going back, I'm posting this not for sympathy, or revenge. I'm posting this to open peoples' eyes to those who are otherwise unaware. This is the reality of someone assigned male at birth, wearing as much makeup as the average woman. This is completely unacceptable even removing the fact that I'm visibly queer, removing the fact that it was by one of the employees. It is an invasion of privacy to have a video taken of me without my consent, especially one as malicious as this.

So many restaurants, so little time. Find out the latest Detroit dining news with our weekly food newsletter delivered every Friday morning.