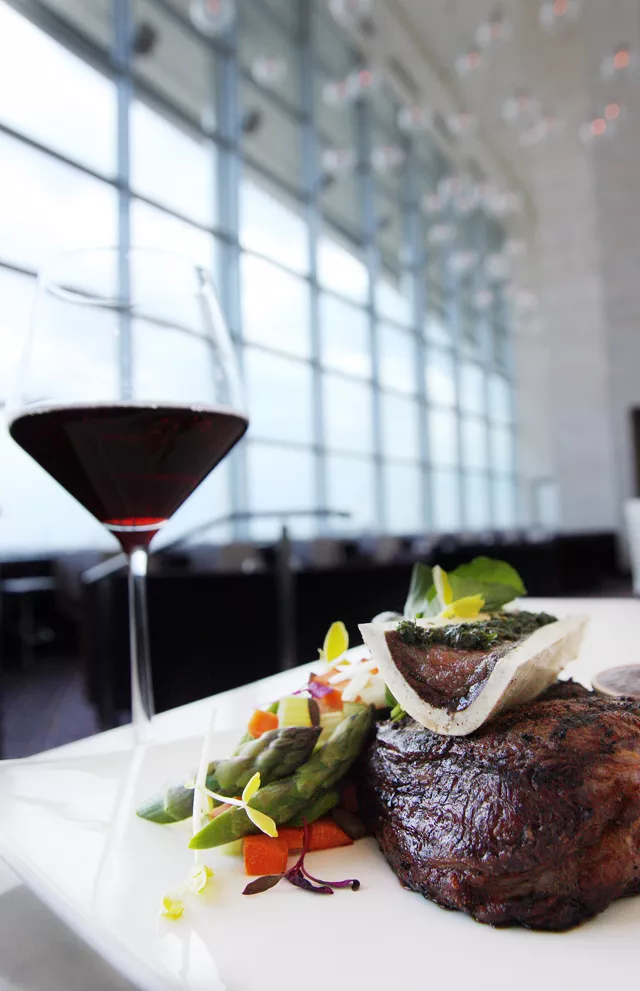 Iridescence
MotorCity Casino Hotel
2901 Grand River Ave., Detroit
313-237-6732
As you gaze over the lights of Detroit from your aerie on the 16th floor of the MotorCity Casino Hotel, who would guess that our city has only 70 percent occupancy? It's best to arrive before dark, as the 40-foot windows seem to change color as the light does — turquoise, loden green — magic. From here, it would be easy to imagine yourself in a flourishing city. The illusion would be fostered by your fellow diners at Iridescence, many of whom haven't bothered to dress up — even the lower classes, marvels the man from Mars, can fine-dine here.
You, of course, know better — the first thing the hostess wants to know is whether you'll be using comps. In a casino, management is gracious to all who spend money, no matter their jeans or that blond horsehair wig.
Iridescence is the casino's only fancy restaurant, so it has responsibilities. It must offer surf and turf and a 2-pound rib-eye while also allowing the chef to show off his pedigree earned in sophisticated restaurants: Derik Watson has worked at the Rugby Grill, Tribute and Chicago's Takashi.
And he's doing a marvelous job. Iridescence is not all view, nor merely the cheap thrill of the motorized wine cabinet, wherein tall columns of bottles zip down from ceiling height to arm's reach at the touch of a button. You do want the view, though, so for the best, get a seat either along the windows or on the slightly raised tier closest to the open kitchen.
As you order, do not neglect the salad course. Every chef should go to salad school at Iridescence. On a cold spring night, my party couldn't believe our mouths at the assortment of tomatoes in Watson's Caprese — it was as if summer had exploded in our mouths, in the form of yellow, purple and red grape and cherry tomatoes. Another night, an unequaled pear salad was dressed down with apple cider vinaigrette and dressed up with Roquefort, yuzu marmalade (yuzu is a tart Japanese citrus) and a wafer-thin crackle of pear chip.
Other salad possibilities are baby beets, Caesar or arugula with bacon-sherry vinaigrette.
Although the menu description doesn't read that way, I'm wondering if the Caesar is presented with a twist: lure in the punters with something they expect, then give them something better. That's what happens with onion soup gratin, which is more complex and far less sweet and cheesy than the norm, even the norm in a good restaurant. The broth is darkened by Kalamazoo's own Bell's Porter; three types of onions are the stars; the bread and cheese are represented only by a small Comté cheese crostino (to use the singular).
A couple of Watson's fish dishes, both served with roasted Brussels sprouts, are melt-in-mouth: cod and Atlantic salmon. The salmon comes with Jerusalem artichoke purée masquerading as mashed spuds — but with more character.
Cioppino, the fish stew, here with shrimp, scallops and mussels, has a heady shellfish broth, graced with fennel, and does not skimp on the scallops. Just a touch of tomato does wonders to complicate yet smooth out this wondrous soup, which I order as often as possible.
The only letdown I experienced on a couple of visits to Iridescence was lamb osso buco with a smear of cumin-y harissa, which was dry and a bit tough, though it had a good sauce. Breads are warm soft pretzels or a soft, rich cheese bread; an amuse-bouche one night was a tiny caprese. The restaurant wins the Wine Spectator Award of Excellence every year, though I couldn't have proved it with the rather thin Bordeaux Rouge and the just-OK Australian Shiraz I ordered. Higher rollers would have chosen differently.
Pastry chef Patricia Nash tends to feint downscale but deliver upscale. You find on the menu carrot cake, creamsicle, whoopie pie, churros — just like Mom used to make, or buy — but instead you get a highly crafted construction that's not overly sweet. Nash lifts what's essentially a brownie with ice cream to new heights, or unpacks a peanut butter bar in a way that proves once again how salt enhances sweetness: caramelized bananas are separated from chocolate-peanut butter ice cream by a chocolate fence; salted peanuts are sprinkled around.
If extraordinary food and a stirring view aren't enough, there's one more thrill attached to dining at Iridescence: vertigo. The self-parking structure contains the steepest hill in Detroit, the 75-degree angle producing a small moment of panic as you ascend and can't see where you're headed.
The restaurant is atop the hotel in a separate building from the casino — no smoke, no chimes! It's open from 5 to 10 p.m. Sunday, Tuesday and Thursday and 5 to 11 p.m. Friday-Saturday.