Yes, Karahi Korner is a hole in the wall. Pretty much literally so. There's a hole in a wall in the back of a small, basic Indian and Pakistani grocery store at 12 Mile and Middlebelt. It's essentially a carryout window, so when it's time for fragrant Pakistani cuisine from Karahi Korner, you walk through the store, approach the window in the back wall, place your order, pay, take the food, then leave.
It's semi-unconventional, but it doesn't matter because the food is awesome. Some of the best in metro Detroit. And it's one of your rare — if not only — chances to try this type of Pakistani cuisine in metro Detroit. These are intensely bright, aromatic-pumped South Asian dishes in which the Pakistani chefs orchestrate spices, heat, and acid in ways that you might have never encountered, and it's nearly intoxicating.
But there's more that you need to know before going. A taste of that harmony requires some work, and it might take two tries before you get what you came for. Because of that, you'll have to put a little faith in the chefs. It took me several phone calls over a three-week period and two trips from Hamtramck to Farmington Hills before figuring out exactly how Karahi Korner rolls.
That's partly because the guy who answered the phone didn't speak much English. That type of thing is generally a good sign if you're looking for authentic cuisine of a different country, but it presents a language barrier. Among those questions I couldn't initially figure out: Why are there 15 things on Karahi Korner's menu, but only a couple that are ever available at one time? When is the restaurant open? Why is there rarely any food during the lunch hour.
A cashier at the store finally explained what's up. The owners shop for their ingredients every morning, make enough food from scratch for the day, then start again the next morning. There's not much sitting around in the kitchen overnight. They arrive in the morning — on their schedule — and start cooking. What happens if you show up at noon? No biryani for you. What happens if you show up at 2 p.m.? It might be ready. But don't go too late, because the food is gone when it's gone. Timing is everything.
As for the menu, chef Ikhlaq Ahmed regularly prepares three items, including chicken biryani and chicken karahi, everyday. Usually there's beef or chicken kebabs, but only if Ahmed goes to the butcher that morning. On other days there's korma, tandori chicken, and a few other dishes. But the best bet is to call ahead, especially on weekends Karahi does huge catering gigs.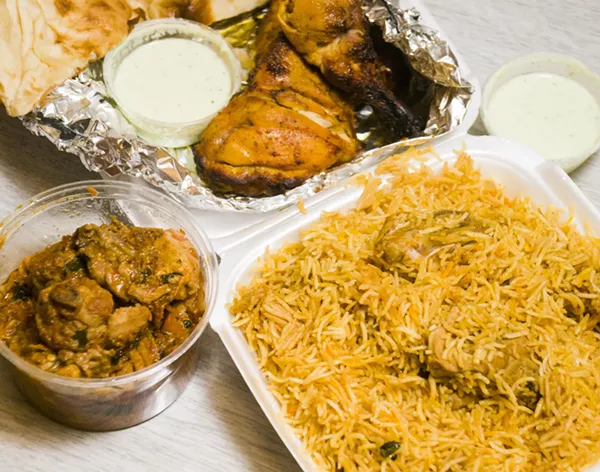 In short, here's what you can generally count on: chicken karahi and biryani everyday, starting sometime between 1 p.m. and 2 p.m., and kebabs after 4 p.m.
It's worth going for dinner and ordering all three for about $30. The dishes are unique, though all of Karahi's meat is slow-cooked and super tender, and many of the same spices and aromatics are in each.
In the chicken karahi, nubs of meat that falls from small bones arrives in a wet, deep rust-colored, oily mix of ginger, coriander, cumin seed, garlic, onion, tomatoes, cilantro, and some variety of hot pepper. It's an incredibly rich and fragrant mix accented with the crunch of fresh ginger. Again, the balance and interplay of the aromatics, spices, and mellow heat is something for a southeast Michigan palate to behold.
The same principles apply in the kebabs, which are super flavorful sticks of ground meat that's slightly charred on its ends and speckled with bits of herbs, garlic, and onion. You'll find more coriander in the soft, moist sausage, along with the ever-present mellow heat from jalapeños. A hint of sweetness seamlessly plays into each bite, and the meat should be dipped in a yogurt raita sauce that holds mint, cilantro, and cumin seed. The wave of mellow cumin rolls through your mouth as more of a sensation than a flavor.

On another trip, I was lucky to come across the slightly charred and super moist tandoori chicken, which is flavored with garam masala, salt, garlic, and other spices.
Finally, there's there biryani, a basmati rice dish that comes stocked with nubby pieces of tender chicken. Again, you're going to find the cumin, coriander, hot peppers, garam masala, and aromatics at work, but there's also a heavy presence of perhaps cardamom, and lots of whole peppercorns. I found myself seriously mad that there wasn't another bite when I finished my plate.
A lot of restaurants in metro Detroit advertise as Indian and Pakistani, but Karahi is clearly something different. For one thing, India and Pakistan are huge places with localized cooking that differs depending on which corners of the countries you're in. (That's like moving to Karachi and opening an "American-Mexican" restaurant.) Ahmed is from Jhelum, Pakistan, and says the restaurant keeps the menu so short because it's important to make things fresh everyday. That's what he says distinguishes Karahi from other Pakistani restaurants that have 100 items on the menu.

And though you're likely only going to get to try three dishes at Karahi, and there might be a little more work involved, it's an intense experience that's worth the effort.