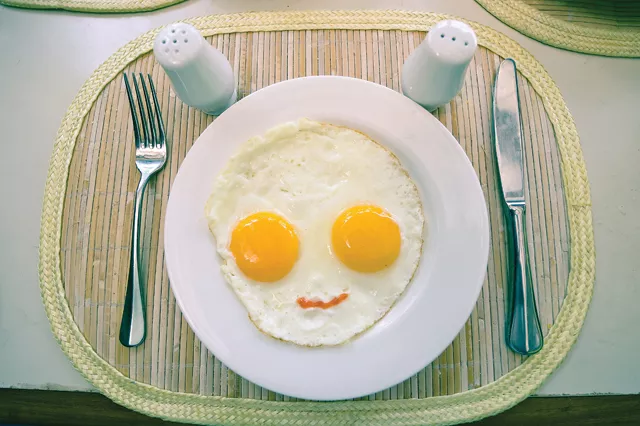 $=$5-$10; $$=$10-$25; $$$=$25-$50; $$$$=$50+
Amer's Deli 312 S. State St., Ann Arbor; 734-761-6000; amersdeli.com; $: For more than 20 years, Amer's Deli has attracted hungry Ann Arborites with its quality sandwiches and salads. In a coffeehouse atmosphere, you can enjoy their Reuben sandwiches, for which all-kosher corned beef is cooked, sliced and trimmed in-house; the rye bread is direct from an Oak Park-based Jewish bakery. The Georgia Reuben offers a turkey alternative to Amer's signature sammy, while the "Falafel" (served on white pita stuffed with hummus and taboulleh made in-house) and the "Pesto Luck" (fresh mozzarella, tomato and an impressive in-house pesto) should please vegetarians.
Bread Basket Deli 26052 Greenfield Rd., Oak Park; 248-968-0022; breadbasketdelis.com; $: A favorite among Metro Times readers, this old-fashioned Jewish deli serves mammoth sandwiches with quality ingredients piled high. How high? Their Dagwoods frequently achieve triple- or even quadruple-decker status. If you're looking for a tasty bite, the club sandwich and the cheeseburger aren't exactly kosher, but they are divine. The latkes, gefilte fish and cheese blintzes are also exquisite. Ask for a cold beet borscht to help wash that meal down.
Bucharest Grill inside the Park Bar, 2040 Park Ave. (enter off Elizabeth), Detroit; 313-965-3111; bucharestgrill.com; $: Who knew so many people wandering the neighborhood west of Foxtown had a hankering for Eastern European food? How else to explain the success of Bucharest Grill, a small counter setup in back of the Park Bar? For just a fistful of singles you can have affordable shawarma sandwiches and inventive hot dogs. For veggie fans, delicious Bulgarian goat cheese replaces chicken on the veggie version of the shawarma. Warning: Take your meal out to a seat in the Park and the bottles and taps of their formidable bar are sure to call your name.
Byblos Cafe and Grill 87 W. Palmer St., Detroit; 313-831-4420; bybloscafeandgrill.com; $: This halal-certified restaurant near Wayne State's campus attracts university students and staff, serving Coney Island fare and Mediterranean specialties for breakfast, lunch and dinner. A co-worker raves about the grape leaves, stuffed with lamb or meatless, including a mix of rice, tomatoes and parsley. Other favorites include the chicken shawarma — a pita wrap with a mix of toasted chicken, garlic sauce and pickles — and the Byblos wrap: vegetarian grape leaves, hummus, baba ghanoush, taboulleh and pickles.
Detroiter Bar 655 Beaubien St, Detroit; 313-963-3355; $: Yes, it's a bar, but it's also a grill worthy of this meat-and-potatoes town. The downtown spot packs 'em in for lunch. Expect solid bar fare, including big salads and a tasty chicken breast sandwich. The staff seems especially proud of their half-pound burger, the "house special," draped with enough meat and cheese to bring tears to a vegan's eyes.
Elwood Bar & Grill 300 Adams Ave., Detroit; 313-962-2337; elwoodgrill.com; $: Located right between Comerica Park and Ford Field, Elwood is the prime hangout spot for sports fans before, during and after games. Pair up a specialty sandwich with the vast amount of beer you will consume while cheering for the Detroit home teams. Don't skip out on a great sandwich because you want more drinking money, because all of them are very affordable. Priced at only $7.25 the Elwood Cuban — pulled pork, ham, Swiss cheese, pickles and wasabi aioli — is a delicious choice.
The Fly Trap 22950 Woodward Ave., Ferndale; 248-399-5150; $$: When clever, talented people make your meal, the tastes will be great. Such is the Fly Trap's Charmoula Chicken sandwich, featuring north African spiced chicken breast, Jack cheese, caramelized onion on grilled sourdough with a lemon-garlic aioli for $7.95. The chicken gets its flavor from a marinade of paprika, orange juice, garlic, cumin and cayenne pepper. Co-owner Kara McMillian says her husband and head chef, Gavin McMillian, once had a fish dish in a north African restaurant in Seattle, and thought it'd be good to try with chicken. They decided to pair it with the caramelized onions and aioli, "and it was born." Now it's a "really popular sandwich, one of the best-selling items on menu," with lots of loyal fans. Fly Trap is open 8 a.m.-9 p.m. Tuesday-Friday, and 8 a.m.-5 p.m. on weekends. Closed Mondays.
Grand Trunk Pub 612 Woodward Ave., Detroit; 313-961-3043; grandtrunkpub.com; $: Dine and down a pint amid history! Located near Campus Martius in downtown Detroit, Grand Trunk Pub serves up delectable goodness in what was once the Grand Trunk Railway ticket office. Brass chandeliers, 25-foot-vaulted ceilings, brick walls and hardwood floors bring patrons back to the early 1900s. Officially touting their fare as "gourmet pub grub," this local watering hole supports top-notch local businesses, serving Avalon Organic breads, Better Made chips, and meats and produce from Detroit's own Eastern Market. And it sure makes for a good sandwich. We know a loyal follower of their sandwich called the "Finnigan" — chicken breast topped with fresh mozzarella, spinach and their homemade tomato-basil aioli on grilled Greektown olive bread.
Famous Izzy's Restauarant 22315 Little Mack, Roseville; 586-294-6750; $: This is about as serious as sandwiches get. It's the home of the 25-inch, half-pound hot dog, the 7-pound steak burger (which the menu describes as "not for wimps"), and sandwiches that aren't just double-deckers or triple-deckers — but four-deckers so tall they have to be served on skewers. For just $9.99 you can get the four-decker Jennifer's Jubilee, with corned beef, pastrami, Swiss cheese and house dressing. And, seriously, that thing right there is about three meals' worth of eating! See also their "Mile High" cakes — cakes so big they are decorated with little cakes of their own.
Joey's Famous Philly Cheesesteaks 14625 Northline Rd., Southgate, 734- 281-4444; 16125 West Rd., Woodhaven, 734-692-1111; 5926 Middlebelt Rd., Garden City, 734-266-2626; joeysfamousphilly.com; $: Thinly sliced rib-eye is fried on the griddle, while sweet Vidalias are grilled. The cheese (American or provolone) is placed on top of the frying steak, so it melts into the meat and strengthens the flavor. This is the way transplanted Philadelphian Sherii Abbulone and her husband Joey make a perfectly authentic cheesesteak, all on bread from a Philadelphia bakery. If the bovine selection is too much for you (and some hold as much as two pounds of beef), there's always the Italian Hoagie, with its generous helping of hot peppers.
La Feast 315 S. Main St., Royal Oak; 248-545-7100; $: This relatively new restaurant in downtown Royal Oak serves up Middle Eastern rare fare. Aside from the common falafel sandwiches, La Feast's customers are also drawn to rolled (not wrapped) pita sandwiches, including the shish tawook (white chicken kabob meat with garlic spread and pickles) and the shish kafta (ground lamb, tomato, onion, lettuce and tahini sauce). But we think the chicken sajji tops them all, with thinly sliced grilled chicken with pickles and tomatoes rolled in pita bread. The elusive sajji sauce is what makes this sandwich. It's like a peppery Middle Eastern barbecue sauce with heavy notes of Worcestershire, vinegar, coriander, brown sugar and possibly a hint of cayenne.
Lily's Seafood 410 S. Washington Ave., Royal Oak; 248-591-5459; lilysseafood.com; $: In Royal Oak's vibrant downtown, find delicious micro-brews and a cozy, family friendly atmosphere all in one place at Lily's Seafood. Sandwich lovers approve of the popular smoked-salmon Rueben, which includes brown sugar-cured, hickory-smoked Atlantic salmon rubbed with pastrami spices and then lightly grilled. This baby gets stacked on grilled marbled rye with coleslaw, aged Swiss cheese and Russian dressing.
Louie's Ham & Corned Beef 3570 Riopelle St., Detroit; 313-831-1800; louiseasternmarket.com; $: This boxy diner on Mack and Orleans (near Eastern Market) has a giant pig on its sign. With a hog as a mascot, it's hardly a surprise they have a lot of pork on the menu. And you'll pay full freight for that pastrami on rye or Canadian bacon. But the breakfasts are a little cheaper. Another bonus: You can dodge that tip with their drive-through window.
M&M Cafe 13714 Michigan Ave., Dearborn, 313-581-5775; $: Tender loving care, dished up along with great food, and served in spacious and attractive digs. The menu is mostly American with a few Lebanese dishes: hamburgers, chef salad and turkey sandwiches, kafta, hommous and laban. The grilled shrimp is divine; just as good is a garlicky, buttery lemon chicken topped with thinly sliced mushrooms and served with rice pilaf.
Mati's Deli 1842 Monroe St., Dearborn, 313-277-3253; matisdeli.com; $: A strong, solid selection of food is available here, with a sublimely retro atmosphere. Imagine a 1930s lunch counter. A reproduction of Edward Hopper's "Nighthawks" hangs on the wall, and Mati's is fully worthy of it. The service is both knowledgeable and friendly. The chicken salad is sharp and tasty, and they make one mean corned beef sandwich. The food won't empty your wallet, which is a bonus. There isn't much in the way of seating, but a 20-minute wait is easily justified by cream cheese brownies and Detroit-made pickles.
Mudgie's 1300 Porter St., Detroit; 313-961-2000; mudgiesdeli.com; $: This Corktown spot used to be the old Eph's, and they carry on the sandwich tradition with a slew of sandwich options including the award-winning "Madill." Composed of turkey, apple-wood-smoked bacon, avocado, tomato, romaine lettuce and melted pepper jack cheese layered on an 8-inch-sub spread with Mudgie-made garlic mayo, you'll understand the award-winning part when you chomp on this open-faced sub.
Noah's Deli 14500 Michigan Ave., Dearborn, 313-582-8361; $: Though the spot opened as a deli back in 1936, it was only reincorporated as Noah's in 1977. But the offerings are timeless, and Noah's built its reputation on corned beef that's fresh-cut, lean and made on-site. This is your stop in east Dearborn for deli-style sandwiches. In addition to the specialty corned beef, there's also ham, salami, roast beef, pastrami and turkey, as well as soups, meatloaf and hot plates, as well as dessert.
Omega Hawg & Dawg Deli 2100 Hilton Rd., Ferndale, 248-548-5700; $: This narrow, rectangular building on the northeast corner of Hilton and Cambourne has minimalist diner decor. Coney fare predominates, including burgers, triple-decker sandwiches, salads and a large omelet menu. But expect inventive twists, such as a bag of sliders, "chilly dilly" (chili with all the fixings) and all-day breakfast. With 13 years on the block, this puckishly named eatery has solid fare, reasonable prices and staying power.
Panini Press 28983 Woodward Ave., Berkley; 248-547-7377; thepaninipress.com; $: Panini Press takes pride in the fact that virtually every product utilized in the creation of its meals is of local origin. In Italy, a panini originally referred to a small bread roll. In the United States, our panini are much larger sandwiches whose foundation is often ciabatta or country Italian bread, the two most popular options here. In addition, Panini Press offers panini with white or multi-grain bread, roll-up wraps and even, somewhat incongruously, lettuce wraps for patrons concerned about the calories. For a slight extra charge, those with celiac disease and related afflictions can order a gluten-free panini. A budget-balancing special features a panini, soft drink, and chips or coleslaw or ciabatta bread sticks and dipping oil for $7.99. You can also order those soft bread sticks for $1 a la carte.
Pita Kabob Grill 619 E. William St., Ann Arbor; 734-622-8082; pitakabobgrill.com; $: The good news is, at Pita Kabob, you'll find vegetarian pita sandwiches for less than $5. More good news: The meat ones are generally just a dollar more.
The Potato Place Restaurant and Bakery 107 W. Warren, Detroit; 313-833-8948; the potatoplace.com; $: Now in its 20th year, the Potato Place has a casual menu centered around stuffed baked potatoes, but rounded out with soups, salads, sandwiches, subs, ice cream, and such baked goods as brownies and cakes made on-premises. And some of those potatoes are doozies, like the "taco" potato (ground beef and cheese), the "chicken and cheese," and the "steak, cheese and mushroom." In all there are 24 different kinds of potatoes with different toppings. Between Cass and Woodward, near Old Main on Wayne State campus.
Pronto! 608 S. Washington Ave., Royal Oak; 248-544-7900; prontorestaurant.com; $: If you're going to Royal Oak to eat, but you want to avoid the pricey, overcrowded Main Street restaurants, go to Pronto!, where brightly colored walls add to the lively feel of this often bustling restaurant. The sandwich menu is creative and fun. Pronto also has many options for vegans and vegetarians (try the tasty "Farmer's Market" sandwich) and even offers a gluten-free option, by having your sandwich wrapped in lettuce instead of bread. If the weather permits, settle into a sidewalk table and enjoy.
Rowland Café 500 Griswold St., Detroit, 313-963-1440; therowlandcafe.com; $: Sandwiches and coffee at the Rowland Café are first-rate, but of necessity they take a back seat to the setting, amid the magnificent arched mezzanine of the 1929 Guardian Building, an Art Deco splendor reopened to the public in 2004. The beverages are imported from around the world, which include Illy coffee, Revolution teas and Italian sodas.
Royal Kabob 3236 Caniff St., Hamtramck; 313-872-9454; $: The arrival of Royal Kabob on Caniff in Hamtramck offers the multi-ethnic enclave known as Hamtramck a superb, fitting shop that can provide everything from an ambitious platter to a humble, wax-paper-wrapped falafel sandwich. And those sandwiches are deals: A falafel sandwich is $3.45, as are the four other vegetarian sandwiches. For carnivores, meat-kebab sandwiches are around $3.45. As for their entrées, they're big enough to guarantee you'll leave with a box. Jeez, their $24.99 takeout combo for two is enough food for a small army. Though it does a brisk take-out business, the interior is bright and commodious, with enough room for large parties. What's more, it has a gelato bar for your sweet finish.
Russell Street Deli 2465 Russell St., Detroit, 313-567-2900; russellstreetdeli.com; $: Russell's serves up great food for loyal customers in the Eastern Market area. The busy deli is always filled with happy, and hungry, people. If nothing on the extensive menu catches your eye, don't worry, because you're even able to build your own sandwich the way you want it. The soups are definitely a standout that change daily, which include a wide range of vegan, meatless and homemade that add a twist on the traditional soups your mom used to make. With affordable prices and huge portion sizes, you'll have enough for lunch and dinner.
Slows 2138 Michigan Ave., Detroit, 313-962-9828; slowsbarbq.com; $$: Slows caters to a mix of hipsters, folks from area businesses and suburban brewheads. Known especially for great barbecue food, Slows offers a variety of smoked pork or beef brisket sandwiches. Slows gives you a "reason" to dine here by offering "The Reason" (the actual name of the sandwich) - Niman pork butt, smoked slow and pulled, bathed in sauce and topped with their signature coleslaw and dill pickle strips. The macaroni and cheese is a satisfying combination of sharp and creamy and the potato salad could have come straight out of an Alabama picnic basket. Be sure to check out Slows To Go, newly opened and located at 4107 Cass Ave.
Sprout House 15233 Kercheval St., Grosse Pointe; 313-331-3200; $: The Sprout House is serious about health and finds nutrition to be key in a long life. A sort of organic grocery, with produce, discount vitamins and health and beauty products, this place does a thriving carryout business in sandwiches and refrigerated prepared dishes from the store's working kitchen. Offering vegan, organic dairy, organic chicken, soy cheese and vegetarian options, the store has preservative-, growth hormone- and antibiotic-free foods.
Stella International Café the lobby of the Fisher Building, 3011 W. Grand Blvd., Detroit; 313-664-0400; and, for catering and carryout only, in the lobby of the Guardian Building, 500 Griswold St., Detroit; 313-964-3910; stellacafe.com; $: For obsessive, mid-morning sweets cravings, one of the breakfast paninis might do the trick. We recommend the café's house specialty, the "Stella Dolce Panini." Quite a dessertwich: nutella chocolate hazelnut spread with fresh banana slices on fresh-baked foccacia. In the Fisher Building, you can even bring a periodical or friend along, and enjoy a cup of steaming, premium roast Illy coffee (blended in Trieste, Italy, using 100 percent Arabica beans).
Union Street 4145 Woodward Ave., Detroit; 313-831-3965; unionstreetdetroit.com; $$: Another place to go with the 'rents, Union Street is an old standby. For $3, they get to park securely, and the reassuring interior blends classic aged hardwood with modern accents of art deco, including that damn impressive 1920s bar. As for the food, each dish on the menu is prepared with home-cooked lovin' and tends to be hearty, including a juicy portabella mushroom sandwich dripping with sweet red wine and balsamic sauce.
Whistle Stop 501 S. Eton, Birmingham, 248-647-5588; $: Cheese and meat omelets, pancakes with fruit, cinnamon rolls and French toast? Sounds like a breakfast winner. Equally traditional lunch items include tuna melts and Maurice salads. Weekend breakfast specials, served all day, are a tad more adventurous, and everything is made fresh on the premises, including the breads and bumpy cakes.
Zingerman's 422 Detroit St., Ann Arbor, 734-663-3354; zingermansdeli.com; $: Zingerman's is as fine a deli as anyone could wish for, and more than just a haven for triple-decker sandwiches and dill pickles. In addition to its array of imaginative sandwiches, soups and salads, it stocks top-of-the-line products, from tea, coffee and mustard to cheese, jam and olives, from small, proprietor-run companies literally across the globe. Breads from its own bake house have become almost as famous as the deli itself. The knowledgeable staff adds to the superior experience.
Special thanks to editorial interns Patrick Higgins and Alissa Gilmore for their assistance researching this column.
See any inaccuracies in our listings? Let us know by e-mailing [email protected].