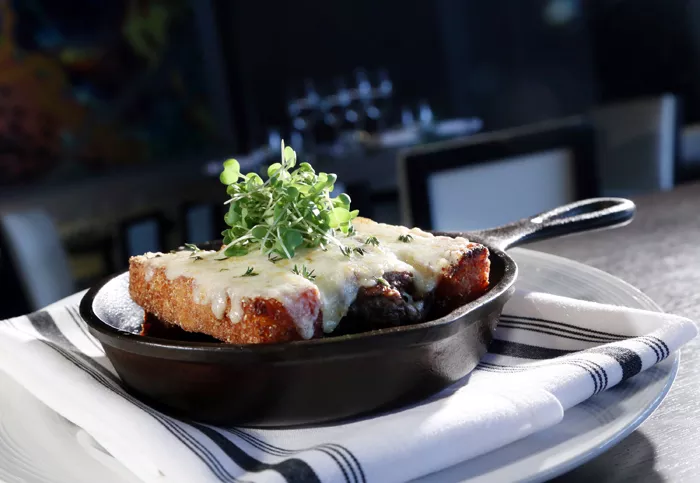 Bistro 82
401 S. Lafayette Ave., Royal Oak
248-542-0082
Snacks: $3-7
Appetizers, soups, salads, oysters: $6-$34
Entrées: $18-$36
Open: 4-10 p.m. Tuesday, Wednesday, 4-11 p.m. Thursday, 4 p.m.-midnight Friday-Saturday, 4-9 p.m. Sunday.
"Ability takes you to the top. Character keeps you there," boasts the Bistro 82 website. It's a good motto, and it sets a tone for the experience of Bistro 82 that carries through everything they do.
The entire restaurant is simple, yet exquisitely elegant in its design. The floors and walls and furniture all play on shades of grays and creams, for an effect that is at once very formal and completely relaxed. Sprays of green foliage are scattered at a few strategic locations throughout the restaurant, and a large, abstract, neon-painted canvas hangs on the wall. One cannot, however, neglect the bar: Lit from inside, a glowing granite-like counter is an incredible centerpiece, the first thing visitors see.
The menu at Bistro 82 is unusual: Placed on your table, or handed to you by a bartender, is a tablet computer in a leather case, running a program that is the menu. Tap the navigation button in the corner to skip through pages, or swipe left and right to flip from happy hour to snacks and appetizers, all the way through a wine list searchable by several different criteria. Its best feature is this: Tap the name of a menu item or its description to bring up a picture of that very item. It's easy to get lost grazing on photos alone.
That would, however, be a terrible mistake. The food at Bistro 82 is simply stunning, at a level of presentation and quality seldom seen in these parts. Elegance runs through everything that is presented, through simplicity and cleanliness of flavors, presentation, and intent with each dish.
The menu reads like something out of a Parisian chef's stroll through the market. Start at the top of Rue Lepic, where the best shellfish are. Bistro 82 offers three oyster varietals daily: East Coast, West Coast, and a third oyster du jour. Skip the cocktail sauce and try the mignonette, made with grains of paradise instead of the classic black pepper. It's classic, elegant, and innovative.
Lamb spare ribs are coated in a root beer glaze, sprinkled with sesame seeds, and served with pickled shallots and napa cabbage. They're incredibly tender and richly flavored, and at the very end, a familiar flavor from childhood lingers on your tongue. The bone marrow deserves mention, as well: Roasted, served in the bone with crostini, it's so, so good. Trust us.
Vegetarians might prefer to start with the roasted artichoke: it's cut in half, choke removed, and served with both lemon vinaigrette and roasted pepper aioli. It requires a skilled diner to eat the tender bits off an artichoke leaf, but rewards with light, yet rich flavors, and it feels so very French.
Steaks are cooked expertly and served with classical accompaniments: A Wagyu hanger steak comes with tasty frites; the rib-eye with roasted potatoes and stewed vegetables; the filet with peas, carrots, cauliflower purée, and bordelaise sauce — and there's absolutely nothing wrong with that. In fact, everything is right with it.
The moules-frites, mussels, and fries come straight from Belgium (by way of Paris) and are excellent. With fresno chile thrown in and a curry aioli, they deviate a little from their classical origins for a delightful effect.
Ratatouille, as a dish, is an accurate barometer of a restaurant's skill. It's so simple — so easy to make overly complex and ruin — that if it can be executed perfectly, everything else ought to fall into place. The ratatouille at Bistro 82 is sublime, and speaks volumes about the rest of the food. The vegetables are so carefully treated, so expertly seasoned, so loved on by the cooks, that the result is superb. So, too, with the rest of the menu.
Dessert comes highly advised: Try the beignets, served on a wavy plate with caramel sauce and caramelized banana slices. Or the strawberry pistachio, a strawberry consommé with pistachio cake and vanilla ice cream. Truthfully, every dessert is superb — how else would the meal close at a place like this?
Success comes from setting goals and achieving them relentlessly. Bistro 82 calls this concept "character," and the staff and management have absolutely shown the strongest character. The standards are high, and they are strenuously maintained, for a simply sublime experience. From its interior design, to the preparation and presentation of the food and drinks, to the uniforms of the service staff, Bistro 82 is a paean to the ability of visual simplicity to conceal culinary complexity.