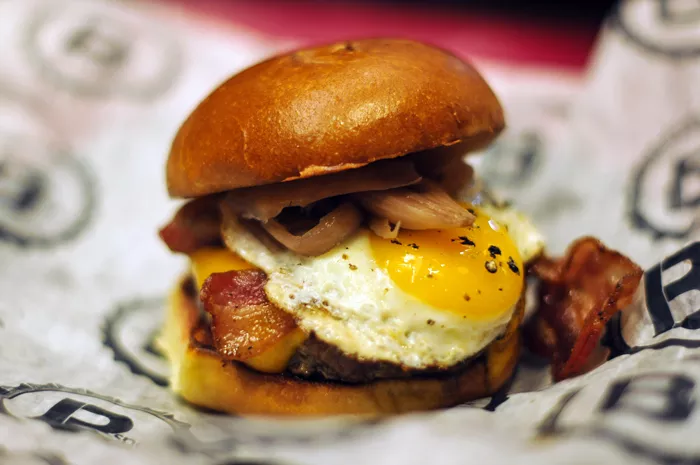 176 N. Adams, Rochester Hills
248-218-6001
bspotburgers.com
Handicap accessible
Burgers: $7-$10
Open 11:30 a.m.-10:30 p.m. Monday-Thursday, 11:30 a.m.-11 p.m. Friday-Saturday, 11:30 a.m.-9 p.m. Sunday
What makes a celebrity chef like Michael Symon, famous for his upscale restaurants, turn to the humble burger? B Spot general manager Frank Ritz says Symon has always been a burger hound, prone to jumping in the car and driving hundreds of miles when he hears of a good one.
Now the owner of downtown's Roast, co-host of ABC's The Chew, and winner of a James Beard Award has brought that pursuit to Rochester Hills, with his fourth B Spot, a completely casual place.
Burgers have never been out of style with diners, of course; though they have been passé, at times, with chefs. Lately, more new restaurants with panache are comfortably taking on America's favorite food, giving it their all — and doing a great job.
As does Symon, with his 40-40-20 mix of sirloin, chuck, and brisket, imported, like all his meat, from Cleveland. His loaded burgers on challah do well both by the beef underpinnings and the many possible add-ons. As at another ambitious place I reviewed recently, Mamo Burger Bar, the diner is requested not to ask for substitutions on the carefully constructed burger creations, though subtractions are allowed. If Symon wants the award-winning "Fat Doug" to include coleslaw, pastrami, stadium mustard, and Swiss, don't go butting in with a request for cheddar. (You can "build your own" a la carte, however.)
My favorite burger was the New Jack City, with chorizo, avocado, salsa verde, roasted red peppers, red onion, and pepperjack. The flavors don't meld into amorphousness; your taste buds go through layers, ending with spicy and then the creaminess of avocado.
The "Fun Guy" uses onions, mushrooms, and blue cheese, for a high umami quotient. Also fun was the monthly Smasher's Special, which in June carried both caramelized and crisp onions, fontina, bacon, and a Symon invention with the unfortunate name "shasha sauce," made of puréed banana peppers, garlic, mustard, and a lot of sugar. If adding sweetness, creaminess, and the incomparable spirit of bacon to anything would not make it wonderful, I don't know what would.
Note Symon's doneness-ordering system before you speak, as its levels are a bunch of degrees less cooked than you'd expect: "rare" = cold in the middle, "mid-well" means barely pink.
I would've preferred to stick with the burgers on a return trip (with such add-ons as capicola, pastrami, "ghost chili," and habanero sauce), but in the interests of research asked for Mr. Porky, a beer brat with Carolina-style pulled pork and jalapeños (hold the cheddar). The pork was sweet, the brat slightly spicy — a fine combo, but in my experience it didn't gel as well as the burgers did, and cheese would have further muddied the waters.
A friend had nothing but praise for his pulled pork with avocado and cheddar, and a couple of other brats are offered, plus the aptly named "chick magnet," with chicken. Symon also serves thick-cut bologna (e.g., the "Old School," with dill pickles, yellow mustard, and American cheese), but I haven't eaten baloney since I spent three days in jail some decades ago, and I'm not going to start again now. All fried items are cooked in lard.
Along with the sandwiches, in the manner of a barbecue place, comes a six-pack of squeeze bottles: ketchup, stadium and yellow mustards, shasha, piquant Lola ketchup (named after Symon's flagship place in Cleveland: Heinz with cumin, cinnamon, and peppers), and a fruity coffee barbecue. There's also a free pickle bar, with banana peppers, jalapeños, Tony Packo's (more Ohio pride) — and kimchi.
The monthly milkshake for June was the Traverse City, and I urge you to beg for its return. Our waitress swore it had a whole piece of cherry pie pulverized in it, and I swear that I could taste all the flavors separately, including the pie crust. A Vanilla-Apple Pie-Bacon was a big disappointment after that, with vanilla flavor only. A root beer float was huge and thick, house-made lemonade meh.
Better to go with one of the dozens of beers, conveniently labeled from "light-bodied" to "hop-driven," sourced from Dexter to Belgium. Bourbon is the other alcohol specialty, with 14 overdescribed choices: Maker's Mark is "lush and vicious." You can get a barrel-aged Manhattan: Bourbon, Amaro, and orange bitters are mixed first and then aged in-house.
A couple more B Spot pluses are fast service and call-ahead seating. A minus is the high noise level, and the location is a bit scary: the "Village of Rochester Hills," a strip mall of national-brand stores with failed pretensions to look like a Main Street, Pleasantville-style.
The next Michigan B Spot will open in Royal Oak this fall.
An obsessive could spend hours in front of B Spot's display of 915 beer cans, no two of which are alike. If you're like Symon and don't shy from road trips, you could visit his places in Ohio that make room for 1,200 and 1,600.