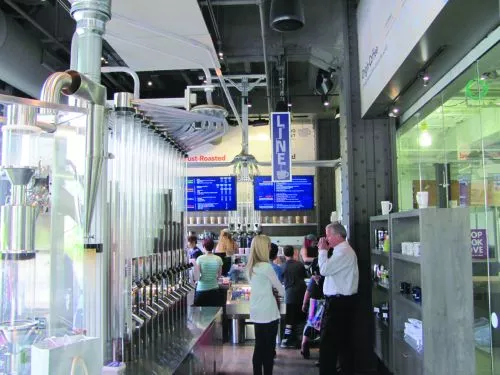 The owner of Roasting Plant in downtown Detroit has sued the coffee shop's parent company and its president, seeking repayment of nearly $2 million in loans.
Elizabeth Rose, operator of the Roasting Plant location in Campus Martius, filed suit in U.S. District Court on Feb. 3 for repayment of a series of loans made between February 2012 and September 2014. Rose also alleges the company's president and majority stakeholder, Michael Caswell, has oppressed minority stakeholders through a course of conduct that has made Roasting Plant insolvent. A family trust established in Rose's name is also named as a plaintiff.
The coffee shop — a franchise location in which Rose leases the name and science fiction-like coffee equipment, according to her attorney Jonathan Myers — opened in January 2013. It's Roasting Plant's third shop, and the first location outside of New York City. Roasting Plant is known for its automated coffee machine called Javabot that shoots beans through sets of clear pneumatic tubes.
Myers declined to comment on the pending litigation, only telling
MT
, "There is a Roasting Plant in downtown Detroit that [Rose] essentially owns as a franchise ... The one that's in Detroit, it's fine, nothing's going to happen to it. She's dealing with other individuals in New York City." The loans are unrelated to the Detroit location, Myers says. Rose was an early investor in the company,
MT previously reported
.
Rose, a former Detroiter who currently lives in Bloomfield Hills, claims that Roasting Plant entered into promissory notes totaling $1,985,000 with her and the Elizabeth Rose Family Trust. According to the complaint, the first two notes from the family trust were distributed on Feb. 9, 2012 and March 16, 2012 — about 60-90 days before
the Detroit location was publicly announced
— for a combined total of $250,000. A succession of six additional loans ranging from $75,000 to $250,000 followed until May 17, 2013.
Rose then personally loaned Roasting Plant $660,000 on Jan. 1, 2014, with the promissory note set to mature on Dec. 31, 2014, according to the complaint. She loaned an additional $200,000 on Sept. 11, 2014. In addition, Caswell is accused of breaching his fiduciary duty for "among other things ... failing to exercise reasonable business judgment in regards to the corporate affairs of Roasting Plant."
Roasting Plant has "failed to tender payment," as stipulated under the promissory notes, and the entirety of Rose's personal loans of $860,000 "remain unpaid despite Rose tendering demand for payment," according to the complaint. It's unclear if Roasting Plant has yet to make a payment on the roughly $1.1 million in loans from the family trust.
Letters sent last month by Rose's attorneys to Roasting Plant, on behalf of her and the family trust, say the company was in default.
"We have been advised by the Lender that defaults under the Notes have occurred as a result of the admission by Borrower of Borrower's inability to pay its debts generally as they become due," one letter, dated Jan. 14, says.
Messages were left for Roasting Plant seeking comment.
The shop, situated in the Dan Gilbert-owned First National Building, uses a computerized system of tubes that transports beans to a grinding and brewing machine. It takes about one minute for a cup of coffee to be made.
Rose's relationship with Caswell is tenuous at best, as suggested by the complaint. On numerous occasions, Caswell has made statements to Rose pertaining to Roasting Plant's financial difficulties, the complaint says.
Rose also alleges Caswell refuses to hold board meetings; fails to disclose financial information to minority shareholders; doesn't advise the company's board of directors or shareholders on "critical decision-making"; and has made "significant" operating decisions without disclosure to the board. Caswell dismissed several board members "without warning" after he was criticized by board members "for his oppressive actions," the complaint says.
"Caswell, as a result of his oppressive actions and breach of fiduciary duties, drove Roasting Plant from a company which was well funded to an insolvent entity, which resulted in the significant devaluation of the minority shareholders' interest," according to the complaint.
The lawsuit seeks repayment of all notes, in full, as well as damages in excess of $50,000, attorney fees, and expenses.