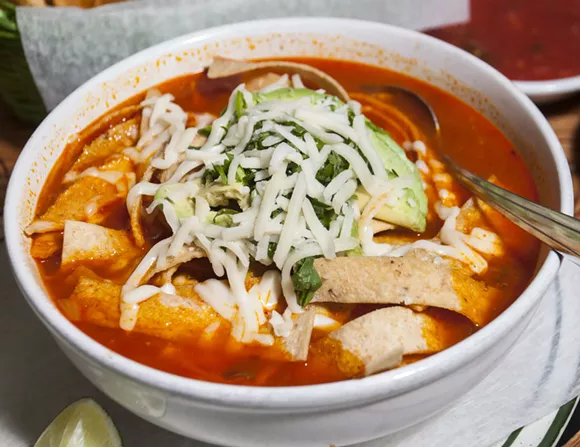 Southwest Detroit's Mi Pueblo long ago established itself as one of the town's go to spots for Mexican fare. While the bulk of its trade is in tacos, the family restaurant now offers enough hot bowls that it's worth a look to fight the soup season chill.
In the hearty, bright tortilla soup, one encounters a donnybrook of flavors with a healthy portion of shredded chicken in a tomato-y broth that's heavy on guajillo chile and chipotle. It's a semi-intense dish with a mild heat buzz, but that's balanced out by fresh avocado, cilantro, crispy fried tortilla, and a flurry of cheese.

Grab a bowl through the end of January, at which point Mi Pueblo will take it off the "specials" menu and roll out new soups. Can't make it? This one is simple enough that it requires less than an hour in the kitchen at home.
Recipe yields seven large bowls.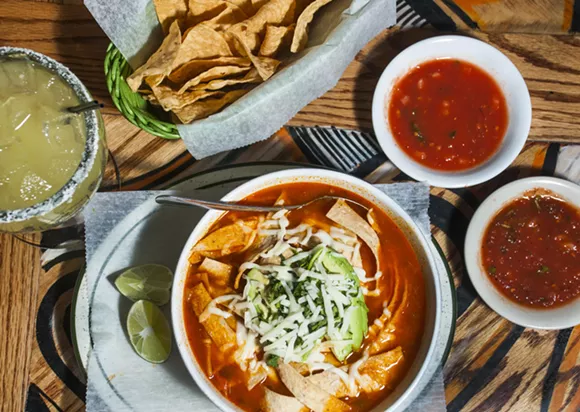 Ingredients:

4 pounds chicken breast

3 ounces canned chipotle

1.5 ounces diced tomato

1.5 ounces diced onion

4.5 ounces cilantro

32 ounces tomato puree

3 chiles guajillos




2.5 tablespoons chicken

bouillon



Avocado

Shredded mozzarella cheese

Fried tortilla strips

Butter
Preparation:

1. Melt butter in a five quart pot and add diced onion and tomato, cooking until onions brown. Blend chipotle, guajillos, and tomato puree, and add to the pot. Continue cooking.
2. Add in cilantro, chicken bouillon, and enough water to nearly fill the five quart pot.
3. In a separate pan, cook the chicken breast, which should be in small pieces or shredded. Add the chicken to the pot. Bring everything to a boil for two minutes.
4. Cut tortillas into a small strips and fry in oil in a separate pan until crispy.
5. Serve soup in a large bowl. Top with sliced avocado, cheese, and fried tortilla strips. Add more cilantro and a squeeze of lime, if desired.