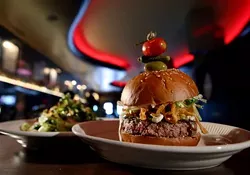 Luxe Bar & Grill
115 Kercheval
Grosse Pointe Farms
313-924-5459
Entrées $18-$28,
sandwiches $9.50-$12
Hours: 11 a.m.-Midnight, 7-Days
(Bar until 1 a.m.)
I was pleased to hear that the excellent Luxe of Birmingham had opened a second location somewhat closer to (my) home. I was thrilled with nearly everything at the original location, but especially with the fun cocktails, like the seven-layer "Pousse Café," which contains five liqueurs, plus cognac and grenadine, carefully stratified in the glass.
Sadly, the expert mixologist who ran the bar at the Birmingham location up and left, and the owners, the Bongiovanni family of Salvatore Scallopini fame, decided to drop out of the heated craft-cocktail race. In both locations now, there's a full bar and you can order what you want, but you'll have to think it up yourself. No more "Death at Dusk." Study up and ask for a Pimm's Cup.
The narrow space on "the Hill" (only in southeast Michigan would this very slight lift in elevation dare to call itself that) used to be Lucy in the Sky with Diamonds and, before that, Lucy's Tavern on the Hill; a third name starting with "Lu" seems appropriate.
It's been outfitted with random, old artifacts and photos, like a fur trapper, a blues singer and a ballerina-type, hung together near a peace sign. Tables are placed down the center aisle for maximum use of space — and it doesn't feel crowded even when full. Dining at the sidewalk tables is more than pleasant.
The menus at the two eateries are exactly the same, but the new place is possibly still getting its bearings; it opened Aug. 16 (and was still experiencing "dinner rush" at 10 p.m. on a recent Tuesday). Where the Birmingham place offered superb upscale versions of standards like burgers, ribs, lamb chops and tacos, quality at the new joint is more hit or miss.
Still, there are enough "hits" to hold out hope. High on my list is the Brussels sprouts salad. I didn't taste the advertised blue cheese, and it doesn't need the cherries, but the exquisitely charred sprout leaves are worth the price of admission. Someone in the kitchen was paying very close attention to grab these feather-light wisps at the precise moment when they were perfect.
We also liked a three-cheese grilled sandwich — Gruyere, Muenster and goat — made with sweet onions and well-crisped bread. It's served with chunky gazpacho that may or may not be spicy enough for you. Onion soup is a winner, not overly cheesed or breaded, just dark, sweet and rich.
But too many dishes we tried just didn't have enough flavor: Smoked trout dip is a great idea, especially served with pickled red onions, but it's got to taste like something. Mahi tacos came with greasy tortilla chips and offered little for the taste buds.
I will say that the ribs put the fall in fall-off-the-bone. They're a bit salty, which is a welcome change from overly sweet, and they're served with a giant heaping of mixed French fries and sweet potato fries — a combination of fatty, salty and sweet that few could resist; all accompanied by a traditional slaw. The wings are decent too; varieties include sesame-soy, garlic, Buffalo and Cajun.
Burgers are the mainstay in a place like this, which bills itself as a neighborhood spot (and it is — we saw a couple arriving in tennis whites who could not have been more GP).
One friend found his BBQ bacon burger with cheddar just "OK," with a squishy soft bun (brioche), and another said the veggie burger was "dry and flavorless"; I found it somewhat nutty and very soft. Simple cheeseburgers, or with blue cheese or roasted mushrooms, are the other burger possibilities. At the Birmingham location I loved the crisp and fatty lamb chops and they're still on the menu, so they could be worth a try, as well as a holdover Green Apple salad, where Granny Smiths are the base.
Luxe doesn't take reservations but you can call ahead to get on the call list. It's been jumping.
Jane Slaughter dines for Metro Times. Send comments to [email protected]