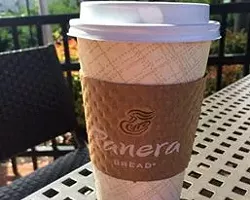 Chain bakery-cafe Panera Bread is making its Detroit debut this winter at the Renaissance Center,
the Freep has reported
. The new space will be 4,429-square-foot, hire about 30 employees and will offer high-tech ordering features, including mobile payments, fast-lane kiosks and Rapid Pick-up for to-go meals - all to get hungry GM workers in and out quickly.
The 70–plus–seat fast-casual restaurant will be installed on Level A of the Wintergarden. Construction is supposed to begin in September. Panera's arrival adds to the Ren Cen's offerings of national and regional establishments that otherwise have little presence in Detroit proper, including Au Bon Pain, Potbelly Sandwich Shop, Zoup!, and two dozen other eateries.