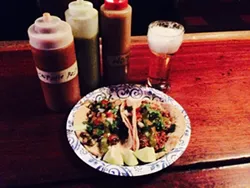 In case you didn't have enough on your plate this weekend or if you're not looking for the crowds expected at the Metro Times Pig & Whiskey, plenty of opportunity to nosh and jam at the first-ever High in July fest at Kelly's Bar in Hamtramck. Fans of rocker/taco maker Timmy Lampinen will be slanging his famous carnitas, Kelly's owner Brad ... with fire up his barbecue for brisket, pulled pork and chicken - all to accompany an eclectic cast of local bands and artwork, which will be on display in Kelly's big back yard. Organizers are hoping that if this year's event is a success, they'll be throwing annual summer block parties - offering Hamtramckans a laid-back, intimate, neighborhood version of fests like Dally in the Alley.
On the lineup: Matt 2, Deadbeat Beat, Casino, Mahonies, Tin Foil, Blacker Magick, Mountains & Rainbows, K9 Sniffles, The Reelers, Nicholas Riley and Nicholas Tallidis and Night of the Night Bees. On display: Francis Kulkowski, Timmy Lampinen, Rachelle Baker and Chelsea Parkila.
Admission is $5 at the door. Plates will run between $8-$12.