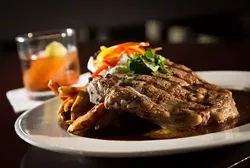 Local 212 212 Fifth Ave., Royal Oak
248-591-4789
212royaloak.com Handicap accessible
Starters: $8-$12
Entrées: $14-$30 Sandwiches: $7-$10
The name surely wasn't meant to sound like a union hall. Owners wouldn't have wanted to evoke for potential customers the image of a big plain room with metal folding chairs and portraits of UAW presidents on the walls, hot dogs the most likely food on hand, if any.
No, like so many area restaurants, Local 212 is named not so creatively for its address, and also for its proclaimed commitment to buying in Michigan. The local-ness means bread from Avalon, meats from an Ann Arbor purveyor, Michigan microbrews, house-made sauces, and "as much local produce as we can." Wild boar is from up north, freshwater shrimp is farmed in Okemos.
Despite the blue-collar moniker, the food at Local 212, open since early May, is decidedly fancy — and mostly fantastic. Chef Hans Jessen, who was at Beach Grill in St. Clair Shores, and learned pastry in Germany, has invented combinations that work.
All the attention has gone into the food, not the atmosphere. There's no resemblance to a union hall, but neither is there a lot of warmth in the spare setting with unpadded chairs and bare tables, and the music is forgettable at best. A redeeming feature is the picture windows on Fifth.
Looks can be set aside when the food arrives, though. In the Start Your Meal column (notice how nobody cool has said "appetizers" for years?), you'll find house-made charcuterie, carpaccio of wild boar and artisan cheeses. We tried rounds of baguette spread with velvety duck liver mousse — just liver-y enough — and rich bacon jam, with a tangle of caramelized shallots and a bit of arugula. An inspired combination: sweetness and bitterness, and two types of umami, from the meats.
A Bibb salad was also supreme — it's hard to miss when you use Marcona almonds, even if Spain doesn't fit the "local" rubric. Tiny bits of Maytag blue cheese (from Iowa) are excellent with a grapefruit vinaigrette — again, a mix: sweet, pungent, bitter.
Thai sausage-stuffed shrimp was also well done, with big fat (Michigan) shrimp, but I thought the sauce could have been less like pure soy sauce.
One dish I wish I'd tried was Caprese, which uses saba, a grape syrup, instead of balsamic. That's the kind of experimentation we should be encouraging.
Two fish entrées delighted, and not simply because they were drenched in Plugrá butter. Plugrá, from French plus gras ("more fat") is only 82 percent butterfat, as opposed to the regular 80 percent, but it seems to make a difference. A Great Lakes walleye came with crisp celeriac cut like shoestring potatoes and with spinach, also buttery. A big flat piece of trout was served atop very sweet corn and crisp okra.
You probably never thought of calling a meat pizza "charcuterie," but then you probably weren't expecting house-made bacon and kielbasa, along with Italian sausage and fresh mozzarella. This big guy was devoured by one but could have been shared.
A commendable feature of the Local 212 menu is a "lite fare" section ($10-$15) of mostly cold dishes. Each is plenty of food but is somewhat more salad-like, though loaded, than the entrées. Our waiter heard me dithering about whether to order from this section, which had dishes that sounded great, like lemon-thyme chicken on rocket and kale with asparagus and mushrooms, although I also wanted something hot. He helpfully returned with the intelligence that the chicken was freshly cooked, and would I like it warm? Thoughtful.
Jessen's desserts are out of this world. A cherry tart had little pockets of fruit in a delectable almond shortbread, with maple ice cream. A strawberry shortcake was perked up by pickling the berries and adding pepper. No kidding — the pepper was a noticeable and appreciated feature. S'mores pizza is actually ordered most often, made with house-smoked marshmallows (!) and chocolate ganache over a bed of crushed graham crackers. Sounds silly, but apparently it's a crowd-pleaser.
Brunch runs from noon to 4 p.m. on Sundays, and it looks as interesting as dinner, with a bacon-and-eggs cocktail (bacon bourbon and egg white, among other ingredients) and a "Gin & Jam" that includes ginger beer, house-made strawberry jam, and basil.
The Michigan brews come with detailed descriptions you will find either useful or baffling. Wines are mostly not local. Craft cocktails are made by experienced mixologists who use homemade ingredients like bitters, as well as Michigan spirits like Journeyman's gin (there's the union connection again) and High whiskey.
Local 212 offers a generous happy hour, if you can get there in time: from 4 to 6 p.m., half off all drinks and appetizers. The restaurant is open 4 p.m. to 1 a.m. Monday through Saturday and noon to 9 p.m. on Sundays. An abbreviated late-night menu is served 10-11 p.m. on weeknights and 11-midnight on Friday and Saturday.
Jane Slaughter dines for Metro Times. Send comments to [email protected]