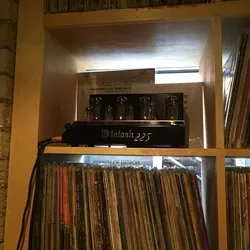 The reaction was overwhelmingly positive
when we broke the news
that a vinyl-centric jazz bar had opened in Midtown last month.
The Griot Music Lounge - situated at 66 E. Forest in between Seva and the N'Namdi Center for Contemporary Art - features a collection of records curated by John Taylor. Early reviews of the spot say the space gives guests a living room experience, where they chill out with a cocktail and listen to the soundtrack of Detroit.
But not everybody's happy about this unique bar opening.
In an unusual case that illustrates the red hot competition for scarce Midtown real estate, a married couple allege that Taylor and his associates Scott and Karen Boswell pushed them out of a partnership for a very different concept at that location.
Frances Moore tells us she and her husband had moved to Detroit from NYC in 2013 and wanted to open a bistro called Kuro. Early on, they had been in talks with chef Brad Greenhill, who tells us that they were interested in designing an Afro-Asian concept (he instead went on to open the acclaimed Katoi). There would also be live music and a gallery space.
"We wanted to collaborate with great chefs, designers, and artists," Frances Moore tells us. "Unfortunately we had issues with funding and needed additional investors."
To get the project off the ground, the couple reached out to Taylor, who eventually connected them with the Boswells. Under Siesta Café LLC, a lease was signed for the property with East Forest Hospitality, and the five entered a partnership agreement, says a complaint filed in Michigan's Third Circuit Court.
By then, Frances Moore says she and her husband were willing make concessions on the original concept, but eventually, the Moores say they were pushed out of the very project they say they started.
The lawsuit accuses Taylor and the Boswells of fraud when they started their own LLC - Griot - and signed a lease under that entity, all without the Moores' knowledge.
Among other things, the Moores want the court to order the Griot to cease doing business in the property unless they can prove that they are lawfully allowed to operate there.
We reached out to Taylor, who referred us to Scott Boswell, who told us he couldn't comment on pending litigation, other than to say "there are a lot of untruths to that."
We also spoke with Steve Enwright, a corporate attorney who specializes in startups, about the squabble. A couple of issues to consider: did the landlord breach the lease by allowing the new LLC to sign? Did the five partners have a signed operating agreement for the first LLC?
If so, there are fiduciary duties to consider.
"That could be a breach of their duty of loyalty," says Enwright, who is not involved with the case.
Once the matter has been settled in court, Scott Boswell says he'll be able to tell his side of the story.
Whatever the outcome, it's an interesting tale of just how fierce competition is to nab real estate in Midtown, which boasts nearly full occupancy.
Whether the Griot is forced to shutter and go somewhere else remains to be seen, but when we hear more, we'll be sure to keep you updated.