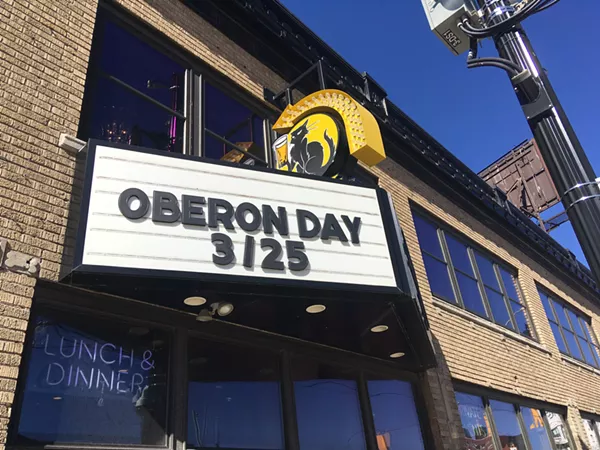 First, we turn our clocks ahead in the name of daylight savings followed by the spring equinox. Then, comes Detroit's March du Nain Rouge. And then, before opening day is underway, there's Oberon Day which can only mean one thing: we've survived winter.
Before you grab just any cold one to celebrate, consider the reason for the season. The seasonal beer produced by Kalamazoo-based Bell's Brewery is a wheat ale that mixes features a spicy hop profile with some fruity aromas. Bell's calls Oberon "the color and scent of a sunny afternoon," which, when served with a fresh orange slice as suggested by just about everyone, isn't entirely inaccurate.
Today we celebrate Oberon Day, which for all intents as purposes makes it the first day of summer for Michigan. The celebration has already begun, but fortunately for all of us, it's not too late to get in on the fun. Here are some Detroit area Oberon Day events happening this week that will get your spirit lifted in preparation for the warmer weather.
March 25
One Under Bar and Grill

35780 Five Mile Rd. #2; Livonia; 734-464-5555
Oberon and other Bell's brews, such as 2015 Third Coast Old Ale, Larry's Latest Belgian, and Larry's Latest Quad, will be available on tap from 4 p.m. until 10 p.m.
HopCat Detroit

4265 Woodward Ave.; Detroit; 313-769-8828
You can celebrate Oberon all day today starting at 11 a.m.
Terry's Terrace

36470 Jefferson Ave.; Harrison Township; 586-463-2671
This party starts at 5 p.m., and will also be featuring other Bell's brews like Mango Habanero Oberon and Official.
Cultivate Coffee and Tap House

307 N. River St.; Ypsilanti; 734-249-8993
Starting at noon, there will be Oberon, orange slices, and even Oberon Cake.
The 2019 Oberon Pub Crawl in Ann Arbor

Multiple locations - see the Oberon website for details
Starting at 11 a.m., Oberon will be hitting up several pubs and bars in Ann Arbor to celebrate Oberon Day. From Fraser's Pub to the Original Cottage Inn to Old Town Tavern, enjoy an Oberon wherever you please.
If you can't shift your schedule around on Monday to squeeze in some beer time, there's more time to celebrate.
March 26
Ford's Dearborn Garage

21367 Michigan Ave.; Dearborn; 313-752-3673
From 5 p.m. to 8 p.m., come in your beach attire and drink up at the Model T bar.
Shores Inn

23410 Greater Mack Ave.; St Clair Shores; 586-773-8940
Shores Inn will begin serving Oberon at 6:30 p.m. You can also enjoy one other Bell's other beers, such as Two Hearted Ale and Flamingo Fruit Fight.
March 27
Oberon Beach Party at Twin Peaks

14980 Dix Toledo Rd.; Southgate; 734-767-5276
1111 W. 14 Mile Rd.; Madison Heights; 248-268-4173
20120 Haggerty Rd.; Livonia; 734-953-0888
Come in at 5 p.m. with your swimsuit and beach towel to get a head start on summertime.
March 29
JB's Smokehouse

225 S. Canton Center Rd.; Canton; 734-892-2531
Pair your beer with barbecue when 5 p.m. rolls in. You can have an Oberon or Two Hearted Ale, or Mango Habanero Oberon.
Hermann's Olde Town Grille

195 W. Liberty St.; Plymouth; 734-451-1213
Starting at 6 p.m. you can end your week with good old fashioned pizza and beer. Other Bell's brews will also be available on tap, including Hell Hath No Fury Belgian Ale.
Angela Zielinski is an editorial intern at Metro Times.
So many restaurants, so little time. Find out the latest Detroit dining news with our weekly food newsletter delivered every Friday morning.