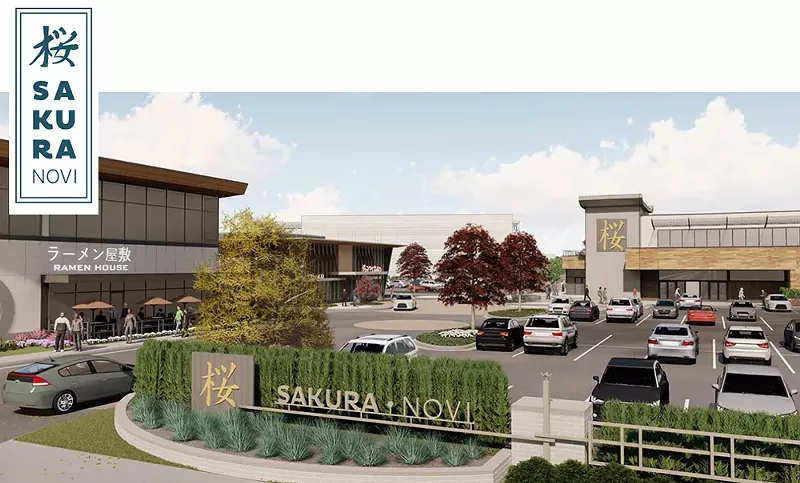 A Korean steakhouse has joined an Asian-themed mixed-use development in Novi that bills itself as Michigan's first.
On Tuesday, the developers announced that the Dancing Pine Korean Steakhouse is the latest tenant for the Sakura Novi project.
The high-end restaurant is owned by Seven York Inc., which owns other Asian restaurants in metro Detroit including Kimchi Box, Dae Jang Keum, Tomo Sushi, The Seoul, Blue Fish Asian Cuisine, and Mama Satto.
"The Sakura Novi project has a lot of energy and excitement," owner Min Kyu Kim said in a statement. "It was the perfect partnership to bring a modern Korean BBQ experience into Michigan. The Dancing Pine project will be a new and approachable luxury concept for customers. An inclusive restaurant for the community that does not compromise on taste or experience."
The Sakura Novi development is also slated to include high-end retail shops and services, 117 townhome apartments, and a Japanese-themed garden with a pond and a public plaza for community events.
It includes a collection of other Asian restaurants that represent a variety of cuisines, including sushi, hot pots, poke, and a bakery.
"The goal to bring together authentic complementary flavors and cuisines by quality operators is worth the extra effort and time required and makes Sakura Novi a superb choice for all foodies in the metro Detroit area," said developer Philip Kim.
The project is expected to break ground in the spring. An opening date was not announced.
Thanks to metro Detroit's auto industry, Novi has seen a boom in its Asian population in recent decades, particularly people from Japan — earning it the nickname "Little Tokyo."
Coming soon: Metro Times Daily newsletter. We'll send you a handful of interesting Detroit stories every morning. Subscribe now to not miss a thing.

Follow us: Google News | NewsBreak | Reddit | Instagram | Facebook | Twitter