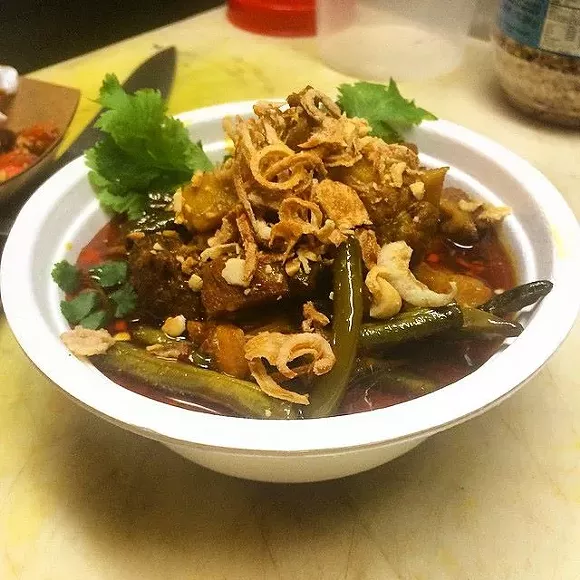 While the Thai-inspired food truck known as Katoi has been ramping up for the opening of its brick and mortar spot in Corktown, the owners have been gaining popularity in a popup location in Ann Arbor.
Trouble is now, they don't want to leave, but they don't have the back-of-the-house staff needed to keep it up and running. This, according to a
story posted today in on MLive,
could mean that unless they find the right people to run the kitchen in the Ann Arbor location, they won't be able to maintain it.
Katoi owners Brad Greenhill and Courtney Henriette began subletting a space inside the former Jerusalem Garden building earlier this year, calling the popup Katoi in Exile, while they continued build-out of their Detroit space, to open on Michigan Avenue. In that space, they recruited Bon Bon Bon's Alexandra Clark to sell her chocolates. And they turned heads when they had a help wanted billboard installed in New York City,
encouraging New Yorkers to move to Detroit and work for Katoi.
Before the brick and mortar plans and popups were underway, the duo had made a name for themselves with their food truck, a converted SWAT van, which set up weekly outside of Two James Distillery. The Detroit location is supposed to open in January, says MLive, meaning that the Katoi cooking staff will relocate there, thus leaving the A2 spot in the lurch, at least for now.
Henriette tells MLive they've had "amazing regulars" and that they're trying to find a way to remain in Ann Arbor, without derailing their Detroit efforts. Anticipation for the Corktown spot has been building for almost a year, mostly because of the unique nature of the menu. We noted back in January that the food truck had offered up arguably the city's best ramen, and boasted a creative take on Thai street food, low and slow barbecue, noodles, curries, while utilizing locally-sourced ingredients whenever possible.
We're not clear on exactly what Greenhill and Henriette plan to do with Ann Arbor. We've reached out to Henriette and will make sure to provide an update if we hear back. In the meantime, it couldn't hurt any of you cooks in the area looking for work to polish up those resumes. You never know what might become available.