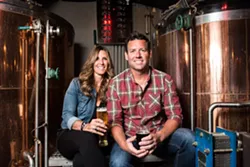 Lockhart's BBQ's second location is now open in the Village of Lake Orion. Owner Drew Ciora spent almost two years looking for the space and $2 million renovating it once he settled on the location.
The 5,700 square foot building Ciora selected is over 100 years old and formerly served as the Village Offices and police department. Extensive renovations to the two-story restaurant included adding two full bars and two outdoor eating areas, including a rooftop deck with a third bar.
While the restaurant has been in full swing since November 19, the grand opening celebration is slated for December 17at 3 p.m., replete with a ribbon cutting ceremony coordinated by the Village's DDA and Chamber of Commerce.
Ciora,
also the owner of Royal Oak Brewery
, originally hails from Texas where he learned to use 100 percent wood-fueled smokers to create the smoke flavor, tenderness, and moisture that Lockhart's is known for. He also spent time in California learning the art of brewing craft beer, so you know the beer selection at the new location is bound to be good. In fact, they'll have 16 taps dedicated to Michigan crafts.
The new location is located at 37 E. Flint St., in the Village of Lake Orion.