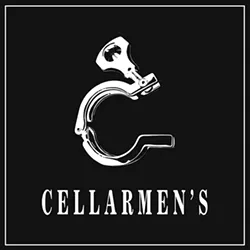 Come this fall the makings of a budding food and drink scene in the sleepy burg of Hazel Park will have solidified, with the addition of
Cellarmen's
microbrewery, to be installed nearby acclaimed chef
James Rigato's
new spot,
Mabel Gray.

To open inside 12,000 square-foot space that formerly housed Bolyard Lumber at 24310 John R Road, the spot will feature a tasting room and retail space up front and production out back, where cider makers Ian Radogost-Givens and Jason Petrocik will make a variety of mead, cider and beer. The duo plan to source their honey, apples, hops and other ingredients from local suppliers. Dominic Calzetta, who's handling sales and distribution for Cellarmen's, tells us they're shooting for an end-of-September opening date.
This development suggests a turning point for the otherwise sleepy 'burb, which straddles on the border of Wayne and Oakland counties. Rigato, eager to give Metro Detroiters an alternative to trekking to his already popular The Root Restaurant in White Lake, is gearing up to open the highly-anticipated restaurant, Mabel Gray about a half mile away from Cellarmen's at 23825 John R Road.
Calzetta says the city has been very accommodating as the place prepares for its launch. "The city has been completely open to us and really want us here," he tells us.
Hazel Park's reputation isn't as sexy as its neighbor to the west, Ferndale, but perhaps that should change. It's ideally situated just off I-75 and I-696, making it accessible to suburbanites and city dwellers alike. And rents are lower than some of the more established dining districts of Corktown and Midtown, providing aspiring restaurateurs the ability to get off the ground. We'll keep our eyes peeled for other similar developments. Who knows, before long, Metro Detroiters will be flocking to buy up and re-purpose the city's cinder block buildings into trendy eateries and boutiques.