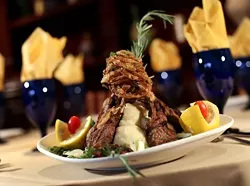 Habib's Cuisine
14316 Michigan Ave., Dearborn
313-584-1515
Handicap accessible
Entrées: $13-$24
Opens daily at 11 a.m. and closes at 11 p.m. Friday-Saturday and at 10 p.m. Sunday through Thursday.
For a lot of people there's a contradiction built in to Habib's concept. It's a fancyish, white-tablecloth place, with attention to décor and prices on the high side for Lebanese — an evening-out kind of place, in other words. But for drinks you have to stick with fresh-squeezed juices. A friend remarked, "They call it Mediterranean cuisine, but a lot of the countries around the Mediterranean drink wine."
Of course, this isn't a problem for everyone, which is why the restaurant can thrive.
A good percentage of the all-halal dishes are from Italy or are not standard Lebanese: pasta, pizza, chicken or beef cilantro, fish and chips, chicken with barbecue sauce, standard steaks. Those not in the mood for kebabs or kafta can get stuffed chicken ricotta with mushroom sauce, or a lobster tail. But you'll also find some Middle Eastern dishes that may be new to you: oozé (pronounced OO-zay), lahme madkoukah, hindbee. The list is very long, with 13 hot appetizers (from falafel to wings) and 12 cold ones (hummus, shrimp cocktail), 10 salads, 35 fish-meat-chicken entrées, and even a Western-oriented kids' menu (mac and cheese, fries).
There are chandeliers; European-style pictures hang in heavy gold frames; tasseled curtains are fringed with crystal pendants; the music mix includes classical. Habib's is clearly intended to outclass the main run of Lebanese restaurants, and does. It runs a thriving trade in weddings, graduations and the like.
The meal starts elegantly with warm pita and a plate of golden-green olive oil sprinkled with basil; a couple of green olives soaking in the oil are welcome.
Soups (which are included with the entrées) include lentil and freekeh (pronounced "freak," at least by our waitress). An obvious note about the lentil soup: be sure to use your lemon slice. It makes all the difference in the world in perking up a soup that's otherwise bland. Freekeh is wheat harvested green and then roasted, and here it's combined with traditional chicken soup ingredients, including lots of shredded bird, to make a thick, mild comfort food.
The house salad, your alternative to soup, is strongly flavored with mint.
For starters, I liked the smoky baba ghanoush and falafel with a thick, crunchy exterior. I'm usually a big fan of sujuk, the finger-sized spicy sausages, often cooked with tomatoes or some kind of interesting sauce. Habib's were less thrilling than some. The chef does a great job, though, on majadara, a huge plate for $8. This is roasted lentils and cracked wheat, topped with lots of caramelized onions, a great combination of smoky and sweet. You can ask for it chilled or hot.
Arayes is also pretty tasty, though it could have used more pine nuts. Puréed ground beef is mixed with onions, tomatoes and nuts and spread on pita, then baked till the bread is crisp but the meat juices have soaked in agreeably. The French fries that come with are quite unnecessary.
More adventurous appetizer choices would have been steamed dandelion greens, fried with spices and onions (hindbee), or lahme madkouka, which is puréed raw ground beef topped with a mixture of crushed wheat, herbs and spices. I didn't try it, but it sounds like a deconstructed kibbee nayee.
It would be easy to make a meal just from the appetizer page, which is what I did one evening, and where a vegetarian would have to graze. Turning to main courses and sides: the staff pushes the chef's signature "potato balls," which are simply small potatoes first baked and then deep-fried with a special coating of secret ingredients.
A number of interesting things are done to chicken: sautéing it with mushrooms and sprinkling with cilantro; likewise with roasted peppers and sun-dried tomatoes, topping it all with a balsamic glaze; stuffing a breast with portobello and caramelized onions; or the more usual tawook, kafta and shawarma treatments. Same for beef, or you can top fluffy rice with shredded beef and lamb and roasted cashews, for a hearty oozé.
The roasted vegetables you may ask for as a side dish (two sides come with each entrée) are overly soft but so buttery that all is forgiven; ditto for an asparagus-carrot combo. The garlic sauce is complimentary, lavish and mild.
Desserts aren't on the written menu, but the chef makes cake year-round and special treats during Ramadan.
Portion sizes, from soup to sides, are so generous that it's hard to imagine not needing take-home. Habib's is striving for elegance, but it's not too elegant for a doggy bag.
Jane Slaughter dines for Metro Times. Send comments to [email protected].