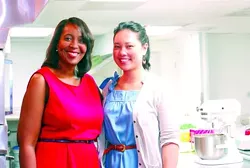 Devita Davison is a native Detroiter who moved back from New York after 20 years when she lost her home and business in Hurricane Sandy. She was brought in to spearhead Detroit Kitchen Connect, a business incubator and commercial kitchen project in Detroit neighborhoods. The group's goal is to expand Detroit's food economy by working with local food entrepreneurs. Working with Eastern Market, and in partnership with Foodlab Detroit, a project of local food maven Jess Daniel (proprietor of pop-up pioneer Neighborhood Noodle), Detroit Kitchen Connect aims to help Detroiters start their own cottage food businesses by providing low-cost commercial kitchen space and more.
"It's really exciting," Davison says, "the kind of talent we're seeing."
It's talent that has always been there, but the barriers to getting into the game are considerable. Davison and company hope to help clients surmount those hurdles.
"Detroit is not unique to this," Davison says, "but, for those starting a food business, there is a very high failure rate during the first two years. This is because of the direct costs that go into starting a food business: rent, heat, lighting, gas, insurance, not to mention food expenses. A lot of folks tap themselves out when they start purchasing commercial-grade equipment, because many folks don't give themselves enough room to float the business. That puts them in a difficult situation.
"By coming through the kitchen, now that barrier of entry can be lowered by sharing costs via an hourly fee. With the incubator, it's a shared space. It's not as risky because they don't have to take on the additional cost. We provide that for them. When it's your own kitchen, you have to pay whether you're there or not. With us, you only pay for the time you're there, and that's $18 an hour for one of our kitchens."
To be sure, there are plenty of places where food entrepreneurs have rented or borrowed commercial kitchen space, including Midtown's Traffic Jam and Snug or Eastern Market's Supino Pizzeria. But Detroit Kitchen Connect provides a whole bundle of complementary "incubation" services, which is a fancy way of saying the group can do some pretty helpful hand-holding when it comes to helping entrepreneurs file for an LLC, work with the state offices overseeing cottage food industries, or advice on packaging, marketing and more.
Thanks to a grant from the McGregor Fund, they offer not just a subsidized kitchen rental rate of $18 an hour, but a scholarship rate for those in financial need of just $15 an hour. Compared to other commercial rental kitchens that ask as much as $24 an hour, these rates can certainly make the difference for aspiring Detroit food startups.
Since June, the group has operated two kitchens, one in southwest Detroit and another on the east side near Gratiot and McNichols, demonstrating a commitment to Detroit's neighborhoods.
"We know there's a transportation problem in Detroit, so we purposely placed these kitchen incubators in the midst of underserved communities in hopes of spurring economic development," Davison says.
The organization also has plans for a versatile kitchen in Eastern Market that could be used for subsidized rentals, cooking demonstrations, even pop-up dinners.
The grant-funded community kitchen spaces are still in a pilot phase. Next year they will reassess where to grow, based upon demand, with a couple of kitchens already in the pipeline if they can show the project is successful.
Davison says the state has been "tremendously helpful in getting vendors licensed," but adds that the state can only process cottage foods, not food that is prepared and served, which falls under the category of catering. Since it is the city of Detroit that licenses individual caterers, the group has run into discouraging problems with inflexibility and lack of response from the city government. But for cottage food processors who produce shelf-stable, ready-to-eat products ranging from cookies, cakes and breads to juices and salsas, the success has been impressive.
Craft foods are a hot market right now, one Davison sees as connected to growing interest in where the pedigree of food products. "There's such a demand in the locavore movement, where people want a relationship with products they're buying, even with the farmer who grew it." It's a trend that means more buyers are excited to know by name the people who make their craft jams, pickles or salsas.
Ideally, if the concept takes off and the funding comes in, it would mean not just an explosion of new food products in Detroit, but some very concrete gains in workforce development, job creation and economic growth in some of the city's most distressed neighborhoods.
Now that's something that sounds nourishing for everybody.
Michael Jackman is managing editor of Metro Times. Send comments to [email protected]