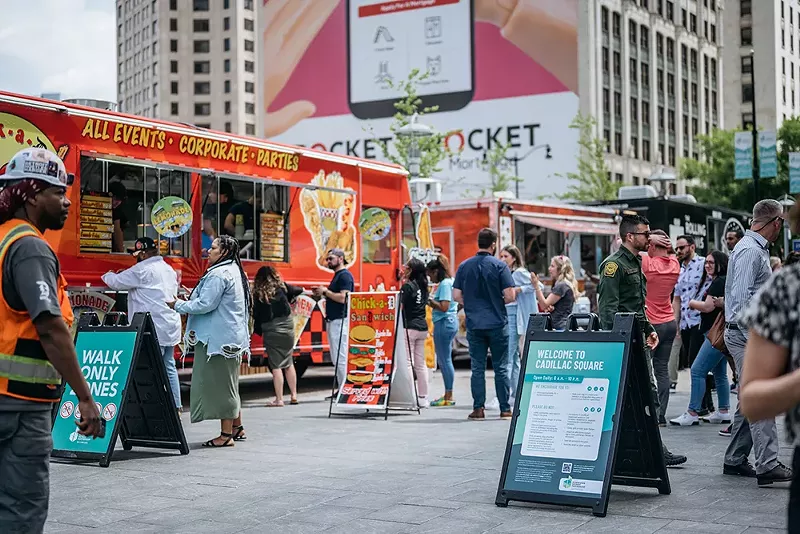 Organizers say Detroit's Downtown Street Eats food truck rally is returning one month earlier in order to meet lunchtime demand.
The program kicks off on Monday, April 10 this year and runs from 11 a.m. to 3 p.m. weekdays through October. More than 80 food trucks will be parked on a rotating basis along Cadillac Square and the Woodward Esplanade.
The Downtown Detroit Partnership says the program has drawn more than 2,500 people per day in recent years.
"It's an exciting and electric time of year when the various food trucks line the streets and Detroiters and visitors line up themselves to support these small businesses with big ambitions," Laura Dean, senior manager, parks and public spaces for the DDP, said in a statement. "We are proud to offer a platform for local food truck owners while also creating a lunchtime destination worth visiting."
Newcomers to the program include Belly It, a food truck specializing in Asian-inspired sandwiches and rice bowls. Launched last year, it's a new effort by Anthony Redman, the former chef de cuisine at Corktown's popular Takoi restaurant. The truck is wrapped in colorful designs by the Detroit artist Art Nuttz.
"This is our first full season and I'm excited to get the full experience and our name out there," Redman said. "I've worked at restaurants in other cities, such as San Francisco, Nantucket and Portland, but I always knew I would come back to Detroit and do my own thing. Being part of Downtown Street Eats in the center of the city will help catapult us one step closer to our goal of opening a brick-and-mortar location."
Stix and Stone Wood Fired Pizza, which has participated in the program since it launched in 2017, is one of the food trucks returning this year.
"We've gained a lot of followers who have been great to us," Stix and Stone owner Angelo Faggiano said. "We've made connections with not only the customers, but also with the other food trucks. It's an incredible opportunity to be part of the city's comeback."
The DDP has also announced a number of events and activities to coincide with Downtown Street Eats, including a Battle of the Burgers on Thursday, Aug. 24, or National Burger Day.
There will also be a preview event during a Detroit Tigers Opening Day Tailgate Party from 9 a.m. to 5 p.m. on Thursday, April 6.
More information is available at downtowndetroit.org/events.
Coming soon: Metro Times Daily newsletter. We'll send you a handful of interesting Detroit stories every morning. Subscribe now to not miss a thing.

Follow us: Google News | NewsBreak | Reddit | Instagram | Facebook | Twitter