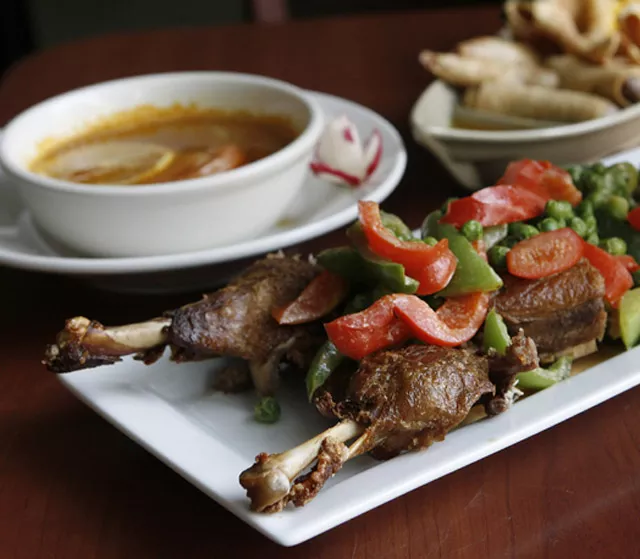 Orchid Thai
115 Monroe St., Detroit
313-962-0225
Orchid Thai has one surprise in store: spice levels higher than you might expect at a mostly lunch restaurant for downtown workers (it's near Compuware, hard by the Hard Rock Café and Jimmy Johns).
Though the menu goes to great pains to describe five fire levels, from "First-Timer, no spice, enjoyment with minimal challenge" through "Cautious (mild)," "Chili Lover (medium)," "Daring, hot, enjoyment with a burning sensation" and "Audacious," most in my party of five said their dishes' spice levels exceeded expectations. They also confessed to being wimps, though, so take that with a grain of cayenne.
Personally, after sampling a companion's "medium," I chased the server into the kitchen to scale back my own "hot." I don't know whether my intervention was timely or not, but the result was just how I like it. Eating is not a competitive sport, by the way, so I was glad to see Orchid Thai's nonjudgmental categories. Most customers order in between mild and medium, the manager says.
How to choose among the chef's 59 entrées? Actually, there are 337, since most are available with chicken, beef, pork, tofu, shrimp, scallops or squid as the anchor ingredient. Many offer "vegetables" as well.
Soup is one of the main reasons to eat Thai, winter or summer. Winter reasons are obvious, but the bite of lemon grass or lime juice can be refreshing when you're hot, and the kick of galangal or chili paste can stimulate the sweat glands in a pleasing way. I liked Orchid's citrusy gai tom ka ($2.50), with plenty of white chicken in a broth of coconut milk, galangal, lime juice and lemon grass. As all soup cooks should aim for, the slurper could taste each layer. Tom yum gai, then, was surprisingly one-note, despite the tomatoes and two types of mushrooms. Its sister, tom yum koong, is made with shrimp instead of chicken, for a dollar more.
I recommend spicy squid as a starter: sizable oblongs fried crisp and mellow, despite the name, with a dice of onions and green pepper. Also fine are the Siam rolls, two large mélanges of veggies deep-fried inside rice paper and served with a clear red sour sauce. If you're trying to stretch your lunchtime dollars, though, I'm not sure it's worth paying 163 percent more for the Siam roll than for the simpler spring roll, simply to add "grounded chicken." Fresh rolls are the non-deep-fried version, with mint.
I liked pa-nang duck, except for the large quantity of soft green peas involved (peas out of the pod). Its oddly cut pieces include a couple of drumsticks, quite crisp, lacking none of duck's gamy richness. The sauce contains coconut milk, for more lushness.
A seeker among the dozen seafood options would likely best stick with catfish or snapper. Our Seafood Combination included shrimp, scallops and squid — all worthy sea-meats, but here with their individuality lost, partly through freezing, partly though an overabundance of vegetables, just about every one that's ever been used in Thai food in America, with fake crab was along for the ride too. I should have stopped my companion from ordering this one.
I also found the pad ped disappointing, this time for false advertising. Finding it in the curry column, with coconut milk and mushrooms, I ordered it for the eggplant and got one bite thereof. The pork did have an interesting seafood flavor, however. Pad Thai curry was mellow though "medium," with the noodles quite soft. Pad Thai proves that a sprinkle of peanuts can distract a diner from a host of flaws.
Drunken noodles, ordered by a "cautious" friend, managed to pull off its usual feat of tasting winey with no wine involved, again with the noodles not as al dente as they should be. Its Thai name is pad kee mao, and I learned online that kee means "shit" and mao means "drunk"; adding "kee" in front of any verb means it's a bad habit. So — "shit-faced drunk," which makes no literal sense either. Some sites say it's a hangover cure. I find it a smooth and friendly comfort food.
Thai pepper steak is more gingery than peppery, an unexceptional stir-fry with the usual bell pepper and onions.
Thai iced tea is lovely if you like sweet tea, with the coconut milk poured on top for you to mix in. Thai coffee and bubble drinks are available.
Orchid Thai is attractively decorated, with tall chairs in the ceiling-high windows. Its green walls are decorated with fancy gold-colored plaques in stylized flower motifs, along with some sparkly elephants. It's a place to visit for lunch if you're right there, are sick of sandwiches, and want enough leftovers for supper. What's Thai for al dente?
Orchid Thai is open 10:30 a.m. to 9 p.m. Monday through Friday, and from 11 a.m. to 9 p.m. Saturday. Lunch prices — a couple bucks cheaper on some items, unchanged on others — are observed till 3 p.m.