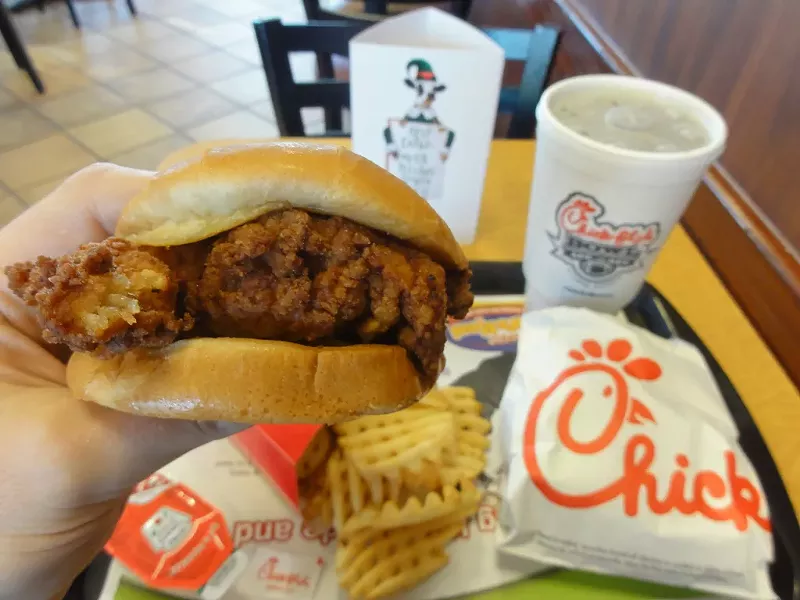 Chick-fil-A is planing a new location in Allen Park.
The Detroit News
reports that the chain is proposing a new restaurant that may open in 2019 or 2020. The Allen Park Panning Commission approved the plans last week, though final approval is still needed from the city's zoning board of appeal.
If approved, the store will open on Fairlane Drive in front of the Meijer store west of Interstate 94 and north of West Outer Drive.
It would be the sixth metro Detroit location for the company, which
opened a restaurant in Detroit's Harper-Hutzel Women's Hospital
last November, as well as locations in Troy's Somerset Collection, Detroit Metropolitan Airport, and other spots.
was met with opposition and calls for a boycott
because the company has a history of donating to anti-LGBT causes.
In 2013, Chick-fil-A CEO
Dan Cathy denounced
the U.S. Supreme Court ruling that struck down laws barring gay marriage, and has made
other public anti-LGBT statements
like "we are inviting God's judgment on our nation when we shake our fist at him and say, 'We know better than you as to what constitutes a marriage.'"
The chain grossed $2.6 billion in 2015 and opens between 90 and 100 restaurants a year. In total, there are 13 Chick-fil-A restaurants in Michigan and more than 2,200 nationwide.
So many restaurants, so little time. Find out the latest Detroit dining news with our weekly food newsletter delivered every Friday morning.