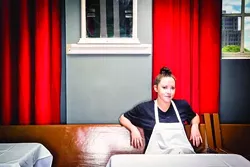 This issue coincides with an inaugural weeklong celebration of Detroit dining. It's called Dine Drink Detroit, and it runs Oct. 10-16. For $15, diners can get food and drink at 13 of the hottest restaurants in town, including several new hip joints, such as Green Dot Lounge, Ottava Via and St. Cece's Pub, as well as perennially hot spots such as Slows Bar-B-Q, Mudgie's Deli and Woodbridge Pub. There are even several places noted mostly for their drinks, including the Sugar House, Great Lakes Coffee and, in a brand-new location, Motor City Wine. There's much to celebrate, and this event draws in many of the most exciting places.
Dine Drink Detroit is the brainchild of Kate Williams, chef at Rodin, and Scott Rutterbush of Great Lakes Coffee, both in Midtown. Williams, whose creative down-home takes on French cuisine have given Rodin considerable buzz, knows a thing or two about what sets Detroit's dining scene apart. Having worked in New York and Chicago before coming back to Detroit, she says, "Great things happening with this budding food scene here. The food culture is pretty awesome right now." But she add to this: "This goes beyond serving food and crosses over into helping the community. Detroit is so different from New York and Chicago because restaurant and bar owners all want to help each other succeed."
In fact, these restaurateurs want to see their city succeed as well, as a portion of Dine Drink Detroit's proceeds will go to Detroit Riverfront Conservancy.
"If we all want to have successful businesses," Williams says, "we want to give back to the city that we're in."
Of course, for most participants, the food and drinks will be the main attraction, and Williams hopes the promotion introduce new diners to a domain that has exploded in the last eight years.
Williams explains: "We wanted to get people to experience some of the really cool things happening with small, privately owned restaurants and bars in the city — places that some people might not know about — and make an event out of it."
Dine Drink Detroit will also offer free shuttle service for at least a few nights, ferrying diners between stops in Midtown, Corktown and Woodbridge. True to Williams and Rutterbush's intention to bring in fresh faces, the evening will begin and end with stops in Ferndale and Royal Oak.
That service is courtesy of Detroit Bus Company, which Williams calls "another privately owned and operated business started by somebody who wanted to make a difference."
Williams says Dine Drink Detroit will showcase how these startups are now achieving "a kind of critical mass, with restaurants excited about helping one another out."
See details at dinedrinkdetroit.com.
Michael Jackman is managing editor of Metro Times. Send comments to [email protected]