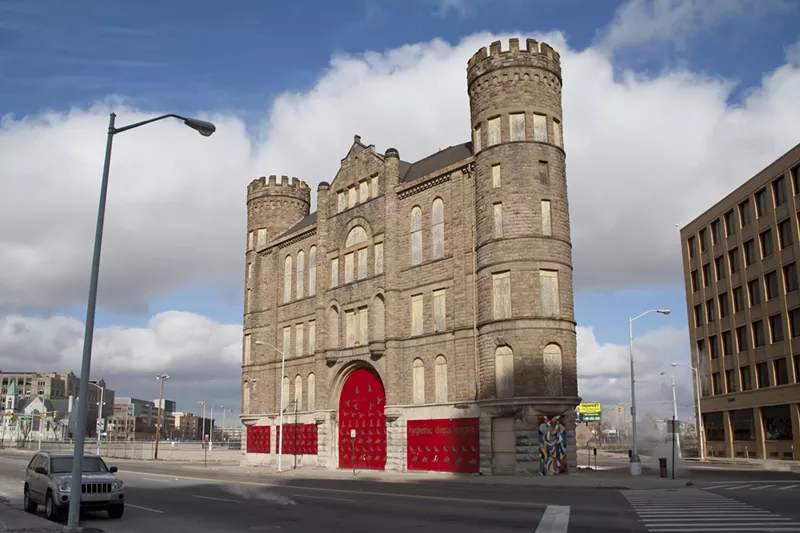 Detroit's Grand Army of the Republic Building has a buyer.
West Bloomfield-based management company Barbat Holdings has purchased the historic GAR Building, according to a Wednesday announcement.
The company plans to turn the castle-like building at 1942 Grand River Ave. into a steakhouse and event space that will span the building's five floors.
It's slated to open later this spring and will be operated by the company's hospitality division, Prime Concepts Detroit.
"The new steakhouse concept and event space has been in the works for more than three years," said Stolion Liti, director of operations at Prime Concepts Detroit, in a media release. "We look forward to sharing this concept with Detroit and the surrounding community."
The 30,000-square-foot GAR Building was constructed in 1899 as a place for Civil War veterans to gather. It underwent extensive renovations between 2011 and 2015 by brothers Tom and David Carleton, and Sean Emery.
"Situated in the heart of the District Detroit and Grand Circus Park, the GAR Building has been an icon since opening in the late 1800s," Joe Barbat, chairman and CEO of Barbat Holdings, said in the release. "We plan to allocate space for a public memorial room that will display many artifacts that have been left behind to ensure that the building's historic character is preserved and highlighted. Our team is honored to add this historic landmark to our portfolio of properties."
The Barbat Holdings portfolio also includes the former Briggs Hotel, the Gabriel Richard and Philip Neudeck buildings, and the Michigan Oriental Theater, which houses Pan-Asian restaurant PAO Detroit.
Alex Farhat, who leads the culinary team at PAO Detroit, will come on board as executive chef for the new steakhouse alongside general manager and operating partner Alec Kanno.
The building previously housed the restaurants Parks & Rec Diner and Republic, as well as offices for the creative studio Mindfield. It was listed for sale in 2021.
For more info, see barbatholdings.com.
Coming soon: Metro Times Daily newsletter. We'll send you a handful of interesting Detroit stories every morning. Subscribe now to not miss a thing.

Follow us: Google News | NewsBreak | Reddit | Instagram | Facebook | Twitter