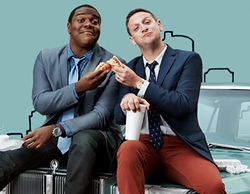 It appears
Detroiters
is, in fact, a legitimate Detroit production — but not totally for the show's content.
Instead, the sitcom showed its authenticity by
offering to buy the town free beer
during its Tuesday night premiere, then passing off a non-working credit card to the the 24 participating bars.
Several bartenders at Hamtramck establishments and The Lager House in Detroit confirmed with
MT
that the card
Detroiters
provided to pay for its free beer hadn't worked by 2 a.m. Jay Reid, a Lager House bartender, wrote on Facebook that the Lager had been "hosed" and a
Detroiters
rep hadn't showed up.
Until earlier today, it was unclear what happened, though those involved now say the bank canceled the card when 24 charges started coming in within a short timeframe. Several bartenders said they expect the issue to be resolved.
The Comedy Central show, created by and starring comedians Sam Richardson and Tim Robinson, chronicles the lives of Sam and Tim as they work at a low-budget ad agency in Detroit. It's pretty much
Mad Men
meets
Broad City.
Detroiters
is solid, but, as Jeff Fournier, a patron at a Hamtramck bar, put it: "This is funnier than the damn show."
(Update 1 at 8:45 a.m.: At least one bar had been paid by Wednesday morning.)
(Update 2 at 10:44 a.m.: Comedy Central spokesperson Michelle Rosenblatt tells
MT: "
We're aware of a payment processing issue last night which impacted a few bars offering the promotion. All payments have been processed and every bar that participated in the promotion has been reimbursed." All is well that ends well.)