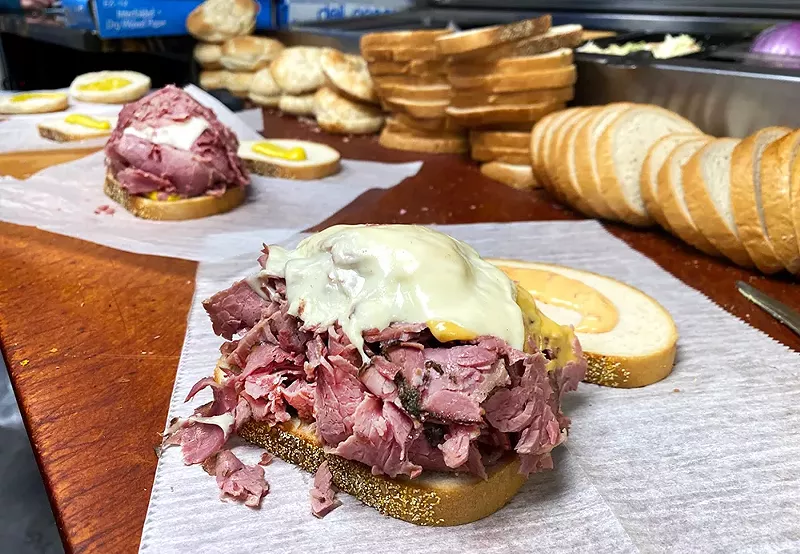 Who might you run into while grabbing a Reuben or pastrami sandwich from D Motown Deli on Detroit's east side?
Owner Al Preni rattles off the list of regulars at his restaurant, which is about a half mile up Gratiot Avenue from downtown Detroit. On any given day, he says he sees folks from the neighborhood, attorney general's office, judges, attorneys, the neighborhood dope dealer, Dan Gilbert employees, working-class people, people working for local rappers, and so on.
It's a spot, and, bigger picture, D Motown Deli's patrons are more evidence that corned beef is becoming a Great Uniter in Detroit, a phenomenon that's catching up with the likes of Detroit-style pizza and coney dogs.
The city's corned beef tradition traces back to Jewish delis that populated the city 100 years ago. Their numbers dwindled as Jews left the city for the 'burbs decades ago, but corned beef remains especially loved by many of the city's Black residents, and some of the old-school delis, like Bread Basket, live on in Detroit proper, while new generations of corned beef purveyors populate the city.
It's mostly a Detroit thing – Preni says only Chicago consumes more corned beef than Detroit. Rapper Tee Grizzley talked up Detroit corned beef sandwiches to Jamaica-based DJ Akademiks, who told Tee he had never heard of one. "Oh my god, it will change your life. You'll fuck around, move to Detroit," Tee tells Akademiks.
Preni's parents, who immigrated from Kosovo, bought the former Lefkofsky's Deli in the early 2000s and rebranded it as D Motown Deli. Preni and his brother now run the restaurant and buy their corned beef "by the pallet" from Wigley's in the Eastern Market. It's moist, a bit salty, and fall-apart-tender brisket — different than Jewish corned beef, which is a bit dryer and more garlicky.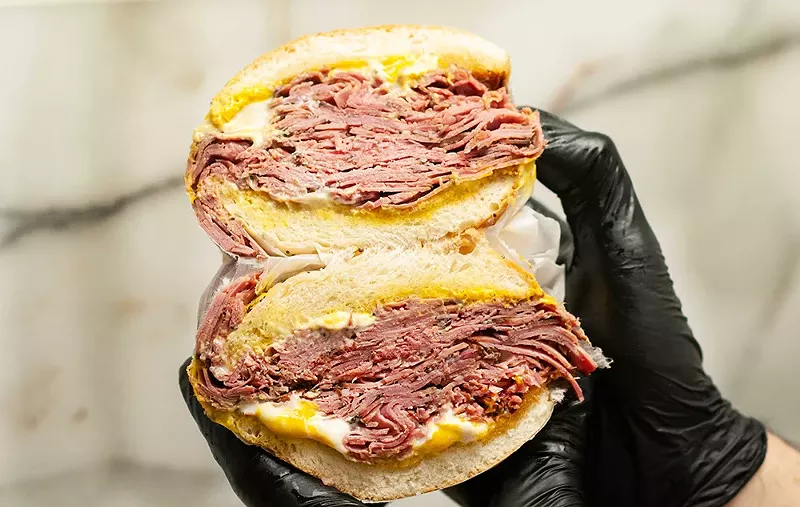 D Motown's best corned beef item was the Rueben, which came with Swiss cheese, sauerkraut, and a house-made Russian dressing. I got it on rye, though one can also ask for an onion roll, and Preni says he grabs his bread from Milano Bakery almost daily, and it's a fine, fine package.
Just as solid, however, was a sandwich with pastrami, sauerkraut, and Swiss on rye. Preni does his pastrami in house — the seasoning, salt water brine, and at least 12 hours of smoking over mesquite wood or occasionally an applewood — and it shows.
The Humdinger is corned beef, Swiss, and a house-made coleslaw that imparts a sweet element, and the Dinty Moore is corned beef Swiss, lettuce, tomato, and Russian dressing — like if a club and corned beef sandwich had a baby, Preni explains.
If you go hefty, the Grand holds three kinds of meat — roast beef cooked low and slow in-house, corned beef, and pastrami — along with lettuce, tomato, onion, Swiss and American cheese, and Russian dressing. It's a brick of a sandwich.
D Motown makes its deviled eggs a bit on the sweet side with the addition of sweet relish, and the eggs get a healthy coating of paprika, while the corned beef egg rolls are an excellent version of a Detroit classic. Also enjoyed was a hearty beef stew.
Preni said he and his brother bought an oven and filled up the Dumpster out back with failed attempts to make cakes as they taught themselves to be bakers. But they have mastered the art and their recipes on lock for options like Reese's, Oreo, and red velvet cakes.
D Motown primarily is a lunch operation and closes at 6 p.m. Everything is carryout — there are no tables, so whether you're having your lunch with your dope dealer or judge, you'll have to do so at their office.
Subscribe to Metro Times newsletters.

Follow us: Google News | NewsBreak | Reddit | Instagram | Facebook | Twitter