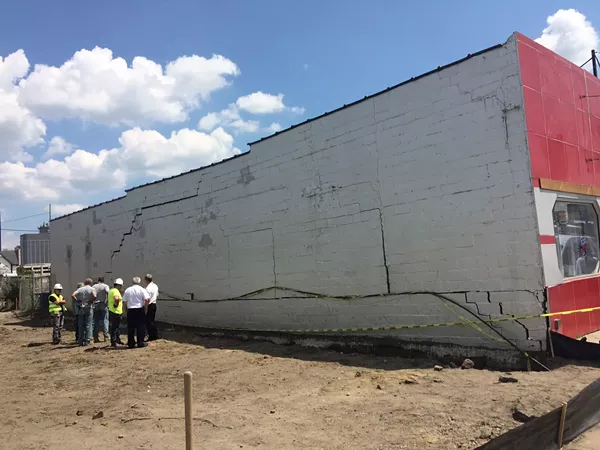 A construction crew building the $45 million Elton Park retail and housing development in Corktown has damaged part of the UFO Factory.
Dion Fischer, who owns the small rock bar/club that also holds the Laika Dog at 2110 Trumbull Ave., told
Metro Times
on Wednesday that the venue could be shut down for months, and the city could likely condemn the building.
"[The construction crew] just destroyed the north side of our building — it's structurally compromised," Fischer says, adding that a crack is running the length of a still-standing wall, and it's possible to see inside the building from the outside.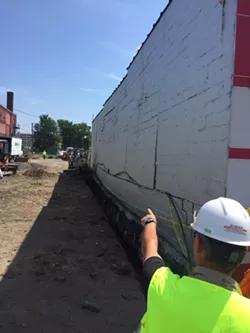 "It hasn't fallen down yet, but it's tipped about 15 degrees," Fischer says.
He tells
MT
that while a construction crew was putting in footings today "they were clearly smashing into the footing of our building."
Though employees were in the UFO Factory at the time, no one was injured. UFO employee Kayleigh Rose tells
MT
that she was behind the bar at the time of the accident.
"Basically, the construction workers next door were digging a trench," she says. "We heard a lot of weird sounds. We thought they drilled through and cracked the back bar, like the glass, somehow, and then the whole wall split open."
Elton Park developer Soave Enterprises plans to build
more than 400 residential units
and up to 30,000 square feet of retail space. Phase one of the project will span five blocks and be comprised of six buildings with about 150 rental units and 13,000 square feet of retail. The development – of which all four phases are estimated at $125 million – is planned to be built around three sides of the UFO Factory, which sits a block north of Michigan Avenue.
It's unclear when — or if — the club will reopen.
"I have no real answers," Fischer tells
MT
. "We have to talk to their people and see what they're willing to do. Judging by our past interactions, I don't think they have our best interest in mind."
The
David Nance show
originally planned for this evening will be moved to Kelly's Bar in Hamtramck.
Update at 3:46 p.m.:
A GoFundMe campaign to support the UFO Factory/Laika Dog employees who will lose work while the bar and restaurant are closed is
here
.
Update at 4:01 p.m.:
A benefit show is planned for Aug. 7 at El Club. Details are
here
.