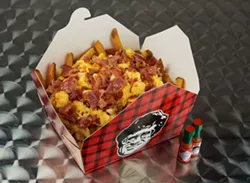 Poutine is officially an international sensation, so much so that Canadian fries/curds/gravy purveyor Smoke's Poutinerie is gearing up a Midwest expansion, including locations in Detroit, Ann Arbor, and Lansing.
The Detroit News
' Melody Baetens first
reported
the Canadian invasion April 1. Quoting Poutinerie founder Ryan Smolkin, she writes that fans have been demanding poutine in the Midwest. Assisting in that effort are Craig Comer and Hilaire Tolsma (Liberty Tax franchisees) and Joel Northam (a Jet's Pizza franchisee).
Baetens says the particulars over when and where the first Midwest location will open haven't been announced, but it should happen sometime this year. We're also working on confirming details ourselves and will be sure to provide any updates.
Smoke's offers a variety of proteins (chicken, steak, pork, beef), as well as vegetarian options, its own signature gravy, and Quebec-style cheese curds.
We Detroiters have long enjoyed poutine, thanks to our proximity to the border. A growing number of eateries all over the metro area already serve their takes on the dish. No doubt there will be an appetite for this "gravy train."