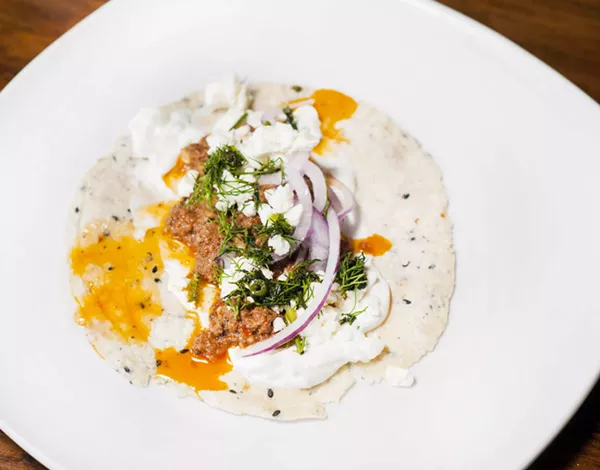 The idea of "can-to-table" cuisine seems to run counter to the direction of modern food movements.
Aside from preserves or pickling, canning largely seems like something that's there for Big Food to distribute large quantities of low-grade product. The people want fresh, local, and healthy, and cans aren't typically about any of that.
But it appears that's changing in some sectors of the food supply chain as more small-scale producers focus on quality over quantity, improve their technique, and distribute better products.
That's true for those in the seafood trade on the Iberian Peninsula, where fishermen are packing better seafood in higher quality sauces and oils. Of course, Iberia is great for tapas, and that's where Brujo's is seizing an opportunity.
The high-end taco and tapas concept will open in October in the
Detroit Shipping Company
shipping container development in the Cass Corridor. It's a 12,000-square-foot entertainment venue that will include a small collection of upscale food vendors, a beer garden, artists' space, and start-up retail.
Brujo's co-owner and chef Petro Drakopoulos notes that "high end" now includes canned foods.
"People running the canneries are younger and are looking at it with advanced
palettes when developing
.... their sauces, and they're using
sustainable
fish,
sardines
, octopus, herring,"
says Drakopoulos, who moved to Detroit from Chicago several years ago to open the Texas de Brazil steakhouse downtown. He now owns Republica in Berkeley, a restaurant that — like Brujo's — pulls from flavors from around the globe.
Inspiration for the new concept came when Drakopoulos visited the N7 restaurant in New Orleans last year. It's receiving
national attention
for specializing in hard-to-find canned seafood items on a short menu that includes dishes like lobster rillettes from France, calamari in spicy ragout from Portugal, spiced calamari, mussels in vinegary escabeche marinade, and small smoked sardines.
"We can produce [tapas] on an appropriate level without having to break our backs, and it also lasts forever," Drakopoulos tells
MT
.
He adds that the menu is still in development so he doesn't want to discuss too many specific items, but one that's finalized is a lamb and Nutella sandwich that he says is a common Spanish lunch, though not one that gets a lot of attention. However, it should.
"There's such an amazing flux of
flavors and a different flavor profile when you have
really good lamb sausage, and the s
weetness
of Nutella works with the hardiness the sausage,"
Drakopoulos
says.
The taco part of the menu will also hold something new to the area.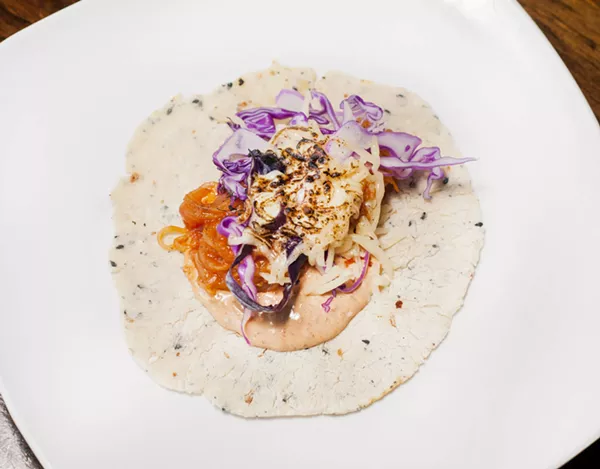 Over the weekend we sampled two that will be part of a weekly rotating menu of four to five tacos and three to four tapas. A vegetarian take on the classic Mexican
barbacoa
comes with seared spaghetti squash that's tossed with
barbacoa
sauce (coca cola, tomato sauce, red onions, garlic, San Luis Hot Sauce, and smoke), red cabbage
ensalata
, chipotle mayo, and Chihuahua cheese charred with a creme brule torch.
The Greek taco arrives with cinnamon lamb, feta, cucumber-garlic yogurt, dill, and Bulgarian feta.
Another likely option is a taco of c
hipotle-roasted
grasshoppers served
with black bean, garlic,
adobo sauce, and
cuitlacoche — a musty sauce made with mushroom that grows on Mexican corn.
The tortillas will be made to order, and the mother of one of Drakopoulos's Mexican Republica employees taught Drakopoulos to make them.
But that process, along with the development of Brujo's menu, is made complicated by one not-so-minor detail — the restaurant will be halal. So how do you roll out a Spanish-Mexican concept and not use pig?
Tortillas, for example, are typically made with lard, but Drakopoulos makes Brujo's with organic, non-GMO corn masa and high-quality water that's mixed by hand. He adds garlic, onion, and two kinds of sesame. Since there are no preservatives, the tortillas are essentially made to order. Drakopoulos says running a halal restaurant forces him to be creative, but he's happy with the challenge and results.
"I just want to be able do what I want, and to make delicious food, and not worry about whether it's going to be accepted," he says.
The restaurant is halal because Drakopoulos's partners in the project — Razu Choudhury and Raza Hossain — are Bangladeshi Muslims who grew up in Hamtramck. While the halal part of the equation presents some obstacles, it dovetails nicely with the desire to use local products outside of seafood. Detroit is home to two of the nation's best halal butchers, Drakopoulos points out, so some of the best lamb and beef is right around the corner.
Plates will range from $4 to $14 except during "Taco Tuesday" when Drakopoulos offers a "pay it forward" special in which customers can purchase tacos for themselves and others who are down on their luck for $3.
He adds that the relatively short and simple menu is a decision partly dictated by space constraints. Each restaurant in Detroit Shipping Co. is 8-feet by 20-feet.
Drakopoulos says he's thrilled to be a part of the project, especially because it's more grassroots than the neighboring District Detroit. He started to get involved with the latter with a Greek-Indian street food concept, but the meeting with Ilitch execs left a bad taste in his mouth.
Soon after, Drakopoulos did a tasting with the Shipping Co. team at Republica. He prepared sandwiches and proposed a sandwich concept, but they also ordered calamari tacos off of Republica's menu. A sandwich concept was already spoken for, but the ownership liked the tacos so much that they asked Drakopoulos to roll with that instead.
"I like that I can be a part of this and be next to a new stadium without having to play by [Ilitch's] rules," Drakopoulos says.

As for the name, a brujo is a male witch or spiritual leader in small villages, and Drakopoulos explains that he wants "magic to happen in our little kitchen — I want people to be mystified."