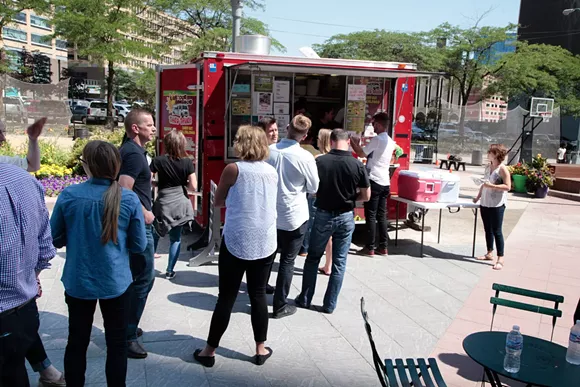 The weather may be chilly, but signs of warmer weather are springing up all over the place (see what we did there?).
Earlier we told you that today is
the first day of Oberon season
, now we'd like to kindly let you know that Downtown Street Eats in Cadillac Square has officially kicked off its fourth season.
The program brings a rotation of area food trunks and vendors like Pita Post, Mac Shack, Norma G's the Rolling Stoves, High Octane Food Truck, and El Charro to Cadillac Square during lunchtime on weekdays from now until the end of October. As many as 35 local food trucks will be featured, offering 20 different types of cuisine for $5-$10 between 11 a.m. and 2 p.m. Monday through Friday.
Yes, for the next week or so you're going to really need to bundle up to enjoy this amenity (that is brought to you, in part, by Quicken Loans), but eventually you're going to really dig this delicious reason to get out of the office during lunchtime.
Check campusmartius.org or follow their social media channels for the week's feature food selections.