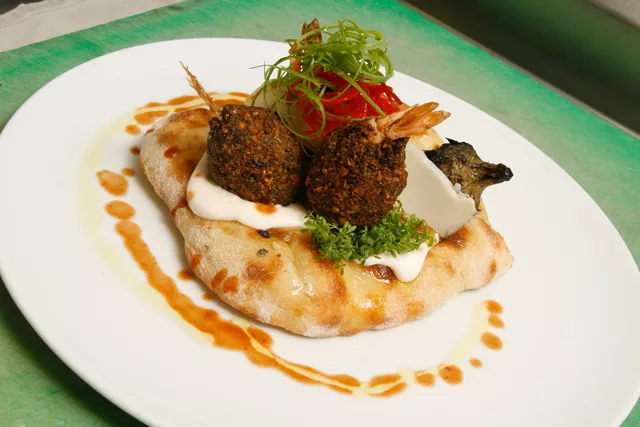 $=$5-$10; $$=$10-$25; $$$=$25-$50; $$$$=$50+
Al-Ajami 14633 W. Warren Ave., Dearborn; 313-846-9330; $: Al-Ajami is less expensive than many other contenders, serving a competent menu that even includes 15 seafood dishes. Also good are the lemon chicken, which combines grilled chicken and pilaf with vegetables doused in lemon butter, a terrific chicken rice soup, and a good lentil soup. Servings are enormous.
Anita's Kitchen 22651 Woodward Ave., Ferndale; 248-548-0680; anitaskitchenonline.com; $$: From its origins as a crowded lunch spot for Troy office workers (110 W. Maple, Troy; 248-362-0680; $), Anita's has arrived in Ferndale's dining scene. In warm weather, a large, covered outdoor dining area allows outside dining. The bar serves beer, wine, juice and smoothies. For the harder stuff, examine the small but diverse wine selection and three Michigan craft brews. Salads and veggie-intensive appetizers fill a good portion of the menu. There are even a few unique pita pizzas. As with most Mediterranean cuisines, Lebanese is considered to be a very balanced, healthy diet. If meat is your thing, you can easily fill up with kebabs or shawarma. Lamb is prominent in the form of chops, shanks and kibbeh, a mixture of ground lamb and cracked wheat that can be ordered baked or raw. Of course, there are also a couple fish dishes. The ideal sampler is Anita's "mixed mezza" — for $31.95 you get a plate of hummus, tabbouleh, fattoush and crunchy pickled vegetables with a touch of heat and a few other plates. Comes in a vegetarian version for $25.95. For a fine finish to a meal, order a pot of Turkish coffee and a tender, not-too-sweet piece of baklava. Open 11 a.m.-9 p.m. Monday-Thursday, 11 a.m.-10 p.m. Friday-Saturday, and noon-9 p.m. Sunday. Child-friendly.
Beirut Kabob 5827 W. Vernor Hwy., Detroit; 313-841-2100; $: Voted by our critics as the Best Cheap Middle Eastern Restaurant, the Ahmad brothers serve fine versions of familiar favorites at prices well below Dearborn's, in a Mexicantown location that's been spruced up with care. The highest-priced entrée is $12, for three skewers of meat plus rice, pickles and salad. Most entrées are $6 or $7 — say kafta kabob, shish kabob or shish tawook, served with a perfect, sharp and creamy garlic sauce. Best bets are kibbeh, mujadara covered with fried onions, chicken lime rice soup and smoky, garlicky baba ghanoush, topped with pine nuts.
Byblos Cafe and Grill 87 W. Palmer, Detroit; 313-831-4420; bybloscafeandgrill.com; $: Located near Wayne State, this busy shop has held its own for several years. Part of it is its proximity to the pennywise students who enjoy frugal meals here. But their massive menu is nothing to sniff at; it offers more than 90 dishes, including Lebanese, Middle Eastern, American and even quesadillas, Cajun salmon, fettucine Alfredo, and fish and chips! All this, and even Orange Crush to wash it down. Also has bargain prices of $3.75-$5 for wraps and sandwiches.
Cedarland Restaurant 13007 W. Warren Ave,, Dearborn; 313-582-4849; cedarlandrestaurants.com; $$: When the three brothers who own Cedarland converted the large bank building on the corner of Warren and Hartwell into a restaurant, they retained the drive-through window for quick orders. Whether eating in or taking out, the baba is creamy in consistency, with a roasted, earthy aroma and just the right bite. You can order it as an appetizer or a side dish. The walls are painted with scenes of Lebanon including skiers among the cedars.
Country Chicken 5131 Schaefer Rd., Dearborn; 313-582-6677; $: This tiny Lebanese storefront serves mammoth portions, so prepare to share. Various shawarmas, meat coriander, baba ghannoush, lamb's tongue and falafel are enjoyable. No alcohol.
Elie's Cafe & Fresh Juice Bar 263 Pierce St., Birmingham; 248-647-2420; $$: Elie's menu is supplemented with a sheet of daily specials, but even the standard menu is full of unusual Middle Eastern delicacies and a dozen vegetarian entrées. A favorite for lunch.
Harmonie Garden 4704 Third St., Detroit; 313-638-2345; $: With low prices, huge servings, a Wayne State location, top-notch falafel — and a 10-year lease — Wayne State grad Taher Jaber aims to please with the restaurant he opened last year. Here you'll find quality, quantity, price and friendly service. Our party of two spent $30 and left with four Styrofoam boxes. The vegetarian-friendly menu is long and comprehensive, and falafel gets its own section. Standouts include bamya, a sojouk sandwich, kibbeh, beef stew, and a Sharif spinach salad. Also notable is chicken mussakhan, a Palestinian dish with a barbecue-sauce taste. One of the more remarkable bargains in this restaurant of bargains is the Sunday buffet, spread out along the bar. It's $9.99 for all you can eat plus coffee, and it includes a number of meat dishes. Harmonie Garden is open 9 a.m. to 9 p.m. Monday to Saturday and 11 a.m.-5 p.m. Sundays. With wi-fi.
Hummus Mediterranean Grill 22151 Gratiot Ave., Eastpointe; 586-777-7776; $$: Eastpointe's outpost for Middle Eastern dining has something for everybody. There's a children's menu for fussy youngsters, burgers for those hewing to classic American fare, party trays to keep your troops fed. Perhaps most interesting, however, are the more authentic and unusual items on offer. In addition to the ubiquitous shish tawook, shish kabob and shish kafta, you can order sojok, lamb pie, lamb tongue suauté, fried kibbeh, even odd-sounding combos such as hummus with salmon. Prices are reasonable and portions generous.
Ike's Restaurant 38550 Van Dyke Rd., Sterling Heights; 586-979-4460; ikesrestaurant.com; $$: The bare tables and paper napkins belie the relative stylishness of the setting, and the huge menu meanders through steaks and seafood to Italian and Greek dishes before it gets to its gastronomic raison d'etre — specialties from Lebanon, with hefty portions averaging around $13, including soup and salad, as well as warm fluffy pita baked on the premises. Among more than 40 starters and salads are lamb sausage, kibbeh balls, labneeh with garlic, saganaki (opa!) and even chicken tenders and cheese sticks. Most of the entrées (the Lebanese ones including various kebabs, kibbeh, grape leaves and a gyro platter) come with an ample helping of vermicelli-enlivened rice doused with tomato sauce. Expect serviceable wines and bottles of Heineken. If you aren't staring down a doggie bag before dessert, Ike's has a variety of cakes, pies and baklava. Marking 20 years in the business in 2011.
Jennifer's Cafe 4052 Haggerty Rd., Walled Lake; 248-360-0190; $: Every neighborhood should have a Jennifer's Café: good food and reasonable prices on anything from a salad or a sandwich to an elaborate dinner. Twenty varieties of sandwiches are offered, most wrapped in a thin pita. Chicken, veal and fish predominate on the menu (although the beef tenderloin tips are outstanding), and dinner comes with soup or salad. There are also several Middle Eastern selections and a reasonably priced dessert menu.
La Marsa 43259 Woodward Ave., Bloomfield Hills; 248-858-5800; 35558 Grand River Ave., Farmington Hills; 248-615-1900; 3720 Rochester Rd., Troy; 248-524-0300; 4240 Pontiac Lake Rd., Waterford; 248-674-3100; 543 W. Grand River Ave., Brighton; 810-227-0600; lamarsacuisine.com; $$: This mini-chain is a Middle Eastern powerhouse, serving all the classic apps, salads, and entrées you'd expect, with large portions. Despite its appeal to Americans, the menu still offers lamb: lamb shawarma, david basha, lamb ghallaba and even good ol' lamb chops. Their combo and party tray options might have you thinking twice about cooking or catering: Their feast packages sound like they could feed a football team. (Though calling their biggest package the "flaming feast" might raise some eyebrows.)
LaPita 22681 Newman St., Dearborn; 313-563-7482; lapitadearborn.com; $: LaPita Restaurant's approach to the business is diversified: gourmet menus for fine dining, an upbeat atmosphere for business lunchers, and an opulent banquet hall for special occasions. Open 10 a.m.-11 p.m. Monday-Saturday, 11 a.m.-10 p.m. Sunday.
La Saj Lebanese Bistro 13776 Southcove Dr., Sterling Heights; 586-566-6600; lasaj.com; $$: Honored by our critics as sporting the Best Local Innovation in Middle Eastern Cuisine, La Saj takes its name from the metal dome that is heated from underneath, upon which dishes are prepared without an open flame. Rare in these parts, this ancient Middle Eastern technique results in especially moist versions of the classic Middle Eastern kitchen. Somewhat more upscale than many of its competitors in terms of decorations, linens and tableware, the restaurant on the outer edge of Lakeside Mall does a bang-up job with its appetizer or mezze sampler, served in separate small plates rather than a large unwieldy platter. The garlic sauce (toum) that comes with the warm pita is also special.
Lebanese Grill 1600 Rochester Rd., Troy; 248-526-1444; lebanesegrill.com; $$: This informal, bare-tabled restaurant can seat as many as 200. The menu is encyclopedic, beginning with 40 appetizers (mezza) and salads that average around $8 or $9 for substantial shareable portions. A combination mezza platter for two, which goes for $29.75, will satisfy four people yearning for hummus, baba ghanoush, tabbouleh, labneeh, grape leaves, falafel, fried kibbeh and vegetables. Deciding on soup or salad is an easy choice compared to determining what to order from among 50 dinner entrées. One way to handle that problem is to go for a combo, again recognizing that what is advertised as serving two can please four. That is the case with the house combo of shish kebab, shish tawook, shish kafta, and meat and chicken shawarma nestled in an enormous portion of rice ($27.95) or the even more elaborate Lebanese sampler featuring hummus, baba ghanoush, tabbouleh, shish kafta, tawook, grape leaves, falafel and chicken and meat shawarma ($35.55). As is the case in most Middle Eastern restaurants, at least half of the dishes on the menu are vegetarian-friendly. The desserts, rice pudding, cream caramel, baklava, and oshta, a sweet white pudding covered with fruit and honey, can be washed down with a pot of robust Arabic coffee.
M&M Cafe 13714 Michigan Ave., Dearborn; 313-581-5775; $: Co-owner Elaine Lteif wouldn't exactly characterize the M&M as a Middle Eastern restaurant. But everything is made with such tender loving care in their spacious and attractive digs, that the few Middle Eastern choices are sure winners. In addition to the superior hamburgers, chef salad and turkey sandwiches, expect kafta, hummus and laban. Co-owner and cook Maurice Lteif does equally well whatever continent he's cooking from. The grilled shrimp is divine; just as good is a garlicky, buttery lemon chicken topped with thinly sliced mushrooms and served with rice pilaf.
Mediterranean Bistro 28500 Schoolcraft, Livonia; 734-513-5357; $$: This casual dining spot serves Mediterranean cuisine, skews American friendly, with burgers, deli sandwiches, wraps, steaks and pastas as well as pitas, kebabs, Lebanese sautés. In a nod to the West, a full bar awaits your drink order.
Mr. Kabob 3372 Coolidge Hwy., Berkley; 248-545-4000; mrkabob.com; $: There was a time not too long ago when you stopped at a service station for gas and maybe a soft drink or a candy bar. Although most now have morphed into convenience stores offering sandwiches, hot dogs, donuts and slurpies, few if any flaunt the restaurant-quality cuisine turned out at Mr. Kabob, located inside a Sunoco station at the corner of 12 Mile and Coolidge. Considering the fresh ingredients and generous portions, Mr. Kabob ranks high on any cost-benefit ratio. The gourmet pita wraps average around $5 each. Indeed, prices are so moderate that one might consider a small side order of vermicelli rice ($3.99) or grilled vegetables ($3.99).
New Sahara 29222 Orchard Lake Rd., Farmington Hills; 248-851-1122; 23133 Coolidge Hwy., Oak Park; 248-399-7744; 3625 E. 15 Mile Rd., Sterling Heights; 586-264-0400; newsahara.com; $$: How is a Chaldean restaurant different from the more familiar Lebanese? Many dishes are the same, but owners Saad and Zeana Attisha add, for example, pickled cabbage, purshee, that's served to everyone as a starter, plus some tomato-based stews. And their daily specials (at the Oak Park and Sterling Heights locations) are Iraqi favorites including burgul (bulgur wheat), biryani (like Indian biryani but less spicy, with rice, chicken, beef and potatoes) and pacha. New Sahara does better on the traditional side dishes than on the meat and poultry entrées. Grape leaves, fattoush, kibbeh and tabbouleh are available — as well as cheese sticks, fried mushrooms and wings.
New Yasmeen Bakery 13900 W. Warren Ave., Dearborn; 313-582-6035; yasmeenbakery.com; $: If you don't mind eating with a plastic fork, you'll find some exceptional and unusual Lebanese dishes at this deli and bakery (the bakery offers dozens of kinds of sweets). Co-owner Hussain Siblini says that's because he employs old ladies who make traditional, really old, old handmade dishes. However traditional it may be, you'll always be sure to find something new next to the chicken shwarma and shish tawook.
Phoenicia Restaurant 588 S. Old Woodward, Birmingham; 248-644-3122; phoeniciabirmingham.com; $$$: Proprietor Sameer Eid has been serving meticulously prepared Middle Eastern food to the locals since 1970. He knows his way around the market and the kitchen, and gives a more sophisticated spin to the well-known litany of shish kebab, shish kafta, baked kibbeh and lamb chops. Seafood dishes are also specialties.
Pita Cafe 25282 Greenfield, Oak Park; 248-968-2225; 239 N. Old Woodward, Birmingham; 248-645-6999; 43224 W. 11 Mile Rd., Novi; 248-347-7444; thepitacafe.com; $$: It's a busy place underneath the pretend grape arbor, because both the familiar — baba, shawarma, roasted vegetables — and the less so — arayis, ghallabas — are excellent. Arayis is pita topped with lamb, pine nuts and tahini, char-broiled. The Caesar salad and the grapefruit juice are best ever.
Royal Kabob 3236 Caniff St., Hamtramck; 313-872-9454; $$: Until a few years ago, it was actually a challenge to find good Middle Eastern food in Hamtramck. That started changing with the arrival of Royal Kabob on Caniff, which can provide everything from an ambitious platter to a humble, wax-paper-wrapped falafel sandwich. One of our favorites is the fattoush with chicken breast, with pita chips, romaine leaf, expert spicing and sliced chicken breast for protein. Though the spot does a brisk take-out business, the interior is bright and commodious, offering room for large parties. Better still, check out their takeout trays. If you're having a get-together and want plenty of food without the fuss of cooking, even their smaller trays contain enough food for a crew of trencherman.
Steve's Back Room 19872 Kelly Rd., Harper Woods; 313-527-5047; 24935 Jefferson Ave., St. Clair Shores; 586-774-9337; $$: Steve's is a back room no more. The 15-year-old eatery behind the swinging saloon doors of a grocery in Harper Woods is still open for lunch, but owner Steve Kalil has moved the main operation to the booming "Nautical Mile" of St. Clair Shores. The house specials feature what is best about Middle Eastern food: the sprightly flavors of lemon, garlic, parsley and olive oil, vegetables used in inventive ways, meat as a minor player. Desserts are standouts: try the apricots baked in liqueur, stuffed with pistachio nut butter and topped with yogurt, whipped cream, and sugared almonds. Or the "cream berry delight" — phyllo cups filled with a sweet pastry cheese, topped with whipped cream and strewn with fresh berries and raspberry sauce.
Yemen Café 8735 Joseph Campau, Hamtramck; 313-871-4349; $: On the lower end of the Joseph Campau strip, down by the viaduct, commerce is quickly becoming invigorating by fledgling Yemeni businesses, among them Yemen Café. The space is casual, with Formica booths and a television constantly tuned to Al Jazeera chattering away in Arabic. The staff speaks just enough English to get the job done, but the food speaks the universal language of flavor. Start with one of the ghallaba dishes, which come with chicken, beef or vegetable, and those averse to spice will want to specify a mild treatment. From there, you can move on to all sorts of interesting dishes, including lamb soup!
See any inaccuracies? Send corrections to [email protected] or call 313-202-8043.