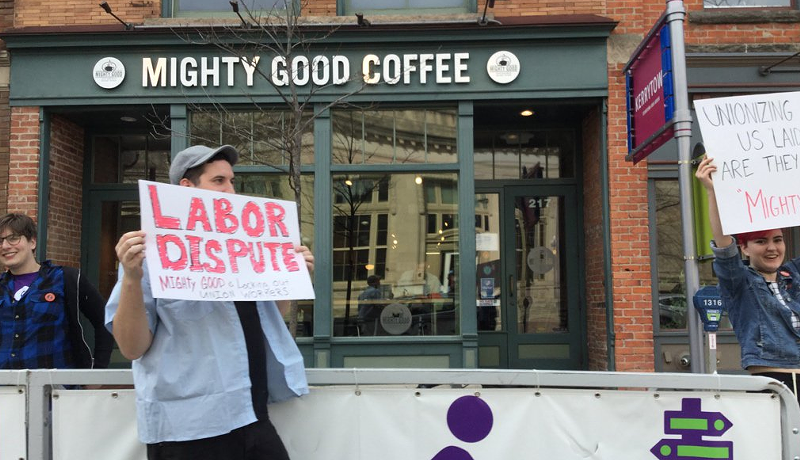 Ann Arbor's Mighty Good Coffee is closing its four cafes.
The move comes after its baristas unionized following August 2018 accusations of racial discrimination made by a former black employee. Those allegations were detailed in
Munchies
.
Though Mighty Good's cafes are closing,
its
coffee roasting business and
wholesale
component will remain in operation.
The former employee, Nya Njee, says she was passed over for promotions and raises while white employees who she trained were promoted. Mighty Good didn't give her a raise despite the fact that she had strong performance reviews.
After she quit in August, Njee demanded what she said was $2,000 in
backpay
that she says she should've been paid. Might Good initially refused to pay her and fought back against the accusations on social media, but the two sides settled out of court in December. Njee and her attorney have declined to comment since. Mighty Good owner Nic Sims didn't immediately reply to a
Metro Times
request for comment on Wednesday. We'll update the story if she does.
Mighty Good employees unionized in part to prevent another situation like that with Njee. Mighty Good recognized the union last year and the two sides were in ongoing discussions about work conditions. Union members said on social media that they were given several days notice that they would be laid off. Union member Ian Wilkinson declined to comment when contacted Wednesday by
Metro Times
.
A letter sent to the union employees from Sims' attorney says that running a retail location was "overly stressful" for Sims and her husband, and it "created an unworkable burden on their relationship and their family."
Mighty Good was one of several Michigan businesses to face accusations of racial discrimination over the last year. Kid Rock's
Made in Detroit
, the
Foundation Hotel in Detroit
, Grand Rapids-based
Founders Brewing,
and
El Club in Detroit
also faced similar allegations.
So many restaurants, so little time. Find out the latest Detroit dining news with our weekly food newsletter delivered every Friday morning.