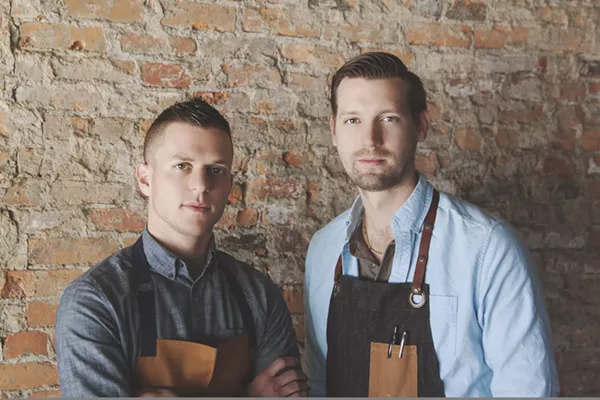 Grey Ghost chefs John Vermiglio and Joe Giacomino are once again pulling together some of the city's top chefs to raise money for the Detroit Prep elementary school.
The two-day, six-course dinner called Chef's Schoolyard is set for May 8 and May 9 at the Great Lakes Culinary Center in Southfield, with all proceeds going to the school.
Detroit Prep is a small, free charter elementary school that runs out of a temporary space in the basement of a Detroit church. It's raising money to renovate a formerly vacant elementary school building in the Pingree Park neighborhood.
Detroit Prep founder Kyle Smitley said proceeds from last year's event helped the school raise funds to purchase the building, and this year's proceeds will help it pay for a renovation of the cafeteria.
"The idea that the best chefs in the city are coming together to enable hundreds of Detroit kids to eat fresh, healthy food every day is really inspiring for our whole community and neighborhood. We are so grateful," Smitley says.
Among the chefs are:
● Chef Alex Clark of Bon Bon Bon
● Chef Andy Hollyday of Selden Standard
● Chef Anthony Lombardo of SheWolf
● Chef Brad Greenhill of Takoi
● Chef Doug Hewitt of Chartreuse
● Chef James Rigato of Mabel Gray
● Chef Jennifer Jackson and Justin Tootla of Voyager
● Chefs John Vermiglio and Joe Giacomino of Grey Ghost Detroit
● Chef Kate Williams of Lady of the House
● Chef Marc Djozlija of Wright + Co
● Chef Nick Janutol of Forest
● Chef Rebecca LaMalfa of Frame
● Chef Sarah Welch of Marrow
● Chef Shawn McClain of a restaurant coming soon, atop Detroit's RenCen
● Chef Thomas Lents of The Apparatus Room and Chef's Table
Tickets are $250 and can be purchased
here
starting Monday, March 4th. Sponsorships are available and start at $1,000.
So many restaurants, so little time. Find out the latest Detroit dining news with our weekly food newsletter delivered every Friday morning.