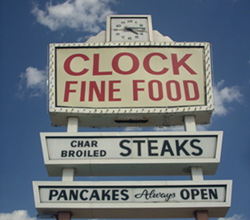 The Clock - a once popular 24-hour diner and post-bar stop in downtown Hamtramck - will soon serve Middle Eastern and Yemeni fare.

The owner of a company listed as Magic Property in city documents told the MT that the renovation is moving along quickly, but he declined to provide more details until the restaurant is closer to its opening.


"We're remodeling and within a couple months or so we will reopen. Everyone will be amazed at the renovation inside and the work we're doing," he says.

According to Hamtramck historian Greg Kowalski, The Clock opened in the late 1960s or early 1970s. Though the dates are a little fuzzy, Kowalski and several Hamtramck officials say it closed sometime around 2009, re-opened, closed again in 2011, then briefly re-opened as a soul food restaurant, Leka's, in 2012. After that quickly closed, L. George's Coney Island opened a location in the building, but that only lasted for around one year.
The building sat vacant since, though it also served as a temporary set for diner scenes in the now-off-the-air Detroit 1-8-7.
The 3,368-square-foot building was on the market for as much as $400,000 at one point, and city documents show it sold for $200,000.
The news comes after we reported that a new "California-style" burger restaurant is
in the works on Conant
, and Le Detroit Macaron will open in the former Bon Bon Bon space.
We'll run an update when more information is available.