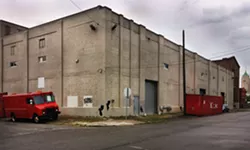 Austin native Paul Philpott moved to Detroit in the mid-1990s and watched from afar as his former hometown led what he describes as the "food revolution."

Among the trends that impressed him were those that are essentially hybrid food formats. Alamo Draft House — a movie theater that serves a rotating menu of casual cuisine, craft beer, and craft cocktails at moviegoers' seats — is one such example. Coffee shops that double as bars or saloons is another, Philpott tells MT.

But he's particularly excited by the idea of a "gastro-mart," a concept he says Austin-based Whole Foods pioneered by including gastropubs in its stores, turning them into a place where people go to shop and hang out.

Now, he's planning to establish such a concept to Detroit in the
Thank You Mart, a gastro-mart planned for a soon-to-be renovated building in the North End at Custer and St. Antoine Street.
"One of the ideas that I saw in Austin that got me excited was people taking old, run-down convenience stores and completely tricking them out and making them a place where people ... go to buy not commercial junk food, but the elevated, artisanal alternatives," Philpott says. "Such a thing does not yet exist in Detroit, and given how all these other innovations have arrived, I got thinking about how this might happen in Detroit."
Imagine a Whole Foods, but in a convenience store scale, Philpott says. The "gastro" part of the project is what he describes as a "mini-gastropub with the same sort of quirky, funky, fun, innovative design that you see in Selden Standard or Slows."
He says it will offer a menu with items like well-assembled grilled cheeses, quesadillas, or burgers made with high quality ingredients, and be a place where someone can get a good cup of coffee or pint of beer at a reasonable price.
Thank You Mart — called such because it's a "love letter" to Detroit, Philpott says — will take up just 1,800 square feet in the 45,000-square-foot building, called Thank You Studios. Another 22,000 square feet is slated for use as an event space that holds an industrial kitchen and is driven by a high-end food and beverage program.
The building is owned by Detroit-based developer Robin Scovill, who, among other projects,
recently completed
the renovation of the Treymore Building. The nearly 100-year-old Midtown property now holds 28 units of affordable housing. Part of the funding for Thank You Studios' renovation will come via Motor City Match, and construction is expected to take about 18 months.
As for the building's remaining space, Scovill says he's looking to do something "lovely and unique" that's "driven by operators whose hearts are in the right place."

"There's a lot of space in the building and we're looking to curate it with meaningful operators and do something that benefits the whole city and people living in the neighborhood," he says.
Why the North End? Scovill sees it as a good fit because it holds "a rich heritage of entertainment and innovation, and is uniquely positioned."

"It seems to straddle the two worlds of Detroit — the burgeoning world of incoming hip people who care about food and beverage, and are hungry for the new innovations in Midtown, but it's also sitting on the edge of an economically hard hit neighborhood," Scovill says. "So one of the things that Paul and I really connected on was finding a use for the building that bridges that gap."

He adds, "We really want to do something that's unique and we really want to tie the old Detroit with the new in a way that's meaningful and brings people together, and that's the love letter to Detroit — that's why we call it 'Thank You Studios.'"
Philpott notes that its near a Whole Foods, but it'll be open earlier and later than its competition, offer a much easier parking situation, and generally be more convenient.
Beyond that, Scovill is part of a group that's working with Mayor Mike Duggan to
try to establish
a "late night economy"
that caters to the hospitality industry and creative types who work outside regular hours.
Thank You Mart and Studios will be a part of that movement.
"In Detroit, there's a real lack of places open late, other than a coney island or Telway, so we want to galvanize the community and utilize this part of the city .. and make it a destination spot," Scovill says. 

Of course, the North End's residents are largely low-income, and may not be able to afford local and artisanal products. But Philpott says he's aware of the demographics and will establish pricing accordingly. He adds that the gastro-mart "seems to be the one food format that likely has an appeal for people who aren't a part of the food innovation movement."
"That includes longtime residents of Detroit," he adds. "There's a lot of jokes about how much more expensive these alternatives are, but it's not that much more expensive."


As for the event space, Scovill says that he expects it to be partitioned and utilized as a type of food, drink, and entertainment venue that doesn't currently exist in the city. "We'll be curating guest chefs to rotate in and out of the space, and bringing in these cultural and chef icons from other cities, creating a real sense of exchange," he says.