Motown Museum
2648 W. Grand Blvd., Detroit; 313-875-2264, motownmuseum.org
There is perhaps no organization that better defines the Detroit of yesteryear than Berry Gordy's Motown Records. Diana Ross & the Supremes, Smokey Robinson & the Miracles, Stevie Wonder, the Temptations, Marvin Gaye — Motown pumped out these stars and many more from the unassuming house that is now home to the Motown Museum. And soon, visitors will be able to enjoy a new $50 million exhibit adjacent to the preserved Hitsville USA.
Marvin's Marvelous Mechanical Museum
31005 Orchard Lake Rd., Farmington Hills; 248-626-5020; marvin3m.com
In an unassuming shopping center in suburban Farmington Hills rests the sensory overload that is Marvelous Marvin's Mechanical Museum. Stop by for free admission to 5,000 square feet of vintage coin-operated machines, macabre, oddities, unusual nostalgia, model airplanes, ceiling fans, movie posters, collector's items, and so much more. Hang out at the cafe to peruse the memorabilia, or jump in on the games to win some prizes. See why Eminem and Jack White are fans.
Liberty Street Robot Supply & Repair
115 East Liberty St., Ann Arbor, 734-761-3463, onwardrobots.com
This ain't your average robot shop. Sure, you can stop by to pick up a few basic robot-esque toys, but most of what you'll find here are clothes and books. The storefront is actually run by 826michigan, a nonprofit tutoring and writing organization that serves over 3,000 students annually in southeastern Michigan. All robot-related proceeds support 826michigan's efforts.
Lawndale Market: The People's Polaroids
1136 Lawndale St., Detroit, 313-841-2531
Owned for more than 30 years by Amad Samaan, this former Southwest Detroit party store has become a local charm, proudly displaying more than 10,000 Polaroid photos of customers who have come in over the decades. The images hang from every crevice of the market, and each face represents another Detroit story, all coming together to form a beautiful mosaic of Detroiters.
Heidelberg Project
3600 Heidelberg St., Detroit, 313-458-8414, heidelberg.org
When artist Tyree Guyton returned home in 1986 to Heidelberg Street, he found much of his childhood neighborhood blighted and in shambles. Rather than giving up on Heidelberg, Guyton and children who lived on the street transformed the neighborhood into a giant art project, splattering buildings with dots of paint, creating structures in yards out of run-down cars, and even incorporating trees and street signs.
The Redford Theatre

17360 Lahser Rd., Detroit, 313-537-2560, redfordtheatre.com

Built in 1928 as a neighborhood movie house, the Redford has been in continuous operation ever since. While most other theaters closed down or sold off assets to break even, The Redford managed to retain its unique qualities, such as its 10-rank original Barton theater organ. Today, it is one of the last two theaters in Detroit with an organ. Check out their schedule to see what classics they're airing, or make plans for one of the many festivals it hosts.
Belle Isle Aquarium
3 Inselruhe Ave., Detroit, 313-402-0466, belleisleconservancy.org
When the Belle Isle Aquarium opened in 1904, it was the third-largest aquarium in the world. It boasts a unique collection of fish, including the only known collection of all 7 species of gar in North America, so if you like gar, you want to check this out. Don't rush through the entrance, which is decorated with an ornate arch, two spitting dolphins and the emblem of Detroit.
Eight Mile Wall
20159 Griggs Ave., Detroit
Six feet tall and one foot wide with two gaps in the middle to make way for roads, the Eight Mile Wall was built in 1941 to segregate a black-and-white neighborhood. Now, like the Berlin Wall, Detroit's Eight Mile Wall attracts artists of all varieties who redefined the symbol of separation with murals.
Lincoln Street Art Park
5926 Lincoln St., Detroit,
greenlivingscience.org/lincoln-street-art-park
An abandoned industrial site may seem an unlikely spot for a sculpture park, but not in Detroit. Opened in 2011, the park is a collaboration between the Michigan Council for Arts and Cultural Affairs, Detroit's recreation department, the nearby recycling center, and a community of local artists who are also adding new works. Stop by for the art, or for one of their monthly full moon parties.
MBAD African Bead Museum
6559 Grand River Ave., Detroit; mbad.org
Olayami Dabls developed his passion for African beads in the '80s by collecting and trading the artifacts with Detroit artisans. In 2002, he opened up the MBAD African Bead Museum in a former Detroit home to showcase his impressive collection of thousands of beads that tell an uncommon story about black identity.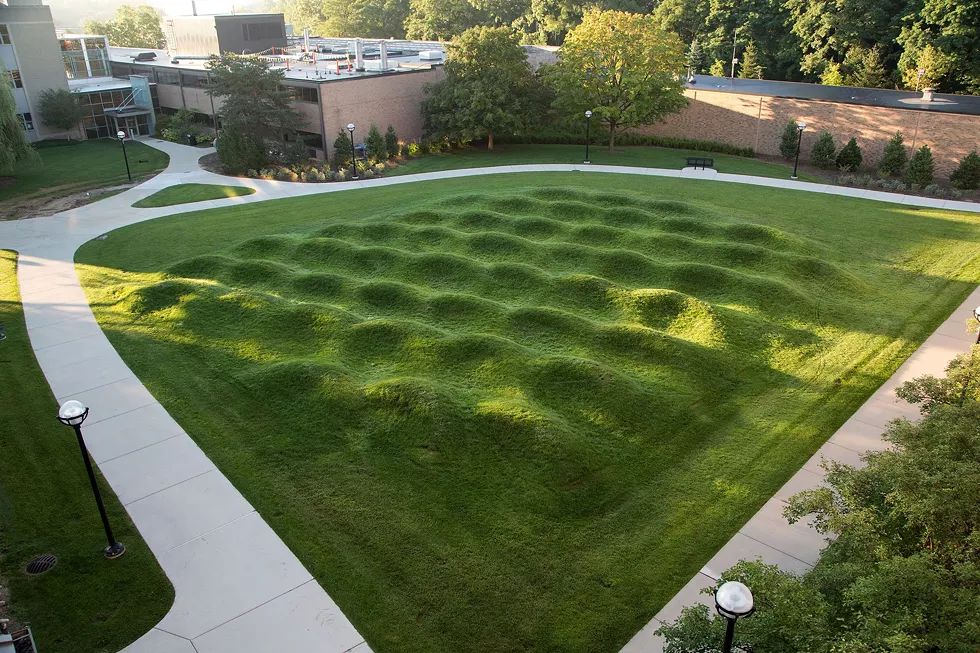 Wave Field
1320 Beal Ave., Ann Arbor;
campus.umich.edu/article/wave-field-north
Meant to mimic the patterns of mathematical sine waves (and don't ask us what that means), the University of Michigan's 10,000-square-foot Wave Field is a favorite among locals and landscape art lovers. The ripples in the field are meant to cast shadows that change with the sun so that the site evolves throughout the day;
Baker's Keyboard Lounge
20510 Livernois Ave., Detroit, 313-345-6300
Established in 1934, Baker's claims to be the oldest operating jazz club in the world. The previous owner declared bankruptcy in 2010, fighting against the declining interest in jazz and a sour economic state at the time. The next owner, however, vowed to keep it a jazz venue and, in 2016, Detroit City Council voted to protect Baker's Keyboard Lounge as a Historic District landmark.
Hamtramck Disneyland
12087 Klinger St.; Hamtramck
In a 30-square-foot backyard on top of two adjacent garages rests Hamtramck's whimsical take on Disneyland. There are no rides — rather Hamtramck Disneyland is a towering structure built from entirely ordinary objects — fanciful signs, models, and whirligigs, and more. The attraction was built between 1992 and 1999 by artist Dmytro Szylak, a Ukrainian immigrant who was looking to occupy himself during his retirement. Szylak died in 2015, but now an arts group is working to preserve the one-of-a-kind space so it can be enjoyed for generations to come.
Murals of Eastern Market
Around 1357 Division St., Detroit
Each year, Detroit's Eastern Market district gets redecorated with a fresh coat of paint thanks to muralists from Detroit and beyond, who are tasked with creating new artwork during the annual Murals in the Market festival held in September. You can drive or walk through the streets of Eastern Market to take in the sights yourself — making the market a feast for the eyes as well.
Stay on top of Detroit news and views. Sign up for our weekly issue newsletter delivered each Wednesday.