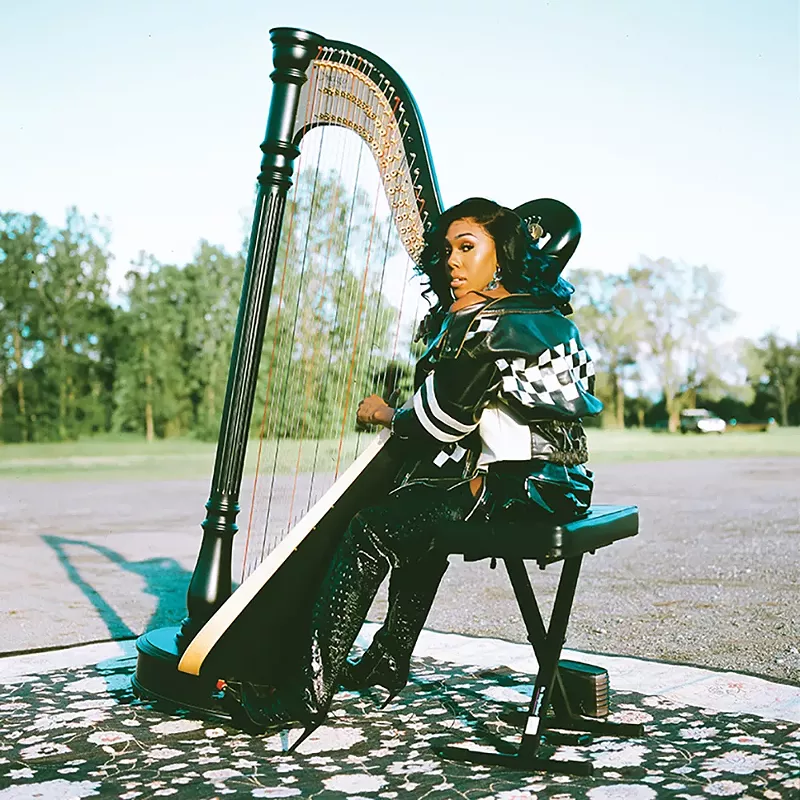 Ahya Simone does whatever the fuck she wants. She doesn't like putting parameters on her creativity or being bound by one genre. The harpist and vocalist infuses R&B, ambient, and jazz into classical music. She's also a composer, community activist, and filmmaker on some "catch me if you can" type shit.
One week she's playing at a festival in Belgium, the next in Hawaii, and two weeks later, she's heading to Japan just because she can. When we catch up with her on a Zoom call, she's hanging out in New York where she should be in the studio but "stayed [her] ass in bed" because she was tired that day instead.
"I go from high art spaces to the jazz club or the fucking rave," she tells Metro Times. "I make soundscapes for exhibitions in Vienna, or I'll partially score a Louis Vuitton fashion film... You might also catch me singing in German, so people don't really know how to market me. I'm also not trying to be pigeonholed as a 'trans artist.' I identify as a multidisciplinary artist and that has been my way of defining myself against all of these stereotypes of what it means to be Black, and trans, and a woman, and a harpist that's not a classical harpist."
As a multi-hyphenate artist, Simone says a main driver of her practice is having grown up in Detroit, especially coming of age during the Great Recession and the city's municipal bankruptcy, which forced people to become more resourceful. "It is common knowledge and understanding to the point where we don't even talk about it, really, that we can't have just one job," she says. "[In] the economy that we live in now, our material reality is one in which we have to have so many irons in the fire. … We got to this point to where, like, we all have to have so many irons in the fire to keep ourselves afloat."
She also credits Detroit's rich musical heritage as a source of inspiration. "My art is influenced heavily by techno and Motown and all of that stuff, just Black music," she says, adding that she performs an arrangement of the music of Stevie Wonder that resonates with audiences.
To date, Simone has only released one single, "Frostbite" in 2020, but she has been featured on songs with artists like Kelela, Kesswa, and Shigeto. She collaborated with dream hampton to score hampton's 2018 film Treasure and was the first Black trans woman to receive a Kresge Artist Fellowship in 2018.
Despite being anything but traditional, Simone is a classically trained musician. She began singing in church when she was younger and started playing the harp in high school at Cass Tech, where she performed in choir and orchestra ensembles.
She studied harp and classical voice at Wayne State University and was the principal harpist for the WSU Wind Symphony, but got bored with classical music upon graduating.
"After I graduated, I was in this weird spot of like, I don't really know what to do with this degree," she says. "I didn't really want to sit in the [orchestra] pit. I was sitting in a pit with a bunch of white people, and just looking around like, wow, I can't do this. This is not where I feel most expressive and most comfortable. Before then, I was doing the typical harpist thing playing fucking Tchaikovsky, playing impromptus and concertos and stuff that. While it was great for my technique and my learning, it didn't feed my soul."
Without any other examples of harpists making the multifaceted music that was in her heart, Simone felt discouraged and stepped away from the instrument for nearly three years. While she lists Brandee Younger, Alice Coltrane, and Dorothy Ashby as inspirations, it wasn't until she discovered the DJ Juliana Huxtable in 2016, who is also a trans woman, that she knew her art had a place in the world.
"I was online and this beautiful woman came across my screen, and I found out she was just like me," Simone says. "She was this stunning DJ, artist, social critic, and she was just so dope to me. I was just like, 'Yo!' I wrote her on Facebook and was like, if you ever need a harp player for anything let me know. She didn't respond to me for like, a year."
When Huxtable finally did respond, it was with an invitation for Simone to play with her in Scotland. Of course, she said yes and toured with Huxtable off and on for several years, playing in the Netherlands, Portugal, Vancouver, and beyond. She quit her job doing university research at the time and said, "Bet. It's this music shit or die."
"It was at that point where I was like, 'Oh I can be in these avant-garde and high art spaces too,' so I started writing my own music and I started playing R&B," she remembers. "It was just this kind of unfolding. My family was like, 'Just keep a steady job and do your music on the side,' but it was too much for me. I could not handle just this feeling of splitting myself ... It was making me depressed. I was away from my element and what made me feel alive ... I haven't worked a 9-to-5 since 2017. I quit that white-ass job on Juneeteenth, girl, and I hit it."
Simone is also the writer, director, and star of Femme Queen Chronicles, a comical web series about the lives of four trans women in Detroit. She came up with the concept after a Trans Sistas of Color Project meeting when she and members of the organization were talking about their experiences growing up Black and trans in Detroit. Simone helped found the organization following the murder of local trans activist Amber Monroe.
She and the Femme Queen Chronicles crew have been working with producer Janet Mock to develop the show into a full television series, but haven't had any luck getting it picked up so far.
"We were just telling our funny-ass stories of what we be going through and it was so funny that I was just like damn bitch, we need our own show," she says. "You know, I came up with that idea once I quit my job in 2017, I released it in 2018, and it's been in over 40 or so film festivals and screenings worldwide. It just went viral on TikTok and screened in Australia last week. We pitched it to so many networks and nobody wanted it. But I'm not going to stop making film work, even if this never sees a TV screen. I still remain hopeful and I believe in the vision of Femme Queen Chronicles."
Her most recent project is Jewel Tones Detroit, a Black-woman-led collective that curates performances by Black artists she says don't usually get booked as headliners. The group's first residency called Black Bottom was at Spot Lite in February, and they are working on the next installment.
Simone's debut album has been in the works for the past four years, and she hopes to release it in the fall of 2023. Her working title is Iridescence, named after a piece by French harpist Carlos Salzedo that Simone performed for her senior recital.
"It's a beautiful, atonal, weird-ass piece that I still love to this day," Simone says about the composition her album will be named for.
It's incredibly fitting for the eccentric life, defying all definitions, that Simone leads.
Editor's note: This story was edited to remove insensitive language about the subject's identity.
From the 2023 new Detroit music issue.
Coming soon: Metro Times Daily newsletter. We'll send you a handful of interesting Detroit stories every morning. Subscribe now to not miss a thing.

Follow us: Google News | NewsBreak | Reddit | Instagram | Facebook | Twitter